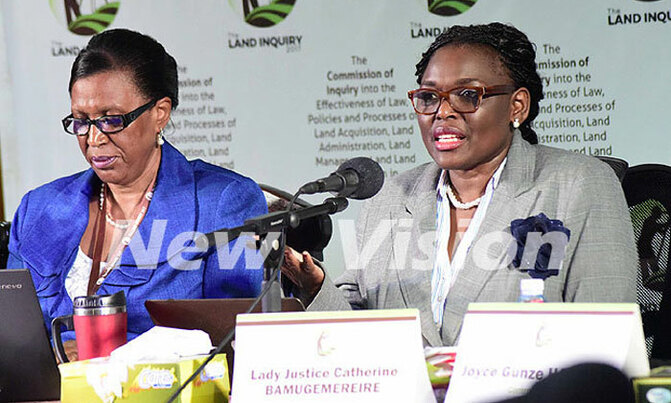 The land probe chairperson, Justice Catherine Bamugemereire, directed Abbas Mawanda to appear before the commission.
PROBE

KAMPALA - The Land Commission of Inquiry has summoned the man who sold the Temangalo land to industrialist Amos Nzeyi between 1988 and 1993.

On Tuesday, the commission chairperson, Justice Catherine Bamugemereire, directed Abbas Mawanda to appear today.

"Abbas Mawanda should appear tomorrow (Wednesday) without fail," she directed.

Documents show that on March 10, 2008, National Social Security Fund (NSSF) purchased 463.87 acres of private mailo land in six parcels from two vendors: Nzeyi and Arma Limited, a company linked to former Prime Minister Amama Mbabazi.

Bamugemereire was prompted to issue the directive after deputy lead counsel John Bosco Suuza explained that Mawanda had reported being unwell.

On August 1, a Canadian-Asian family petitioned the commission, claiming ownership of 366.2 acres of the land.

Nazim Moosa testified that his parents, Mohammed Hassnali Moosa (died 1997) and Sherbanu Hassnali Moosa, owned Temangalo Tea Estate Limited (TTEL).

Nazim says the family left Uganda in 1972 when then-president Idi Amin expelled Asians.

Land title trail

According to a chronology of the land title, on February 24, 1922, the land was registered in the name of Daniel Ssaku.

On July 17, 1944, it was transferred in the name Daniel Daniel Ssaku Mugwanya (senior). On October 19, 1944, there was a lease granted to Frederick George Tolbert.

Subsequently on August 7, 1959, the lease was extended for 49 years in favour of TTEL. The lease was due for expiry in 2003.

On October 23, 1983, one Hajji Ahmed Keeya registered interest on the land and lodged a caveat, saying he bought the land from Daniel Mugwanya Kato at sh500,000.

The caveat indicated that Mugwanya senior had agreed to sell the land to Keeya.
Mugwanya senior reportedly authorised the transaction, prior to his demise.

On June 29, 1987, the land was transferred, and duly registered in the name Abbas Mawanda.

Parliament probes Temangalo saga

In July 2008, Temangalo saga became a subject of intense public discussion, which resulted in a probe on then Security minister Amama Mbabazi (former Prime Minister).

He was probed over purported use of clout to entice NSSF into buying the land.

NSSF admitted that it paid Mbabazi's firm Arma Limited, and Nzeyi sh11.2b for the land, at sh24m per acre.

Public debate was fueled by scrutiny on value for money, as three valuation reports showed lower prices per acre.

Associated Consulting Surveyors showed sh14m, East African Consulting Surveyors at sh16m, while Knight Frank price indicated sh18m.

Public uproar surged when NSSF opted for what it termed a sh24m open market price.

The majority report recommended Mbabazi's dismissal over breach of the leadership code of conduct but he was exonerated. The then Speaker Edward Ssekandi instructed the Committee on Rules and Discipline to probe further.

The committee was tasked with ascertaining allegations that Mbabazi obstructed the inquiry.

But the then committee chairperson Peter Nyombi said no proof was presented to incriminate Mbabazi.