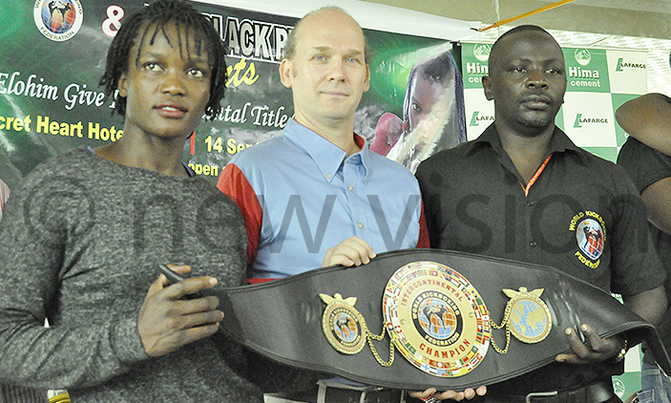 polot will, for six months enjoy a sh20m sponsorship from Hima cement.
PIC: Apolot (left) holding her belt with other officials. (Credit: Derrick Wadria)

BOXING

KAMPALA - Uganda's female kickboxing champion Patricia Apolot has vowed to leave behind an impressive legacy.

Apolot who holds a World Kickboxing belt in Light 60kg/132 Ibs in Lowkick has dreams of extending the sport to deep villages where talent is hidden.

Apolot won the title in April after beating Czech Republic's Tereza Dvorakova in Australia.

During a press conference where she launched a fight dabbed Elohim Gives Intercontinental title defense, Apolot noted that there are many untapped talents in villages and she wants to use such fights to bring awareness to the people.

Apolot will tussle it out with Bosania's Sandra Zivkovic in defence of her Intercontinental title that she won after knocking out Austria's Carina Greimel last year.

"I will do all it takes in a period of just one year and bring all hidden treasures our country has got in kickboxing, the fight at home will definitely be a big step towards my goals because there are many girls who wish to be like me. By showcasing this at home, I will have attracted many," Apolot said.
The fight that is meant to have this year's champion in the World Kickboxing Federation (WKF) Intercontinental light weight will be staged in Kumi at Secret Heart Hotel.

Apolot, who has not lost any of her professional kickboxing bouts will have another interesting k1 style in low kick against Bosania's Zivkovic.

The event will also see off Uganda's Ronald Odoch fight against Bosania's Marko Dmitrovic in the middle weight title alongside other undercard boxing and kickboxing fights.

Apolot will enjoy sh20m sponsorship from Hima cement for six months. The company has sponsored her for the past three years.