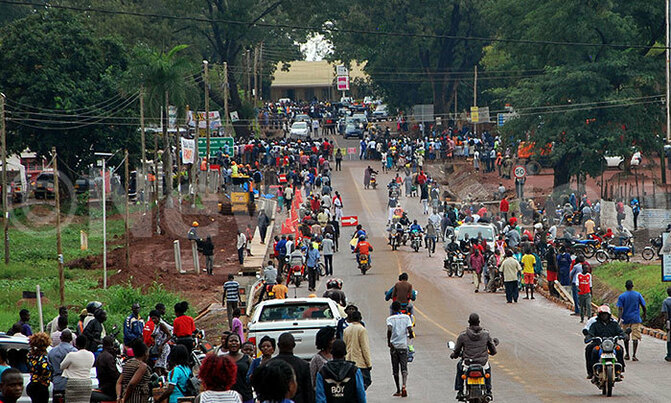 The Kyadondo East MP is once again a free man, after a successful bail application in a northern Ugandan court.
PIC: The Gulu High Court drew an interested crowd on Monday. (Credit: Dennis Ojwee)

COURT

(UPDATED): GULU - Four days after sniffing freedom for only a couple of minutes, Kyadondo East MP Robert Kyagulanyi (alias Bobi Wine) is once again a free man after a successful bail application at the Gulu High Court on Monday.

When the State dropped charges of illegal possession of firearms and ammunition against Bobi Wine last Thursday, the army court, which was handling the matter, set him free.

But in a dramatic twist of events, the musician-turned-legislator was shortly after re-arrested by Police and immediately driven off to the Gulu Chief Magistrates Court, where he was charged with treason and sent on remand at Gulu Central Prison.

There, he shared the same incarceration environment with some fellow MPs and others, also charged with treason.

All the 33 suspects are implicated in the attack of the President's motorcade in the runup to the August 15 Arua Municipality by-election.
Defence lawyer Caleb Alaka reading out the sureties of Kassiano Wadri

After a triumphant application for bail on Monday, Bobi Wine has again tasted freedom. Gulu resident judge Stephen Mubiru granted him and 11 others bail after a nearly four-hour hearing at the Gulu High Court.

Ntungamo Municipality MP Gerald Karuhanga, Jinja East MP Paul Mwiru and Arua Municipality MP-elect Kassiano Wadri are among the suspects that were released on bail.

In his ruling, Judge Mubiru granted each of them a non-cash bond of sh5m and each of their sureties a non-cash bond of sh10m.

They will have to report to the Chief Magistrates Court in Gulu on Thursday (August 30) and from then on, as and when the Chief Magistrate deems necessary.

Later in the day, all the other 20 suspects were also granted bail.

Packed session
An aura of expectation surrounded the build-up to Monday's bail application hearing, which had been scheduled to begin at 9am local time. The suspects were brought to court one hour early aboard a Prisons bus.

A heavy security deployment was ubiquitous as the legal teams, politicians and other people, incuding Kyagulanyi's wife Barbie, touched base in time for the court session.

Inside, the courtroom could not accommodate the large group of suspects at the same time. So they were split into two groups, with the first group featuring Kyagulanyi, MP-elect Wadri and other legislators.

Three sureties for Bobi Wine

The defence legal team, led by Caleb Alaka, presented their arguments for bail. They said their clients have no pending cases in other courts, have fixed places of abode, are ready to adhere to the conditions of bail and will not interfere with witnesses.

Bugweri County MP Abdu Katuntu and human rights lawyer Nicholas Opiyo were part of the defence legal team.

Former FDC president Gen. Mugisha Muntu, Buyaga West MP Barnabas Tinkasimire and Eddie Yawe stood surety for Bobi Wine.

Kabweri County MP Francis Gonahasa and former Leader of Opposition in Parliament Winfred Kiiza were Wadri's sureties.

Bukoto East MP Florence Namayanja and Nwoya Woman MP Lilly Adong stood surety for Ntungamo Municipality MP Gerald Karuhanga.

Jinja East MP Paul Mwiru had two fellow legislators stand surety for him -- Soroti Woman MP Angeline Asio Osegge and Soroti Municipality MP Herbert Ariko.
Paul Mwiru speaking to journalists after being released on bail

Former Makindye East MP Michael Mabikke had Leader of Opposition in Parliament Betty Aol Ochan and KCCA councillor Katabu Moses stand surety for him.

Former FDC president Dr. Kizza Besigye, donning a red cap, was inside the courtroom, as were other politicians such as Kalungu West MP Joseph Ssewungu, who was seen holding a red rosary during the hearing.

DP president-general Nobert Mao and Makindye West legislator Allan Ssewanyana were also present inside the crowded court.

State: Wadri should stay away from Arua

In their submissions after all the applications were heard, the prosecution team, who included Lillian Alupu Omara, asked that the suspects with travel documents have them surrendered to the court.

The State also particularly wanted Wadri to steer clear of Arua Municipality, the origin of the violence, for three months to allow Police investigations be carried out smoothly.

The defence team was critical of the submission on travel documents, arguing that Kyagulanyi, for instance, will require medical treatment abroad, as they considered it a "matter of life and death".

On Wadri's restricted movement, Sseggona argued that the MP-elect is "not a violent person" and has "a duty to represent the constituency and has to report to the constituency every month" as part of his work.

In his comments, Judge Mubiru said there is need for Police investigations to be done in a "calm environment" and that while Wadri may not be violent in nature, he has no control over conditions that could spark off in the area.

"It is desirable that we have an environment of calmness in the area for investigations to be carried out," said Mubiru.

He then granted 12 of the applicants bail, before handling the rest.

The decision was met by jubilation within and outside the courtroom as reunions were established.