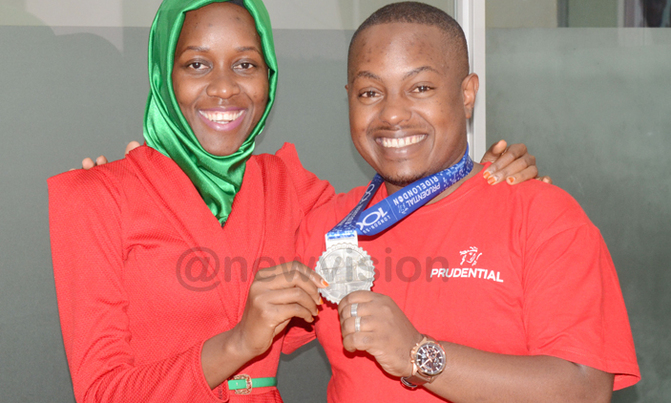 Prudential RideLondon, now in its sixth year, has grown to become one of the biggest cycling festivals in the world.
Andrew Bwiza is now inspired to do more charity work after participating and completing the grueling 100 miles (170km) Prudential RideLondon cycling race.

Bwiza, an Agency Development Manager with Prudential Uganda was part of the 27,000 cyclists that took part in the annual charity race that normally attracts close to 100,000 cyclists, early this month and is looking forward to getting more involved in charity following his experience in London.

He was part of the African riders including participants from Kenya, Zambia, Nigeria and Ghana that is participated in the world's greatest festival of cycling.

It was his first time in London, but he braved wet and windy conditions and completed the race in about ten hours, and says despite the daunting experience, it was worth doing it for charity.

"It was a fantastic experience, I was so excited in the beginning, but it wasn't an easy ride; it is tasking and requires a lot of training. I got a lot of motivation and kept on thinking about charity and in the end it was all about doing it for what you stand for," Bwiza said.

"Every part of my body was aching but we got encouragement along the way and I managed to finish the race. After the race I was limping but got satisfaction when I received a medal given to all those who finish, I'm very grateful to Prudentilal for giving me the opportunity,"

Prudential Uganda will donate sh30m for the Kisakye Children's Empowerment Rehabilitation Organsation in Kayunga that caters for disabled children, raised through a fundraising dinner before he left for the race.

Prudential RideLondon, now in its sixth year, has grown to become one of the biggest cycling festivals in the world. Colleagues from Prudential Businesses across the world join professional cyclists, celebrities, families and first-time cyclists at the world's largest cycling event in London. This is the second year running that Prudential Uganda has successfully participated in the event.

"The aim of Prudential RideLondon is to give more people the opportunity to get out on their bikes, get more active and make cycling a part of their daily routine in order to live a healthier lifestyle. Prudential Ride London also aims at raising money for charity organizations word-wide. We have raised over USD $64 million dollars for various charities across the word since inception in 2013," Arjun Mallik, CEO Prudential Uganda said.

"We are glad to make a change within the community where we operate and thank Andrew for representing Prudential Uganda," he said.