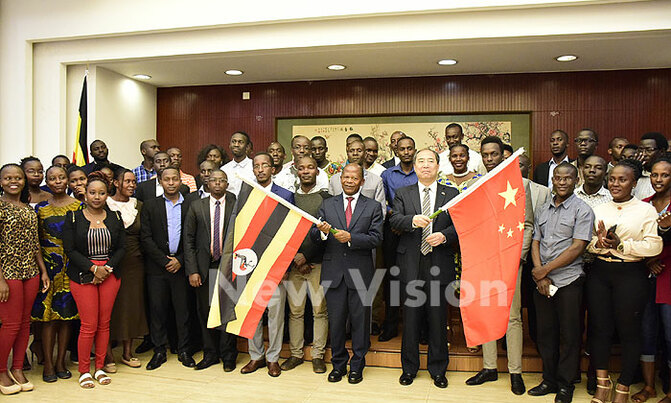 "We welcome more Ugandan young students to study in China. We believe you will become the driving forces to expedite Uganda's development," says Ambassador Zheng Zhuqiang.
STUDYING ABROAD

KAMPALA - When Carolyne Kajumba sets foot in China a couple of days from now, it will be a completely new experience for her.

The former student of Good Shepherds High School, Bweyogerere will be pursuing a Bachelor's degree in Tourism on a full scholarship offered by the Chinese government.

"It will be a whole new experience for me, but from which I hope to gain hands-on skills in especially the hospitality business," she said.

And just like Kajumba, also Noeline Atukunda, Jerome Kansiime and Sharon Kobusingye hope to return better equipped and ready to drive Uganda forward.

They are part of a group of 69 Ugandan students that were flagged off Saturday at the Chinese Embassy in Kampala to study in China, courtesy of the 2018/19 Chinese Goverment Scholarship programme.

The warm send-off reception had John Chrysostom Muyingo, the minister of state for higher education, represent education minister Janet Museveni as the chief guest.

In attendance were officials from the education and foreign affairs ministries, as well as members of the China Alumni Association in Uganda and Uganda Students Association in China.
A cross-section of the students and other guests at the send-off function. (Credit: Maria Wamala)

In his remarks, Chinese ambassador to Uganda Zheng Zhuqiang said education is the "development foundation" of any nation.

And "to tap into the huge human resources of Uganda, higher education is the key solution".

The scholarship beneficiaries will study at various universities in the east Asian nation for Bachelor, Master or Doctoral degrees.

Their fees for tuition, basic learning materials, accommodation, living allowance, outpatient medical service and insurance and international airfare for the first trip to China and returning trip after completion of study are all covered under the scholarship.

Ambassador Zhuqiang said more young students are getting "tangible benefits" from the co-operation between Uganda and China in efforts to promote education.

About 500 Ugandans are known to take short-term training courses in China every year.
Main guest Minister Muyingo chats with his host, Ambassador Zhuqiang. (Credit: Maria Wamala)

On his part, Minister Muyingo hailed the "friendship that exists between China and Uganda", which has been "extended to almost all corners of Uganda".

A fortnight ago, he was at Makerere University's main campus in Kampala to receive scholarships by the Chinese government for a group of Ugandan students who are "academically very powerful but financially disabled".

China has also brought in teachers to teach their Ugandan counterparts Chinese language, as relations between the two nations grow.

"For this and many more signs of friendship to come, bravo. Thank you for loving and caring for Uganda and thank you for supporting the development of Uganda," Muyingo said.

Muyingo's message to the China-bound students
"Fly the Ugandan flag high up by working extremely hard in your studies. Be very good students, be the best and ensure that you complete your programmes within record times.

"But make sure you acquire those skilks and values that have enabled China to be where they have reached, so that you return to Uganda to push the nation to the middle-income status.

"Learn the culture of hardwork. You will find that the Chinese wake up very early to go to work and leave very late. That culture is not yet with us, but it is you to inspire it.

"Another culture of the Chinese people: they don't take money for what they have not worked for - that is corruption. I did not see it there.

"There are many things, but I want you to go and get the good ones. Be law-abiding, don't misbehave in any way. I trust you, you will make a difference when you go.

"Please comes back immediately after completing your [respective] courses."
Meanwhile, Zhuqiang rallied the students heading to China to "study hard and cherish the hard-won opportunities to use the knowledge you learn from China to build Uganda.

"We welcome more Ugandan young students to study in China. We believe you will become the driving forces to expedite Uganda's development and become good-will ambassadors for China-Uganda friendship," he said.

Dr. Omo Alfred, who is the president of the China Alumni Association in Uganda, thanked China for "continously giving support to Ugandan students".

"You can be settled in mind that you are going to a great country -- with many organised universities and disciplined students," he told the students. "You have a chance to learn more than you would have expected."

The heart and chest surgery PhD holder urged them to remain focused, as there are "many good things that may divert your attention there".

Re-echoing the need to maintain focus, Timothy Mukisa, the president of the Uganda Students Association in China, also assured them that he and his team will help the students settle in -- right from the airport to their respective universites so as "to calm the nerves".

Many of them will be traveling to China for the first time.
Dr. Omo Alfred urged the students to learn Chinese language in order to fit in better. (Credit: Maria Wamala)

The Chinese government has been providing scholarships for Ugandan students to study in Chinese higher education institutions since the 1980s.

But besides education, the global economic powerhouse has a considerably large footprint in Uganda and on the African continent at large in various other sectors, including infrastructure and industry.

And the ubiquitous presence of the world's second-largest economy is expanding. One event that is hoped to elevate the China-Africa partnership even higher is the Beijing Summit of the Forum on China-Africa Co-operation (FOCAC) that is due early next month.

"We believe that with the joint efforts by China and African countries, the FOCAC Beijing Summit will surely be another historic event to strengthen China-Africa solidarity and co-operation," said Zhuqiang.

President Yoweri Museveni is expected to meet his Chinese counterpart Xi Jinping at the summit -- and discuss China-Uganda ties.

The two leaders last met last month in South Africa.