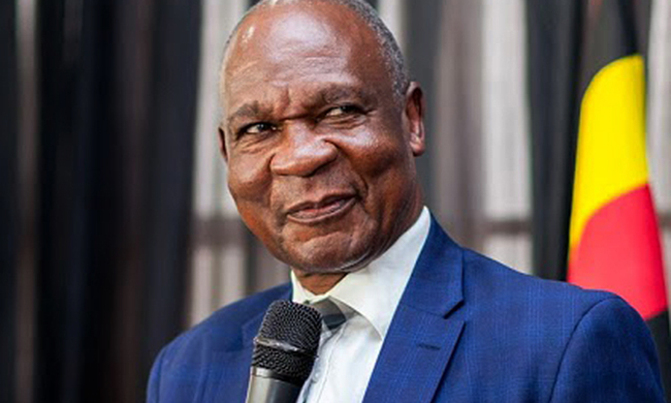 The tourism industry accounts for about 9% of GDP, amounting to USD1.7 billion.
By Kisamba Mugerwa

KAMPALA - The achievement of long-term sustainable economic growth in the face of climate change is a major concern for Uganda.

The climate of Uganda is a valuable natural resource and a major determinant of other natural resources like soils, water, forests and wildlife, as well as the human activities dependent on them.

However, increasing emission of carbon dioxide and other greenhouse gases are changing the earth's climate.

A recent study on Uganda's rainfall patterns revealed that there has been a profound decrease in average rainfall of about 12% in the past 34 years in Uganda.
The study was conducted by a team of experts from the National Planning Authority, Uganda National Meteorological Authority and Pennsylvania State University in 2016/17.
The findings were published in a Nature Journal- Scientific Reports in May 2018 (https://www.nature.com/articles/s41598-018-21427-5).

Despite short-term anomalies in rainfall, these decreases are greatest in agricultural regions of central and western Uganda, but similar rainfall decreases are also reflected in the gorilla habitat within the Bwindi Forest in Southwest Uganda.
The findings carry significant implications for agriculture production, food security, wildlife habitat and economic impact at the community and societal level.

From an economic planning perspective, major projects can be mapped to the mean and variability of rainfall for a given location or extent and engineered to account for anticipated extreme events.

Additionally, agricultural planning can be adapted to patterns and predicted changes in rainfall.

Moreover, since in a country like Uganda over 70% of the population depends on rain-fed agriculture for food and income, the findings may be used to understand population growth and density in given regions and therefore facilitate planning for settlements and food security.

Rainfall provides the water that serves as a medium through which nutrients are transported for crop development.

In view of this significant role, clearly, inadequate water supply has adverse effects on efficient crop growth, resulting in low productivity.

Among Uganda's post 2015 development targets and goals were that by 2030, Uganda should have doubled agricultural productivity and incomes of small scale farmers through secure and equal access to knowledge, financial services, markets, and opportunities for value addition.

Food security not only carries significant benefits for human health, but also serves as the basis to achieve sustained economic growth.

According to UN Food and Agricultural Organisation, Countries with very high levels of poverty and chronic malnutrition face limitations in human capital development, which is required to achieve sustainable growth.

High levels of poverty, inequality, and chronic malnutrition force governments to invest significant resources in the short-term through social safety net programmes and conditional cash transfers.

Additionally, high rates of malnutrition can lead to a loss in gross domestic product (GDP) of as much as four to five percent.

In the event of food insecurity, hunger, poverty and disease are interlinked, with each contributing to the occurrence of the other two.

Hunger reduces natural defenses against most diseases, and is the main risk factor for illness worldwide.

Ugandans living in poverty often cannot produce or buy enough food to eat and so are more susceptible to disease. Sick people are less able to work or produce food.

In regard to Bwindi Impenetrable Forest, the forest reserve constitutes one of the last remaining habitats of the Mountain Gorilla, and is considered crucial for species survival.

From an ecological perspective, habitat limitations for endangered species may place their survival at greater risk.

This also has negative implications on the tourism industry which is an important sector that has been growing consistently since the restoration of peace and security.

The tourism industry accounts for about 9 percent of GDP, amounting to USD1.7 billion. For instance, foreign visitors brou ght into the country an equivalent of $1.003b in foreign exchange earnings in 2012, from $662m in 2010.

Although climate is global and regional, policy and preparation remain largely dependent upon individual countries, where the consequences of climate and remediative responses are complexly related to local conditions.

Uganda is a country where 72% of geographical area is used for rain-fed farming and the population growth is one of the highest in the world.

An average rainfall decrease of the magnitude reported, over the multiple decades of the climate record examined, is important for sustainable agricultural decisions in a country dependent on subsistence crop yields.

Therefore, understanding the fine-scale spatial vulnerability of such rainfall declines can help generate more efficient decision-making and resource use allocation.

There is a substantial need for more granular and accurate prediction modeling for both short-term drought anticipation and longer-term rainfall trends within the time-frame relevant for economic planning.

Nevertheless, the present trend in rainfall decrease is gradual enough so that there remains an opportunity to build adaptive capacity through strategies to make the country more resilient: anticipatory land-use management, shifts towards more sustainable agricultural practices, wastewater reuse, and infrastructure development to increase the resiliency of the society with respect to short and long-term changes in rainfall.