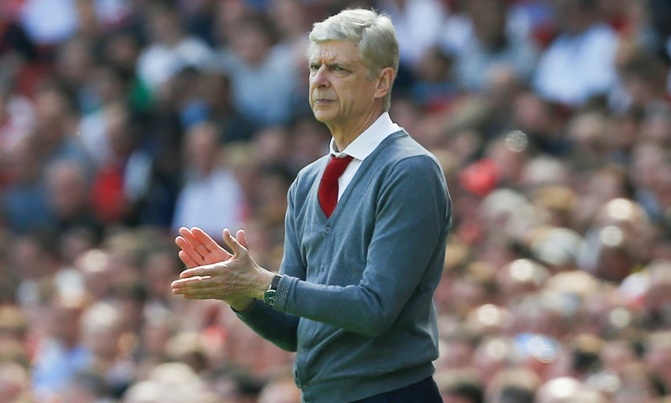 Wenger was praised for the "development of the youth in Africa" throughout his coaching career.
HONOURS

PAYNESVILLE - Liberian President George Weah on Friday gave his country's top honour to Arsene Wenger and Claude LeRoy, the two French coaches who gave his football career an early boost.

At a red-carpet ceremony in the suburbs of the capital Monrovia, Wenger was praised for the "development of the youth in Africa" throughout his coaching career.

"Your positive role has not only affected the professional success and personal life journey of many African footballers, but also the entire generation of young Liberians who follow President Weah as a mentor," the ceremony's speaker said as Wenger received the distinction of Knight Grand Commander of the Humane Order of African Redemption.

Wenger signed Weah, then 22, when he was in charge of Monaco in 1988.

"You are president now, before you were my kid," Wenger said at the end of the ceremony. "I wish you a very peaceful and happy future, and make us proud," he added.

After four seasons with Monaco, Weah moved to Paris Saint-Germain and then to AC Milan in 1995 the year he became the only African to win the coveted Ballon d'Or for best player in European club football.

After Weah was elected president in January, he invited Wenger to his inauguration, but the Frenchman, in what turned out to be his last season as Arsenal manager, was unable to attend.

Le Roy met the young Weah while managing Cameroon's national side.

"He had signed to Tonnerre Yaounde and came to Cameroon national squad training even though he was a Liberian.

"I was dazzled by his talent and called Arsene," Le Roy, who is currently coaching Togo's national team, told AFP.

Over the past week, debate in Liberian newspapers and radio shows has mounted over whether the award usually reserved for individuals who have made an exceptional contribution to Liberia is right.

In the streets of Monrovia, some Liberians questioned the timing of such a ceremony, as the poor West African nation grapples with runaway inflation and a host of other economic woes.

"This honouring should not have been prioritised now," said George Sackie, a 35-year-old teacher.

The government maintains, though, that both men helped Liberia through helping Weah.

"If Arsene Wenger and Le Roy had not exposed George Weah he would not have been the pride of an entire nation today," said Andy Quamie, deputy minister of youth and sports.

Among other Liberians including many young people who helped propel the soccer great to the presidency in January's elections the event is a source of pride and excitement, placing the country on the world map.

Hundreds gathered in Monrovia on Wednesday, hours before the expected arrival of the Frenchmen.

"For me the president is right to give such honour to the man who made him to be the only African to handle the world's best title," Patrick Harris, 23, told AFP.