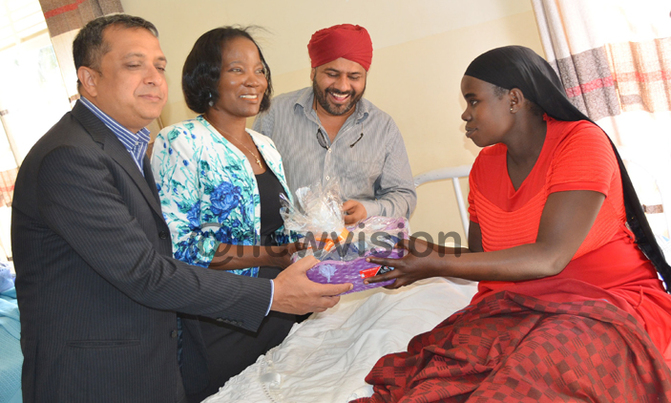 The maternity ward which is well equipped was constructed by the Indian Women Association.
The Indian High commissioner Ravi Shabker, the Executive Director of KCCA Jenifer Musisi and Singh Katongole handing over a gift hamper containing baby clothes, soap and diapers to a mother at Kitebi Health Centre. PHOTO: Violet Nabatanzi
Close to 2,000 expectant mothers will benefit from the newly constructed maternity ward at Kitebi Health Centre IV annually.
The maternity ward which is well equipped was constructed by the Indian Women Association.

The ward worth sh160m will accommodate twelve beds.

The manager of the facility Sylvia Nantongo said the current ward was too small to accommodate the overwhelming number of expectant mothers.

"Previously the space was too small, we have been having many floor cases, but after the Indians aiding us, there will be no more mothers sleeping on the floor after delivering," Nantongo said.

Nantongo said on a daily basis, the facility delivers more than 20 mothers. She, however, said sometimes they faced a problem of limited medical supplies for expectant mothers.

"Most of the time, we get few supplies and yet the population is high. The mothers who come to deliver from this facility, come empty handed thinking that the hospital provides everything and yet this is not the case," she said.
Indian women inside the newly constructed maternity ward
Speaking during the handover of the new maternity ward to the executive director of Kampala Capital City Authority (KCCA) Jenifer Musisi, the chairperson of Indian Women Association Suman Venkatash said the new maternity ward is the first phase of the proposed donation adding that the second phase will provide more beds and clinical facility such as a labour ward and operation theatres.

"Indian Women Association believes in teaching a person how to fish which will support her throughout her life time, rather than giving her a fish for a meal," Venkatash said.

Musisi commended the Indian women for constructing the maternity ward saying that this comes at the right time when there was a need.

She appealed to politicians to talk less and do more for the public. She cited Singh Katongole who is not in active politics, but he is helping the people in Kampala to live a better life.

"Katongole would have dismantled this ward when he didn't win the last elections, people need services more than talking," Musisi said

She noted that more people are seeking health services from KCCA health facilities saying that Kisenyi health centre is delivering at least 600 mothers every month.

The Indian High commissioner Ravi Shabker said the number of Indian doctors coming to Uganda to work is increasing every day.

"We want to see more Indian doctors and medical facilities coming here, other than seeing more Ugandans travelling to India for treatment,"Shabker said.