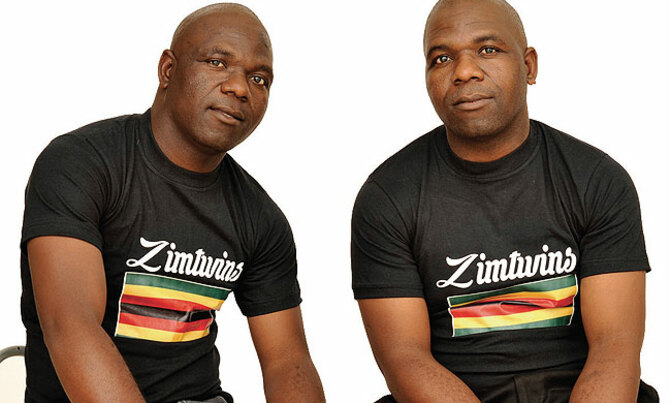 The Zimbabwean male twins have been flown in courtesy of RwandAir.
PIC: Gift Petro and Pachawo Petro are expected in Uganda on Friday

EVENTS


Twenty-year-old Gift Petro and Pachawo Petro are to arrive in Uganda Friday to grace the fi fth edition of the Kampala Twins' Festival organised by Vision Group.

The festival themed Twins Got Talent will see twins participate in numerous fun packed activities on Sunday at Mandela Stadium, Namboole.

The entrance fee of sh10,000. The Zimbabwean male twins have been flown in courtesy of RwandAir and will spend their four-day visit at Urban by CityBlue Hotel in Nakasero, Kampala.

Both RwandaAir and CityBlue Hotel have partnered with the Kampala Twins Festival to ensure the visiting twins enjoy the festival.

The pair is here on behalf of the Zimbabwe Twins Foundation, an organisation representing all the twins and multiple births in Zimbabwe regardless of race, religion, political background and culture.

"We formed the organisation in 2009 after discovering that there is need to represent these unique births in Zimbabwe, and encourage other twins and multiple births to come up and register to be part of this non-profit making 8 organisation," Pachawo said.

The twins hope to promote cultural exchange activities between the two countries, Uganda and Zimbabwe.

"This will be our dream trip meeting up with other regional (African) twins and multiple births," Gift said. The twins will spend part of tomorrow touring Kampala city courtesy of Boda Boda Tours, and then attend the festival on Sunday.

Vision Group's Hajara Batuuka says there will be numerous activities for all age groups. For children there will be games such as bouncy castles and driving toy cars. "For the older adults, we shall have games that remind you of your childhood.

Tug-of-war between the twins, three legged race, sackrace, and dodge ball," she says. Extreme adventure "We have partnered with Adventure Park Busiika and they are bringing for us activities for extreme adventure.

For those activities, there will be a coupon in Sunday Vision which enters participants into a draw, in which they will be able to win a chance to participate in obstacle races in the adventure area," Batuuka explains. There will also be a health camp where people will be able to ask the health questions, and have checks done such as blood pressure.

"There will be medical practitioners to answer all your questions," Batuuka said. What's more, there will be a gaming area with interesting computer games manned by DStv.

Participants will enjoy a lot of entertainment from popular artistes like Ykee Benda, Vinka, the dance and beats cultural troupe which will showcase dances from across Uganda.

Twins parade

"One other interesting attraction is the twins' parade. We have planned an organised and exciting twins' parade where you will be able to walk around with your twin and show off and the crowd cheers you as you move," Batuuka says.

Vision Group's Penlope Nankunda clarifi es that the festival is for all multiples and their families, and that it is open to the public.

"Anyone who wants to come see this spectacle of twins should join us there. For example, we have a family coming that has a set of quadruplets and a set of twins," she says.

"It's a festival with a picnic kind of atmosphere. Come dressed comfortably and interestingly. Carry an umbrella, mat, and come ready to relax and have fun," Nankunda adds. She also assures the public of security at the event as the Police and a private security fi rm will secure the place.

"At least 6,000 people are expected to attend. As a result of the huge expected number, the festival was moved from Kyadondo Rugby Grounds which is a smaller venue hence more space for fun activities," Batuuka says.