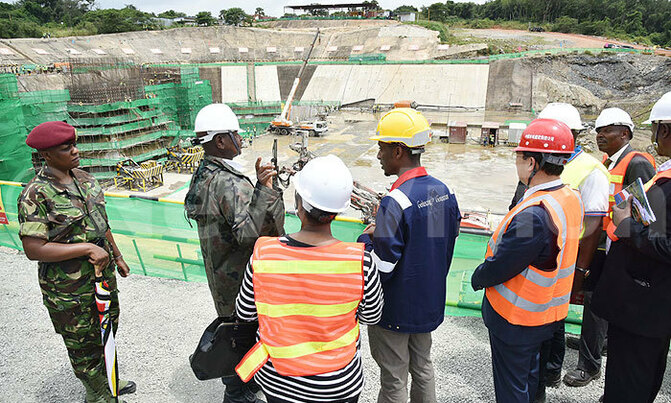 President Yoweri Museveni reveals that the project is expected to generate 200MW by the end of the year, when two turbine units become operational.
PIC: Museveni was taken around the project on Thursday. (Credit: Roderick Ahimbazwe)

ENERGY SECTOR

President Yoweri Museveni inspected the 600MW Karuma Hydropower project on Thursday.

He toured the underground tunnels of the $1.7b (about sh6.3 trillion) project and addressed the workers, contractors and leaders in the area.


Museveni commended the contractor for the good progress, adding that he came to see the powerhouse and dam structure before they were submerged as the project enters the completion phase.

He said he would return for the commissioning of the project next year. The President revealed that the project was expected to generate 200MW by the end of the year, when two turbine units become operational.


"The two units will exceed the 180MW being generated at Kiira and Nalubaale power stations in Jinja. By the end of next year, we expect a total of 600MW to be generated," Museveni said.


Industrial park

The President asked the leaders of Kiryandango district to provide one square mile of land for the construction of an industrial park. He said the park would host food processing and juice making factories, among others.
"You need land for industries in Kiryandongo so that you do not see the power lines passing over your heads going to other places," Museveni said.


In response to concerns about employee welfare at the project, the President said it was the energy ministry and the Resident District Commissioner to address the concerns, not the contractor, Sinohydro Corporation.

The Chinese Ambassador to Uganda, Zheng Zhuqiang, said the project was a good example of China-Uganda economic co-operation.


The ambassador said by last year, $150m (about sh570b) had been spent on local materials, such as cement, steel, wood and vehicles. He said when the project is completed, it is expected to produce $200m (about sh760b) in revenue annually equivalent to 1% of Uganda's GDP.

"Power is a bottleneck for development in Africa. China is helping address this," he said, adding that the Karuma project has created over 6,000 jobs.


Eng. Irene Muloni, the energy minister, said the construction of the power plant is 80% complete, while the transmission lines are at 42%.


She said because of the delay in acquiring land for the transmission lines, the contractor has asked to revise the completion date of the project, from December this year, to December next year.


Joseph Oryem, the LCI chairperson of Karuma, raised concerns about the delayed community development action plan, delayed resettlement action plan and the lack of electricity, as well as clean water in Karuma town.