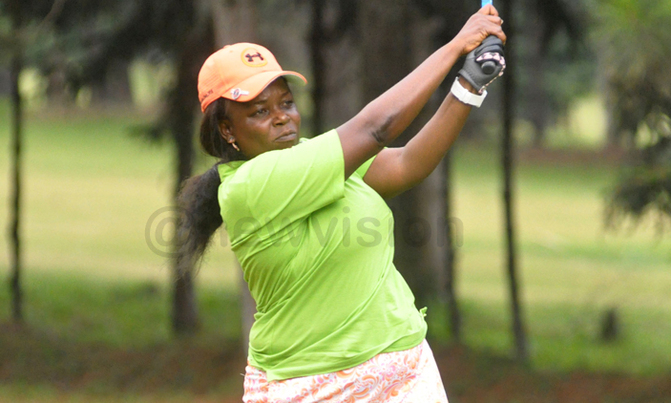 Eva Magala who is the captain of the side has had a good season
The three-man Uganda ladies team that is going to represent the country at the All Africa Challenge Trophy tournament in Ghana will not be short of motivation when they compete in the 14th edition of the Championship at the Achimota Golf club in Ghana, August 26-31.

All the three Ugandan golfers Irene Nakalenbe, Eva Magala and Martha Babirye are coming off impressive performances in domestic and foreign competitions this year which should provide enough impetus for them to perform well in the biennial tournament.

Eva Magala who is the captain of the side has had a good season coming top at the Eldoret SOSIAN Ladies Open in Kenya in May on top of winning the Windhoek Open qualifiers in Entebbe and making the quarter-finals of the Singleton Golf Challenge when she paired with Nakalembe.

On her part Nakalembe has won two majors this year-the Entebbe and UGC Ladies Opens, while Babirye recently topped the Toro Golf Club Centennial Golf Tournament in Fort Portal.

At the last tournament in 2016 in Tunisia, Magala produced Uganda's best score, a 258 gross over the three rounds. The Ugandans found the wet and windy conditions in Tunisia too tough but managed a 7th place finish out of 16 countries that took part.

Participating countries include Botswana, Burkina Faso, Cameroun, Egypt, Gabon, Ghana, Kenya, Mali, Namibia, Nigeria, Rwanda, Senegal, Tanzania, Togo, Uganda, ZambiA, Zimbabwe and defending champions South Africa.

After the AACT the Ugandans will also compete in the Ghana Ladies Open, September 2-4

Teams arrive on Sunday ahead of the first official practice round on August 27, before the competition and prize ceremony thereafter.