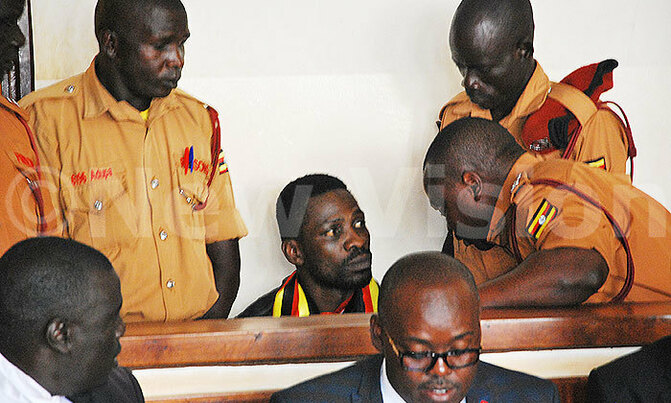 The Gulu Magistrates Court has allowed the legislator and others to access their private doctors for medical care.
PIC: Bobi Wine, under guard, was sat at the back of the Gulu Chief Magistrates courtroom on Thursday. (Credit: Dennis Ojwee)

CRIME

GULU - Kyadondo East MP Robert Kyagulanyi, best known as Bobi Wine, was Thursday charged with treason by Gulu Magistrates Court, and then remanded to prison.

The legislator will remain on remand at Gulu Central Prison in northern Uganda until August 30. With the aid of a crutch, Kyagulanyi, was led into a Prisons vehicle after the court session and driven off to jail, as his supporters chanted outside court.

Appearing feeble and needing a hand into the packed civilian court, Bobi Wine was allowed to access private medication while in detention. Other detained suspects were also granted similar access.

After a week in military confinement following his arrest and subsequent charge on three counts, Bobi Wine was Thursday morning granted freedom after the State dropped charges of unlawful possession of firearms and ammunition against him.

But his freedom was shortlived.

Moments after being helped out of the courtroom by fellow MPs, it was brought to the legislator's attention that he would be re-arrested. And it did come to pass. The director of Criminal Investigation and Crime Intelligence (CIID) Grace Akullo was seen in court.

When his re-arrest was confirmed, Bobi Wine was helped by his wife Barbie into a Police vehicle and then driven off to Gulu Chief Magistrates Court, where he would be charged.

Once inside the filled civilian courtroom, Kyagulanyi was charged with treason under Section 23 of the Penal Code Act.
The prosecution side is arguing that some MPs, including Bobi Wine, and others, in Arua Municipality and other places, tried to harm the person of the President by throwing stones at his motorcade.

That is said to have happened on August 13, two days before the Arua Municipality by-election voting. Several arrests were made that day, as the anticlimax of the campaigns ended with the shooting dead of Yasin Kawuma, Kyagulanyi's driver.

'Matter of urgency'

On Thursday, the Grade One Magistrate Yunus Ndiwalana said treason is a capital offence in nature and that his court has no jurisdiction to handle the case.
Grade One Magistrate Yunus Ndiwalana charged MP Kyagulanyi with treason
Kyagulanyi looked on from the back as his legal team went about their work inside the Gulu Chief Magistrates Court


Lead defence lawyer Medard Sseggona argued that Kyagulanyi was "badly beaten" and had not been receiving any major treatment. He asked that his client be remanded in a hospital where he can receive medical care.

"We also do not object him being guarded by prisons authorities while receiving medical treatment," Sseggona told court.

"It is a matter of urgency that he and others receive treatment.

"Fairness requires that you try a person who is alive so that he or she can defend himself or herself," he added.

In response, the magistrate allowed that others in detention also be allowed access to private medical attention.

"I have had a chance to look at the accused and hear the submissions. We, as a court of justice, cannot sit back as the accused's health worsens. I, therefore, instruct the prisons guards to allow the accused access his private doctors."
The case drew a lot of public and media attention

Shortlived freedom - what happened at the army court

There was an air of expectation early Thursday as Bobi Wine was due to appear before the army court in Gulu. He wore a long-sleeved shirt and brown trousers and appeared a tad feeble -- the first time he was seen in public since his arrest over a week ago.

He remained seated silently, with his head lowered during proceedings.

A limited number of journalists and legal teams were granted access to the military court after going through a ring of tight security at the entrance.

Inside the court, chaired by Lt. Gen Andrew Gutti, Sseggona, who led Kyagulanyi's legal team, was critical of the army court "being used as a forum to arrest a civilian".

"The court is not an instrument for arresting for the Police," he said.

"My prayer is that Honourable Kyagulanyi be declared a free man. He needs urgent medical care."

After remarks from the prosecution team and Nicholas Opiyo (of Kyagulanyi's legal team), court was adjourned briefly, before delivery of the ruling.

Bobi Wine remained seated as people walked out of the courtroom for the break. Former Leader of Opposition in Parliament Winfred Kiiza embraced him and shook hands, as did a few other people that walked past him.

Later, outside court, Sseggona said that it was only proper that after dropping the charges against Bobi Wine, he be released.

His wife Barbie was at the court.

In his ruling once the court was back in session, Gutti declared that the army court had terminated further proceedings against Kyagulanyi, and that in case of other cases, it would be only "fair for the accused to be tried in a civilian court".

His ruling meant Kyagulanyi was a free man. Amid an aura of subdued jubilation, one of the MPs wrapped a scarf around Kyagulanyi and congratulatory handshakes were exchanged.

Overcome by emotions, Bobi Wine broke down.

But such celebration would be shortlived, as Sseggona broke the news to his client after stepping outside the army courtroom. He would be re-arrested.



__________________________________



What happened before Thursday

Kyagulanyi was last week charged in Gulu military barracks, days after his arrest. His detention followed a violent incident in the buildup of the Arua Municipality by-election. As many as 12 candidates contested in the race to replace slain MP Ibrahim Abiriga, with independent Kassiano Wadri taking the day.

The violence, according to Police began after supporters of Wadri pelted President Yoweri Museveni's motorcade after campaigning for his partyflagbearer Nusura Tiperu, who eventually emerged second-best in the contest.

This episode set in motion a series of events, including tthe arrest of Wadri, MPs Francis Zaake (Mityana Municipality), Paul Mwiru (Jinja East) and Gerald Karuhanga (Ntungamo Municipality).

Wadri, the legislators and 29 other suspects were transfered to Gulu, from where they were charged with treason. Meanwhile, Bobi Wine was charged separately before the army court with three counts of unlawful possession of firearms and ammunition.

It was alleged that Bobi Wine was found in possession of two submachine guns, ordinarily the monopoly of the defence forces.

Prosecution also alleged that Bobi Wine was found in possession of 35 bullets of calibre 7.62mmx39mm, equipment of the defence forces, in his hotel room.

Prayers held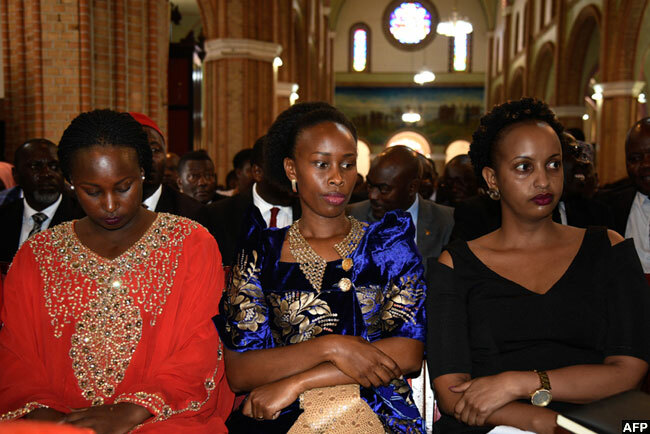 On Wednesday, prayers were held at Rubaga Cathedral in Kampala dedicated to Kyagulanyi and others in detention.

"When I met my husband, he asked me to organise Holy Mass sot that Ugandans pray for him and others in detention," Barbie said.

She asked people to light candles in the Church as per her husband's request. The prayers were organised by the Uganda Performers Association.

It was a filled Mass, with the likes of veteran FDC politician Col Kizza Besigye and current and former Leader of Opposition in Parliament Betty Aol Ochan and Winfred Kiiza in attendance.

Several Bobi Wine supporters demonstrated outside the grand cathedral and demanded his and others MPs' release.

'It should never have happened'

Meanwhile, the Deputy Speaker of Parliament visited Bobi Wine and bedridden Zaake, and later condemned the manner in which the legislators were tortured by security operatives following their arrest in Arua last week.

"This situation should never have happened. Never," he said.

"What I have seen is that both of them (Kyagulanyi and Zaake) are in a lot of pain," added Oulanyah.

"When I visited Bobi Wine, he was able to come and sit with me. We joked and we were laughing, but he is in a lot of pain. Similarly, Zaake is in a lot of pain. He has wounds on his fingers. They were both taken for imaging and no internal injuries and bleeding were seen."

Despite receiving treatment at Rubaga Hospital and Makindye Military Hospital, MPs that visited the two legislators intimated that the two MPs need specialised medical care.