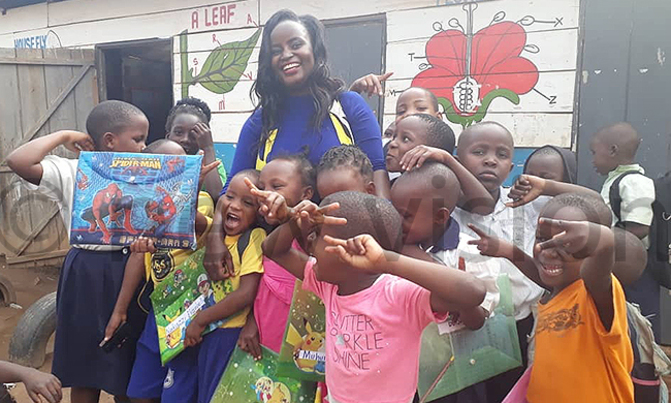 Bwaise is overcome with several challenges including flooding and waterborne diseases due to poor housing planning.
PIC: Nakazibwe with the pupils of Action for Fundamental Change and Development (AFFCAD) School. (Credit: Jacky Achan)

EDUCATION

KAMPALA - At the mere mention of Bwaise, a neighborhood within Kampala, people rightfully visualize a huge slum, stricken by poverty.

Bwaise is overcome with several challenges including flooding and waterborne diseases due to poor housing planning.

"When you are born in Bwaise, it nearly translates to having a hopeless future," Muhammed Kisirisa Director of Action for Fundamental Change and Development (AFFCAD) School. But, Hadijah Nakazibwe who heads Action for Fundamental Change and Development (AFFCAD) School; formerly Excel Education Centre, is aware of the looming fate and is helping turn the tide.

As a way out, she runs this community school which is offering free education such children and from this community.

Nakazibwe will not let disease; cases of flooding and overall poverty hold back her pupils' dreams of becoming successful in life.

Handling the numerous problems

Having equally been born and raised in the poverty stricken slum of Bwaise, Nakazibwe knows too well the struggle of its inhabitants.

She has made it a point never to turn down a parent who approaches her office.
The pupils of Action for Fundamental Change and Development School. (Credit: Jacky Achan)

She listens to each one of them and offers support; whether it is allowing the parent more time to avail their child with scholastic materials that include books, pencils or pens or to discuss their children's performance.

Nakazibwe is in a constant battle to ensure her pupils get the quality education they deserve just like other privileged children.

She also never hesitates to step in for teachers who fall sick or absent due to personal problems.

"We are seven teachers but, I can step in where a colleague is not available as is expected of any professional teacher," she explains.

Nakazibwe is currently relocating and rebuilding the school from the slum. "At our old location in Lufura zone Bwaise, whenever it would rain the school would get flooded. However, we acquired arid land at Nakimiro Zone Bwaise II Parish," she explains.

"The land is vast and provides a conducive and healthy environment safe from flooding," she says.

Nakazibwe says the choice of finding a new location for the school still in Bwaise, was to ensure that the community that birthed this school does not lose by the relocation.

At the old location, the school was running a Nursery wing up to Primary Five but, due to the limited structures, it now goes up to Primary Three.

Currently the school has 90 children from baby class up to Primary three, from the previous 150 when they still had classes running up to Primary Five.

"We are also rebranding it. It is now called AFFCAD School. It has been put under AFFCAD, a non-governmental organization which established it," she says.

But, moving to its new location and setting up a bigger structure, will eventually enable the school accommodate more children.

Nakazibwe adds: "We are going to reduce illiteracy in this slum. All I know is that 90 per cent of people who stay in Bwaise have never attained primary education."

Involving parents

Previously AFFCAD School provided free education and scholastic materials to the school's pupils.

But, to involve parents in their children's education, the school resorted to having them at least provide the scholastic materials, as the pupils continue to study free of charge.

The schools also ensures there is continuity of education for these children after AFFCAD.

"We have partner schools that know the background of our children; in which we enroll them for higher classes. We sponsor every child and the schools get the money through our coordinator when availed by the donors," Nakazibwe explains.

One of the volunteer teachers from Switzerland Natalie Staub says Nakazibwe is the most competent, hardworking, persistent and passionate teacher. "I have seen her constantly growing" Staub says. "Her days are long and tiring but, she always keeps a warm smile on her face," she adds.

Who is Nakazibwe
She was born and raised in Bwaise. When she completed High school it was like a miracle, looking at her impoverished background.

Hadijjah Nakazibwe attended Bwaise Parents School upto 2005, Emmanuel's College in Bwaise for her O'level upto 2009, and Kampala SS for A'level upto 2011. She then joined Buloba Primary Teachers College where she attained a Grade three teachers certificate in 2016.

Nakazibwe also has a diploma in Accounting and Finance attained in April this year from Multitech Business School, a course she studied to help her provide better accountability to parents and the donors who support the school in her position as head teacher.

Nakazibwe completed her Senior Six in 2011 and volunteered at AFFCAD. Teaching was her passion.

She was raised by a single mother, following the separation of her parents. She says it was difficult to survive even to go to school after her father and mother separated.

"My struggle made me commit to helping children in Bwaise," she reveals.

"I knew I could have support my community through teaching to overcome their various challenges that starts with poverty.

I was encouraged to get formal training in education (teaching) and I went for it," she says.

"During school holidays I would be at the teachers college studying and when the children returned to school, I would be present teaching. Slowly I upgraded," she adds.
Changing minsdets and lives

Muhammed Kisirisa a Co-founder plus member of the Parents and Teachers Association and also Chief Executive Officer for AFFCAD says besides being passionate about education, Nakazibwe is transformative and developmental.

"She is a courageous teacher. She has moved the school from its old location to a new location safe from flooding and we intend to have a big structure that can accommodate more children.

Nakazibwe has helped us build a system where children access quality education free of charge," he says.

Kisirisa says also upon becoming headteacher, Nakazibwe recruited good teachers who have committed their service to the school. "Previously teachers would not stay for long at this school.

Gatrude Nakawali an Education supervisor Kawempe Division says Nakazibwe is a welcoming teacher and relates very well with parents and teachers to provide quality education to her pupils.

"Her school is in a slum area and she handles vulnerable children from the community right from nursery to primary level.

The three times I have been to her school, I encouraged her to find a better location for the school which she has successfully done," she explains.

"I have known Nakazibwe for a long time. My children have been going to AFFCAD. I give credit to Nakazibwe for having educated most of our children in the community.

She has shaped my child too. She also handles parents well,"Vincent Busuulwa, a parent to one the pupils says of Nakazibwe .

Another parent Brenda Nakiwala says as parents, they believe and appreciate what Nakazibwe is doing for them and their children. She has friends (donors) who bring support in form of scholastic materials.

Nakazibwe also understands the plight of parents and their challenges in educating children.

Harriet Nalubowa, a teacher at AFFCAC says Nakazibwe is an exemplary teacher, excellent at her job and they have all been able to learn from her when it comes to the manner in which she executes her job which is giving children in Bwaise slum hope through education.