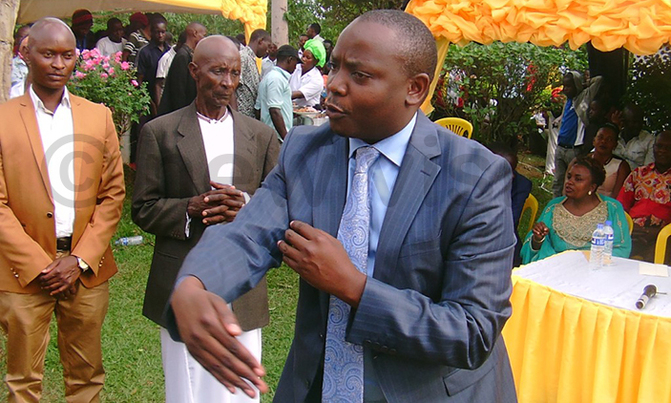 He appealed to landlords to sacrifice parts of their land for the roads to pass through
The minister of state for water, Ronald Kibuule, has advised lower local government planners in Nama sub-county to make wide roads from the onset, leaving no room for encroachers of road reserves, whose eviction ignites chaos and tears.
Kibuule noted that parts of the sub-county are to be upgraded to a town council, adding that it is imperative that roads meeting demands of that status are made, rather than making narrow passages that do not conform to the ongoing development.
"If we make narrow roads, we will be inviting encroachers to set up kiosks and other enterprises in the road reserves whose removal will spark of quarrels and blame to the authoritie,s" he observed.
Kibuule appealed to landlords to make their contribution by co-operating with contractors through sacrificing parts of their land for the roads to pass through.
The minister who is also the Member of Parliament for Mukono North Municipality, was on Sunday officiating at the thanksgiving ceremony organised by Christopher Sendawula who won the LC1 chairmanship for Buligobe village in Namawojjolo parish.
Sendawula who contested as an NRM-leaning independent candidate, tussled with Dan Muhanguzi who held the party flag, beating him with 195 votes against 82 votes.
Kibuule disclosed that a large number of water pipes to connect the area to the national water supply grid have been procured, and that extension of electricity to the area is in advanced stages, with contractors finalising the process at Bwefulumya village, and then proceed to Namawojjolo parish.
He also disclosed that he is going to resume fulfillment of his election campaign pledges including involvement of households in small scale animal husbandry production, beginning with chicken, piglets and goats.
In his speech, Sendawula reported that the biggest problem in the area is access to clean water, noting that most water sources are unsafe and dirtier during dry seasons.
"We at times have to share water with animals, and we are worried that if this is not addressed soon, our people may contract diseases," he said.
Sendawula was happy to note that the minister has embarked on extending electricity to the area, and expressed hope that the move will to some extent decrease on the insecurity fuelled by darkness.