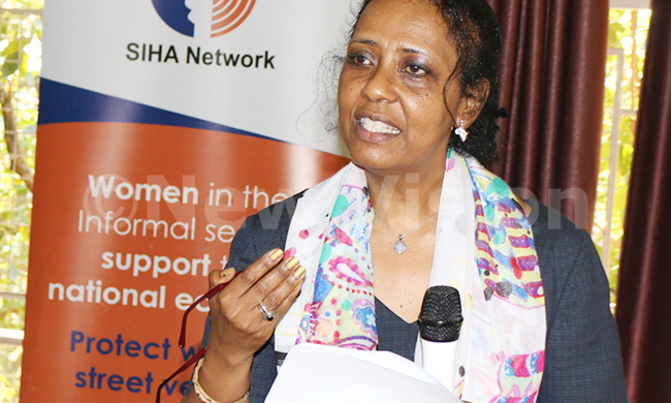 Over 2.7m Ugandans are employed in the informal sector.
PIC: SIHA regional director, Yasin Halal speaking to the women vendors during a meeting. (Credit: Racheal Nabisubi)

BUSINESS

Kampala - Women Street vendors under their umbrella body 'Platform for Vendors in Uganda (PLAVU) have formed cooperatives to increase their revenue and market base.

Speaking at a presentation of a report about Women Street Vendors in Kampala titled: "The Invisible Labourers of Kampala" by Strategic Initiative for Women in the Horn of Africa (SIHA net) in Kampala on Friday, Flavia Amoding, Chairperson PLAVU said women working in informal sector such as street women vendor are vulnerable yet they have to feed and take care of their families.

She noted lack of social protection, challenges with products of trade, eviction, arrest and confiscation of property, relocation, sexual harassment and exploitation, as major challenges affecting their contribution to the economy.

She says they too have families to feed and cater for. However, when their goods are taken, they are left with no capital.

"The good thing is that we have organised them into cooperatives which we believe will enable them support each other and improve on their businesses hence increasing their profits and revenue earnings," Amoding said.

Adding them that this will in turn lead to value addition and construction of better storage facilities.

Abalo Proscovia, the SIHA Programme officer noted that cooperatives will enhance capacity building among women street vendors in systematic areas such as business skill management, financial literacy and advocacy and elementary laws that govern street vending, the local government act, human rights and formation of cooperatives.

"We realised that for these women to achieve their goals, they need to form cooperatives which are collective efforts to holistically come up with a solution to solve their problems," Abalo said.

The Street vendor women cooperatives already in existence include; Wandegeya, Naguru and Bwaise.

Odaro Stephen, the General Secretary PLAVU noted that the informal actors including street vendors are vulnerable not only by the virtue of their visibility but also a composition of the informal economy.

In Uganda, the informal sector is an important part of the economy. In 2010, it was estimated that 2.7m Ugandans were employed in the informal sector and in 2014, it was estimated to contribute to over 50% of Uganda's GDP; employing 80% of its labour force.

"Working with SIHA will ensure that cooperatives are one of the vehicles we will use to legitimise the businesses of street vendors.

"We will use it to strengthen and enhance their voice and agency to be able to advocate their core issues in areas of policy, decision making entities and spaces," Odaro said.

Although there were a number of misconceptions about cooperatives due to mismanagement Odaro explained: "We have a strong responsibility to change this perception, to re-energise and re- develop this process so that people can have trust and faith on cooperatives again because they are the engine through which we can use to transform these micro businesses."
Vendors airing out their views during the meeting. (Credit: Racheal Nabisubi)

Odaro applauded New Vision for giving street vendors jobs and will use its example to also create other initiatives to supplement their businesses to strengthen people's lives, improve their margin and asset base to improve their wellbeing and welfare.

The field research findings were conducted in January 2018 identified a number of dominant characteristics in the population of women in the informal sector in Kampala such as lack of alternatives, poverty and low capital investments, family obligations and age of street vendors.

Zawedde Asiya, from Wandegeya Women Cooperative thanked all stakeholders who ensure the safety and improvement of the livelihood of women street vendors. She urged them to continue the spirit to improve the plight of women on the streets.

She however cautioned fellow vendors to desist from sending children to trade on streets late in the night because it exposes them to danger.