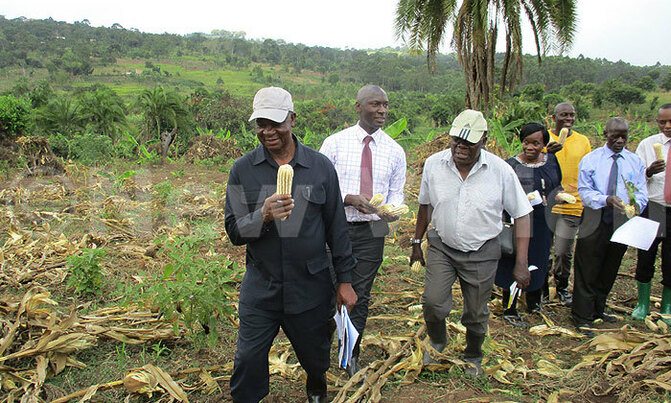 "We have enough land that has been not fully put into use."
AGRICULTURE

By David Lukiiza

He had it all planned out.

He may not be at the National Planning Authority (NPA) anymore, but Dr. Wilberforce Kisamba-Mugerwa already got his next direction figured out.

After serving in the public service for two decades, he has now settled for commercial farming as his new chapter.

Kisamba-Mugerwa was at the helm of NPA for 10 years and only recently handed over the top office to pave way for a new regime at the planning body.

"I feel I have served my country with passion and there is no reason why I should not step down and concentrate on personal things," he said during a farm visit at Ndejje University, Bombo Kakute.

"We have enough land that has been not fully put into use. Now that I have enough time, I am going to make sure farming is carried out on a large scale."
Ndejje University agriculture students handing a bag of briquettes to Kisamba-Mugerwa
A student shows Kisamba-Mugerwa modified banana seeds
An engaging farm tour

According to Kisamba-Mugerwa, this will make the Ndejje University self-sustaining in terms of food.

"I believe if we carry out organised farming, the university and the community will cry no more about food scarcity and price changes in the market price."

Eucalyptus trees, cabbages, egg plants, cassava, bananas, pineapples and tomatoes on the 88-acre piece of land. Animals such as pigs and goats are also reared on the expanse.

Kisamba-Mugerwa underlined that mechanised systems are needed in place to improve farm produce.

"What we need to work on is the irrigation systems and digging of boreholes in case of a dry spell."

Solar energy should be installed at the farm so that students effectively benefit from the farm," he added.