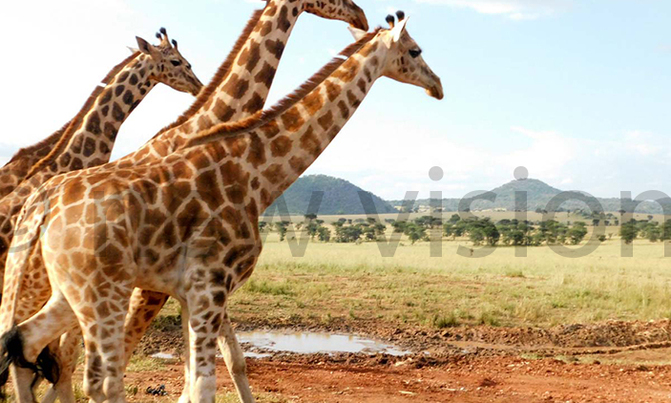 The Uganda Worldlife Authority confess that they cannot take any chances with creating a buffer stock of the rothschild giraffe species.
PIC: Sprinting to greener pasture in Kidepo Valley National Park. (Credit: Titus Kakembo)


WILDLIFE

KAMPALA - Once beaten twice shy, goes the old adage and Uganda Wildlife Authority (UWA) testifies to this.

According to the UWA conservation director, John Makombo, they cannot take any chances as far as creating a buffer stock of the Rothschild giraffe species is concerned.

"The exercise is called translocation. It is done to de-congest a given area or populate another with a particular species," explained Makombo.


"We have done it with the fast footed Uganda Kobs and Zebras previously."
Giraffes having their maiden trip from Murchison Falls to Kidepo valley national Park. (Credit: Titus Kakembo)

Makombo added that, the ongoing translocation of Rothchild giraffes from Murchison Falls national parkto, Kidepo valley national park has excited domestic and foreign tourists while the graceful animals had their maiden ride in a lorry.

The exercise is valued at $37,771.

A strong team of 40, comprising veterinary doctors, rangers and drivers started by darting the unsuspecting animals, wrestling with ropes before blindfolding and loading five of them on a truck embed with tree foliage.

Not feeling "at wilderness," the visibly confused mammals were surprised to see trees moving in the opposite direction after the lorry coughed to life to to start the journey.

The animals were seen creasing and shaking their heads in awe.

On arrival at Kidepo, they looked right and left before hesitantly taking a step out of the lorry to plunge into freedom again.
Dr. Patrick Atimnedi said in a short time they will acquaint themselves with new address and know where to graze and water from.

"We are balancing the ecosystem besides providing value for money as tourists will add giraffes on what they have seen while at the national park."

"The previous lot has since reproduced three calves," revealed Atimnedi. "The new lot will join the resident stock and follow suit."

Julian Fenesse of the Giraffe Conservation Fund, sponsors of the activity monitored it throughout.

Talking to the New vision, Fenesse said the recovery of the species in Kidepo are some of the best in the world.

"Uganda is ranked among the top ten with this treasure," Fenesse said.