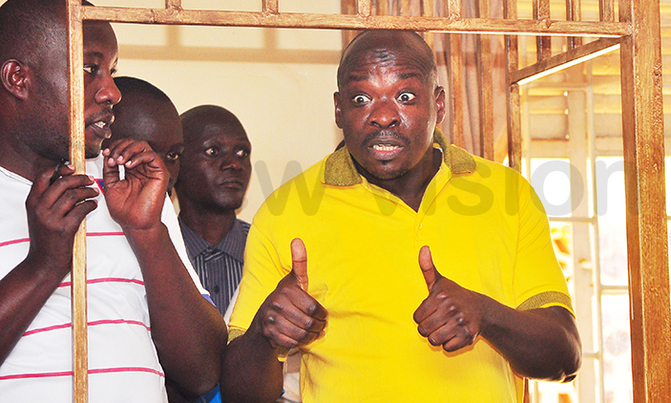 He argues that the expulsion is a violation of his professional right to practice as a licensed advocate
Boda Boda 2010 patron Abdullah Kitatta's lawyer, who was expelled recently from the army court over misconduct, has taken the Attorney General (AG) to High Court, seeking compensation for his infringed rights and embarrassment.
The General Court Martial (GCM) presided over by Lt Gen. Andrew Gutti last week ordered Jimmy Muyanja never to appear before it again while accusing him of banging a table during a hearing.
This came after Muyanja claimed that the state prosecutor Maj. Raphael Mugisha was squinting at the prosecution witness, Pte Richard Kasaija, as he was being cross-examined by his colleague, Shaban Sanywa.
Muyanja contends that this is a violation of his professional right to practice as a licensed advocate since Gutti never accorded him an opportunity to defend his actions.
Muyanja also faults Gen. Gutti of acting in excess of his powers by losing his composure and using abusive language towards him, something that degraded him before his client.
He is seeking court orders compelling the Attorney General to reverse Gutti's orders of permanently banning him from representing his clients - Kitatta and 12 others - who are battling six counts including unlawful possession of firearms, live ammunitions, military head gear and uniforms.
"Unless Gutti's order is reversed, Kitatta will miss services of an experienced advocate who attended his bar course from Tanzania," he contends.
He added that "the reason Kitatta instructed me to represent him is because of my ability to speak and understand the Swahili language that is commonly used in the General Court Martial".
Apart from Kitatta, Muyanja also represents Sowali Ngobi, Amon Twinomujuni, Joel Kibirige, Matia Ssenfuka, Hassan Sebatta, Jonathan Kayondo, Hassan Ssegoba, Sunday Ssemwogerere, John Sebandeke, Hussein Mugema, Fred Bwanika and Ibrahim Ssekajja.
According to prosecution, the above items are only a monopoly of the Uganda Peoples Defence Forces (UPDF) and it is wrong for civilians to possess them.
Prosecution further alleges that Kitatta with 12 others on the same date was found in possession of military headgear (caps) and uniforms.
His case has been allocated to Justice Musa Sekaana for hearing.
Arrest
The arrest of Kitatta followed a crackdown on suspects linked to the murder of Francis Ekalungar, the former accountant of Case Clinic. Most of the suspects are Boda Boda 2010 members.
Ekalungar was kidnapped on January 2, this year by unknown assailants on his way to dfcu Bank to deposit over sh15m belonging to the health facility. A day later, his charred remains were found at Kajjansi off Entebbe Road.
The case has been adjourned to September 10, for further hearing.