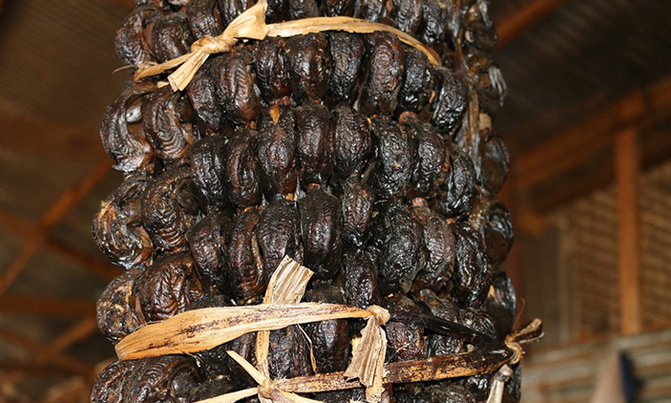 Mudfish traders have no option but to increase prices of this delicious species of fish due to its scarcity.
ECONOMY

For over 10 years, Amos Kamwesiga has been deriving a livelihood from mudfish. Nyakiraguju swamp on the outskirts of Buteraniro Town along in Mbarara district along Kampala-Kigali highway in South Western Uganda has been his 'gold mine'.

Every day, he could catch at least 700 mudfish traditionally known as Enshoonzi using locally made fishing baskets, entukuru, as they are locally known. This, he says would guarantee him of at least sh70,000 (about $20).

Kamwesiga is not the only one; over 120 people depend on this wetland and several other wetlands in the area which all lie along River Rwizi for mudfish which they sell to get income.

However, Kamwesiga says the situation has changed in the last two years and the situation is getting worse. "The mudfish population has decreased. Mudfish business is no longer lucrative. We are now worried. God has abandoned us," Kamwesiga observes.

Benon Ishanga popularly known as Kakiga, another fisherman in the same area says his colleagues are now abandoning the activity because it is no longer worthwhile. And for him, he has no other economic activity to do.

Buhanise Isaaya, a fisherman and a mudfish businessman says the mudfish business is no longer viable because the water levels in swamps have reduced. "Our wetlands no longer have a lot of water. Getting mudfish is now a seasonal activity. During the rainy season when the water levels are high, we can catch more than 1000 mudfish daily but this number reduces to less than 200 in the dry season," a visibly worried Buhanise explains during an interview at Nyamukana Trading centre at the border of Ntungamo and Mbarara districts.

Now, residents of Ndeija, Nyamukana, Buteraniro, Nyeihanga and Kakigani town centres, like their counterparts in Mbarara, Bushenyi and Ntungamo who used to enjoy affordable mudfish in the past, have to dig deep into their pockets due to increased prices as a result of limited supply. This situation is also affecting other areas in the region.

Kasule Safina commonly known as Mama Meddy, councillor for fish traders in Mbarara central market, Mbarara Municipality says mudfish traders have no option but to increase prices of this delicious species of fish due to its scarcity.

"We sell a single stick of 10 smoked mudfish at 4000 Shillings." But in the past three years, this same stick was sold at 1000 shillings according to fish traders in Mbarara central fish market.

The man who has witnessed a sharp decline in the numbers of mudfish in the western region is John Mahuuku Kaparaga an elder in Kakigani, Ndeija Sub County, Rwampara County in Mbarara district.

He observes that about 20 years, people used to get mudfish from water rich swamps of Kisyoro, Kyabahaya in Mbarara district and Nyaruteme wetland in Ntungamo district. But, with the reduction of water levels in these swamps as a result of human activities and climate change, mudfish is almost, "extinct".
A stick of mudfish. (Credit: Cliff Abenaitwe)

In his opinion, Uganda is almost reaching a point of no-return in the drive to restore wetlands due to the ever growing need for farming land especially during the dry season when the rest of the arable land is unfavourable for agriculture leaving people with one option of encroaching on wetlands.

John Namanya, the Ndeija Sub County Chairman in Mbarara district notes that the mudfish decrease in a huge numbers is a concern for everyone in the area.

"Our wetlands have been decreasing over the years. People have been encroaching on these wetlands and I guess this could have an impact on the existence of water species like toads, mudfish and others," Namanya explained adding that the situation has also been worsened by people who indiscriminately catch both immature and mature mudfish.

Some fish farmers use immature mudfish as food for their fish in ponds.

Writing in the volume II of the National Wetlands Atlas, President Yoweri Museveni indicated that, his government is, "very concerned about the rapid degradation and loss of the wetlands particularly in the areas around urban centers and in the rural areas of Busoga, Tororo, Kigezi, Bukedi and some areas of Ankole."

The President calls for an end to this vice laments that, "many areas of Eastern Uganda now experience frequent flash floods which have become more severe and destructive because there are no wetlands to hold back the massive overland flow characteristic of many rainfall events."

Manifold causes of diminishing mudfish

Environmental experts say if the current rate of wetlands degradation in Ugandan is not halted, several creatures that inhabit swamps and wetlands could vanish in a few decades. Wetlands do not only absorb and store excess water but also act as habitants for several creatures including various types of fish and birds.

But in Uganda, over the years, hundreds of acres of wetlands in Uganda have been degraded for human activities including settlement, cultivation, animal keeping and sand mining.

According to volume II of the National Wetlands Atlas, two percent of Uganda's wetlands are lost annually. This, according to the atlas, is about 751.7 square kilometres nationwide.
Many benefits from wetlands like grass for mulching will be no more if the current rate of wetlands degradation does not stop. (Credit: Cliff Abenaitwe)

What is worrying, according to Apollo Mbabazi- an environmentalist and a public health don at Bishop Stuart University in Mbarara is that destruction and draining of wetlands affects their ecology. And this, as he explains affects the wetlands and all creatures that depend on them including human beings who are the lead degraders.

"When wetlands are degraded, the water reduces. This affects aquatic life as micro-organisms which are food for mudfish like earthworms will either die or be washed. The mudfish can also be swept by the fast flowing floods ," Mbabazi explains adding that, "with the current rate of wetlands degradation, mudfish might be no more in about five years and this will deprive thousands in the country of a lucrative economic activity."

In Mbabazi's view, the degradation of wetlands is not only detrimental to fishing but also to the crafts making industry, herbal medicine, farmers that rely on wetlands for mulches as well as the climate.

Jeconious Musingwire an environment scientist with the National Environmental Management Authority attributes the decrease in mudfish population in the region to a number of factors including wetlands degradation.

"Wetland degradation to a greater extent is responsible for this scenario but also factors like uncontrolled fishing leading to capturing of immature mudfish has contributed to reduction of stock in wetlands," Musingwire explains.

He laments that this case is now common in the many districts of Western Uganda where wetlands are facing the wrath of human activities.

"When you drain a wetland, you reduce the mud in it and this is where mudfish breed from, feed from and survive from. Also, encroachment leads to water running fast through the wetland and mudfish does not stay in such water," explains Musingwire further adding that the current trend of people catching mudfish to use in farming and fishing of bigger fish such as Nile Perch must stop.

A call for conservation

The way out of this predicament is enforcing the restoration of wetlands in all areas. The natural ecosystem of a wetland has enough food and nutrients for all species to flourish and multiply. Certainly, the mudfish population will increase again but also the benefits that accrue from wetlands will come again.

And for this to happen, Musingwire agitates for sensitization of all people on the benefits of wetlands, educating the fishing community about the dangers of activities like wetland encroachment and indiscriminate fishing as well as improved government funding of wetland restoration activities in the country.

Likewise Arthur Bainomugisha, the Executive Director Advocates Coalition for Development and Environment (ACODE) is rooting for more environmental conservation but also advocates for a strong legal framework on this. "The way we have destroyed the environment and the changing nature of the environment needs a strong law that is restorative but also punitive. People must be punished for committing environmental crimes," Bainomugisha elaborates.

This story about mudfish on the path of extinction was made possible with support from InfoNile and Internews'Earth Journalism Network