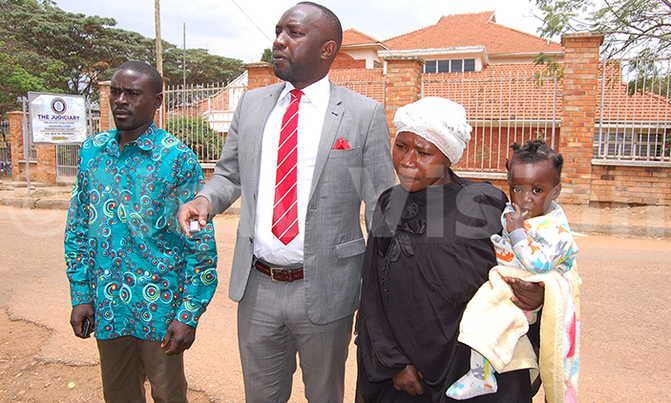 Faridah Kiconco sued Sheema Municipal council and Sheema local government after she was put on ARVs following test results.
PIC: Faridah Kiconco with her Lawyer Amon Kategaya(centre) and her husband after the meeting. (Credit: Adolf Ayoreka)

COURT

By Adolf Ayoreka

MBARARA - High Court in Mbarara on Wednesday refered the case of a woman who was tested HIV negative after six years on ARVs to the magistrates' court for mediation.

Justice Flavian Zeija, the senior resident judge, refered the case to magistrate Hasan Mugerwa for mediation before its set for suspects to take plea.

Faridah Kiconco sued Sheema Municipal council and Sheema local government after their medical personnel at Kabwohe health centre IV reportedly delivered wrong test results and started her on ARVs for six years when she was HIV negative.

On Wednesday the two parties where Faridah was represented by her lawyers appeared for the first mediation at Mbarara court whereas sheema Municipality was represented by town clerk Godfrey Bamanyisa.

The meeting was closed for non-members.

However, Aruho Amon Kategaya, one of Faridah's lawyers told New Vision after the meeting that during the mediation, Sheema municipal council is showing interest in having the case settled without proceeding for hearing in the high court.

He added that so far council has offered them sh20m which they rejected and later the mediator asked them to appear again on Thursday with agreed position or else the matter be fixed for hearing in the high court.

"For the first time we are happy that Municipal council officials have realised that they have a case to answer and I think that's why they have accepted to go for mediation, but the money they are offering is too little to help our client be taken to India for comprehensive treatment since she is suffering form hepatoxicity, renal toxicity and heamorrhoids.

"However, let's wait for the day the mediator has told us if they don't realise the money we want which should not be below sh100m, we shall proceed with the matter in the high court," Kategaya said.

Kiconco, a resident of Rwengando parish Kiziba, Kagango division in Sheema Municipality on March 16, 2011 sought medical attention on account of her pregnancy and went to Kabwohe Health centre IV, the attending physician requested for an HIV test. Samples were taken and came back positive.

She was prescribed with septrin, which she took until she was introduced to ARVS after giving birth.

KASASA&CO advocates in conjunction with Enforcement of Patients and Health worker's Rights (EPHWOR) took up the matter and issued an intention to sue in May this year to the town clerk Sheema Municipality, informing him how Faridah Kiconco intends to file a suit on professional negligence against the recruiting authority in aperiod of 15 days from the date of receipt.

As a result, Farida developed adverse health conditions for which she sought treatment at Mbarara Muslim health centre but have continued to persevere.

Faridah told New Vision that she is hopeful that Municipal council will compensate for the money that will be able to restore back her lost properties including her land she sold to get money for treatment.

"I still have much abnominal pain, I was told that my liver and lungs were affected so I need alot of money for treatment if possible I can be taken to India."