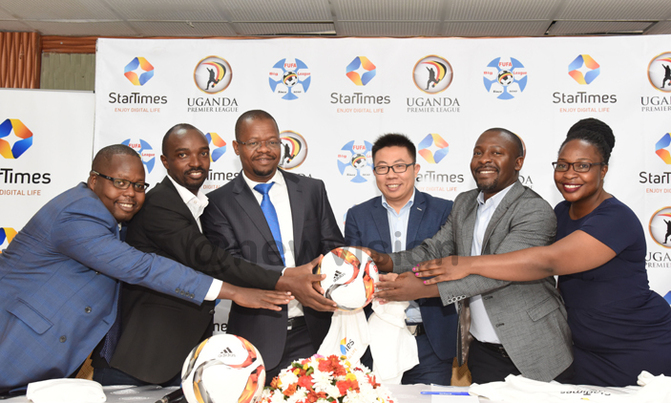 The deal will run for ten years
L-R FUFA Marketing and Communications officer Rogers Byamukama, UPL boss Arinatwe Rugyendo, FUFA President Moses Magogo,StarTimes CEO Andy Wang, Branding and Marketing Aldrine Nsubuga and Public Relations Nagujja Christine at the unveiling of the deal.PHOTOS: Richard Sanya
Pay TV Company StarTimes has secured both the Uganda Premier League and FUFA Big League broadcasting rights, in a 10 year deal worth $7,240,000 (26b).

StarTimes vice-president in charge of marketing and branding, Aldrine Nsubuga, the chief executive officer Andy Wang, FUFA Super League Limited (FSLL) board chairperson Arinaitwe Rugyendo and the FUFA president Moses Magogo were present at the signing ceremony in Kampala.

"We don't only want to promote international football, we also want to grow the local game and bring it to everyone, everywhere in this part of the world. We took this decision to give back to the people of Uganda because of their passion for football," StarTimes CEO Andy Wang said.
FUFA President Moses Magogo,StarTimes CEO Andy Wang and StarTimes Branding and Marketing boss Aldrine Nsubuga
The StarTimes vice-president Brand and Marketing Aldrine Nsubuga said, "Today is the biggest day in the history of Ugandan football. Biggest sponsorship package anywhere in Uganda today. We are making history and we know we will change the face of Ugandan football."

Magogo said, "I am excited to be part of history. We pledge to work much harder to make sure the game gets better. The modern game needs money and there is no shortcut to that and we shall continue to work harder to get the money. Serious broadcasters invest for a long time and it's the reason this partnership is for 10 years. This is a huge investment from a partner and we have a lot of confidence in it."
StarTimes who have different sports channels, will announce on which channels the games will be shown.
StarTimes takes over from Azam TV whose deal with the league was worth $1.9M for a period of three and a half years.