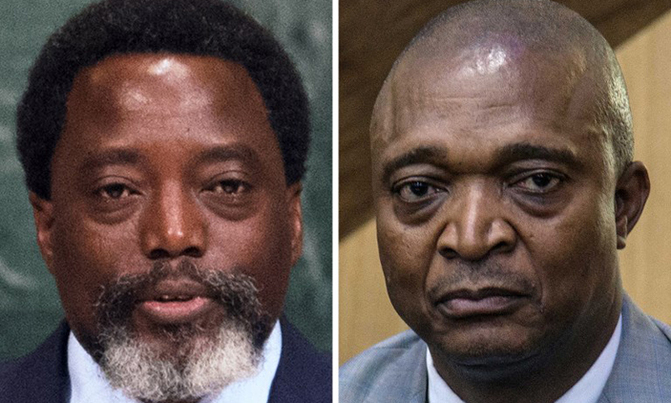 Kabila has ruled over the war-torn country for 17 years
DR Congo President Joseph Kabila, ending months of speculation, has chosen former interior minister Emmanuel Ramazani Shadary to be his successor in upcoming elections, the government said on Wednesday.
The announcement came just hours before the deadline for lodging applications for the December 23 election.
Ramazani Shadary, a Kabila loyalist, was among a group of Congolese officials sanctioned by the European Union in 2017 for violations of human rights.
He "will represent our political family in the presidential election," spokesman Lambert Mende told a press conference.
"We will all rally behind him."
Kabila, 47, who has ruled over the war-torn country for 17 years, should have stepped down at the end of 2016 when he reached a two-term limit.
But he stayed on thanks to a constitutional clause enabling the president to remain in office until an election is held, sparking protests that were bloodily repressed and condemnation from the United States and the European Union.
The United States welcomed Wednesday's announcement but said more must be done to ensure a democratic transfer of power.
"This development is another step, but there is much more to be done," US Ambassador Nikki Haley said in a statement.
French diplomatic sources meanwhile gave the announcement a cautious welcome, with one labelling it a "historic decision in Central Africa, even if it does not solve everything".
The validation of candidates and respect for the election timeline remains a concern, the source added.
Jean-Mobert Senga, Amnesty International's Researcher for the DRC, said a range of concrete measures were still required.
"His (Kabila's) government must show real commitment to ensuring an environment where people can freely exercise their human rights throughout the election cycle, by formally lifting the ban on peaceful demonstrations. It must also end the suppression of peaceful demonstrations and opposition and civil society meetings."
The government's intention to use voting machines has been criticised by the opposition, who claim they are difficult to use and could be hacked.
'Absolute loyalty'
Late Tuesday, Kabila held talks with his political allies, who are joined in an electoral platform called the Common Front for Congo (FCC), on picking a candidate who would succeed him.
Their choice was "the conclusion of consultations that the president, the moral authority of the Common Front for Congo, undertook to find the rare bird," Mende told journalists.
"Shadary has no special qualities other than absolute loyalty to the current head of state," an analyst at a political NGO, based in Kinshasa, told AFP on condition of anonymity.
Described in his official biography as "the man you need for difficult times," Shadary was due to lodge his candidacy in person at the electoral commission in Kinshasa on Wednesday.
Shadary on Wednesday paid tribute to Kabila whom he called "an exceptional man in Africa and even throughout the world".
Hours after his candidacy was announced he told reporters that "the people need peace".
The 57-year-old added that the country needed reconstruction and social services, "that's what we are going to do", adding that "we are open to the whole world".
The fate of opposition leader Moise Katumbi who was barred from entering the country last week to lodge his candidacy has caused political friction ahead of the registration deadline.
Katumbi, 53, a wealthy businessman and former governor of the province of Katanga, was unable to cross the border from Zambia where he and his team remain as of Wednesday.
Corruption, inequality and unrest
A country of some 80 million people, the Democratic Republic of Congo has never known a peaceful government transition since it gained independence from Belgium in 1960.
Kabila's tenure over the vast mineral-rich country has been marked by a reputation for corruption, inequality and unrest.
Several provinces are in the grip of armed conflict and according to the UN High commissioner for refugees, more than four million people have had to flee their homes, many to Uganda, Tanzania, Angola and Zambia.
Some 20 candidates, including two former prime ministers -- Adolphe Muzito and Samy Badibanga -- have submitted their names to the electoral commission.
The candidates also include Felix Tshisekedi, 55, leader of Congo's oldest opposition party UDPS, and Jean-Pierre Bemba, 55, a former warlord recently acquitted by the International Criminal Court of war crimes and crimes against humanity.
The definitive list of candidates is set to be announced on September 19 after each name is validated by the National Independent Electoral Commission (CENI).