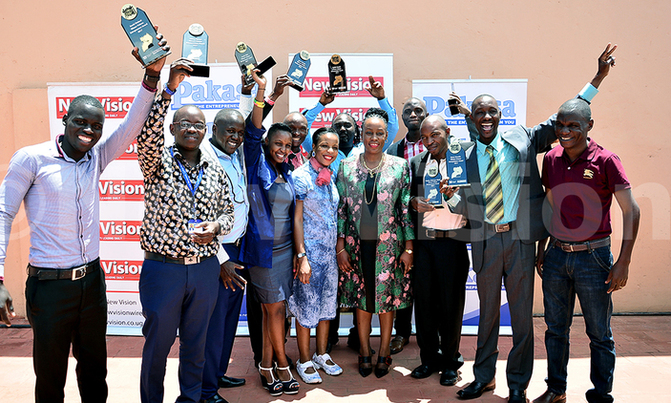 The award aims at inspiring a change in mind-set among young people to regard entrepreneurship as a viable source of income.
PIC: Florence Nakiwala Kiyingi (centre)Minister of State for Youth and Children Affairs with some of the former winners of the Pakasa Youth awards recently. (File photo)

PAKASA

KAMPALA - For the third time in a row; Vision Group will be looking for the most enterprising youths to award.

The prestigious Pakasa Youth Awards, a national entrepreneurship competition is back, as Uganda continues to seek solutions to curb its high youth unemployment rate.

Launched in 2015, the Pakasa Youth Awards seek out exemplary young entrepreneurs from all over the country to honor.

The award aims at inspiring a change in mind-set among young people to regard entrepreneurship as a viable source of income, in the face of rampant youth unemployment.

The New Vision Editor-in-Chief Barbara Kaija says just like has been the case before, the Pakasa Youth Awards is not looking for young enterprising people who have made it.

"We are looking for those trying; those who have not waited for capital but, those who have used the limited resources they have to create jobs.

We are bringing these young people as role models for the young people in Uganda to emulate," she says.

She adds: "We are looking for the youth brave enough to go out and create jobs and employ."

Unemployment threats

Uganda is ranked the youngest population in the world, with 77% of its population being under 30.

Nonetheless, according to Uganda Bureau of Statistics, Uganda has a youth unemployment rate of more than 80 per cent "the public service jobs are limited" Kaija states.

"We have a youth bulge; the youngest population in the world and you can't send the old people out of their jobs.

As a country we have to think how to create jobs and the Chinese embassy has come to our support with the Pakasa Youth Awards," she adds.

The head of political affairs at the Chinese embassy in Uganda Fang Yi, observes kills insufficiency is one of the bottlenecks of social and economic transformation of Uganda

"As an embassy we are funding the Pakasa Youth Awards so as to encourage skills development plus self-employment among the Ugandan youth," he says.

This year's competition will run from August to November 2018. During this period Vision Group will be profiling the nominated youth entrepreneurs for the awards competition.

The top five winners will win an all-expense paid trip to China.

"When we take the winners to China, they will be able to get first-hand experience on how young people start their own businesses in China

They will also look at how young Chinese entrepreneurs have managed to become self-employed for some more inspiration," Yi explains.

Qualification standards

To qualify, you must be a Small and medium scale entrepreneur aged between 18 and 40 and not pursuing farming as an enterprise.

Kaija explains the enterprise must have been in existence for at least three years, employing at least five people.

The enterprise must follow proper business practice, have books of account, be a registered and also meet the following criteria;

It must impact on society by providing a service/product that is solving a community need and creating job opportunities as well as forging partnerships.

The enterprise must have linkages with other sectors/players in the economy; take advantage of (appropriate) technology to innovate, where applicable; contribute to the young entrepreneur's livelihood; show that it started humble and register progressive growth every year and have solid plans for growth (scalability).

The business must be formal business and contributing to the economy through taxes and employment.

There must also be evidence of an organizational structure, marketing/promotion of the enterprise and successful penetration of the products/services in the market.

Entry for the Pakasa Youth Awards

Members of the public will nominate the youth who are successfully managing their business enterprises in accordance to the criteria laid out for the competition.

But, youth entrepreneurs can also nominate themselves. "Our intention is to tell stories of achievement, hardships and challenges offering these young people as role models for the other youth to emulate," Kaija explains.

Entries for the Pakasa Youth Awards can also be brought to Vision Group offices countrywide.

Those found eligible to compete for the prize will be profiled every Sunday in the Pakasa pullout of the Sunday Vision during the competition.

A panel of five eminent judges will peruse the profiles in November to determine the overall winners.

You can also nominate your suitable young entrepreneur via email (pakasa@newvision.co.ug) and SMS (8883).