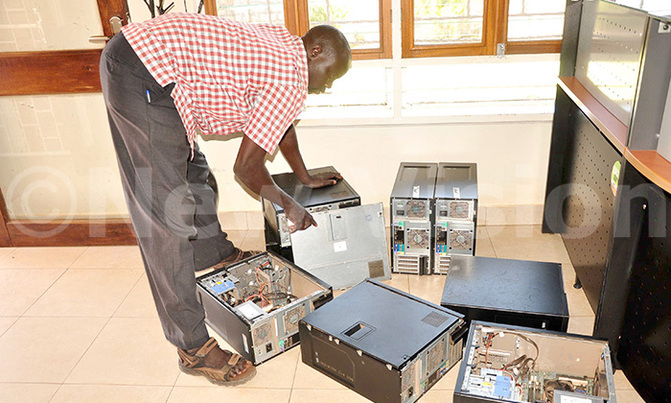 10 CPUs, three external hard drives worth sh2.6m and three internal hard disks were stolen.
PIC: One of the staff at Isis - Women's international cross cultural exchange showing some of the computers which were vandalised by intruders yesterday in Ntinda. Credit: Ashraf Kasirye)
ROBBERY
Police in Kampala is still hunting for a security guard attached to security group Uganda-SGA limited known as Gasper Amandu, a prime suspect in the Monday break-in and theft of property at an NGO in Ntinda.

The Kampala Metropolitan Police spokesperson, Luke Owoyesigire, confirmed to New Vision that Amandu went missing after his station of work at a non-government organisation called , Isis - Women's international cross cultural exchange (WICCE), was broken into and things stolen.

"He is a prime suspect, running away is evident enough to show us that he knows something about the crime so we are hunting him and we will get him," Owoyesigire affirmed.

He said the incident occurred on Monday this week and when Police was called, it rushed to the scene to analyse the situation and they found some computers in the road and others in the compound.

This organisation, according to Owoyesigire, is located on Martyrs Gardens Road B, village 12.

"According to the report we have, 10 CPUs, three external hard drives worth sh2.6m and three internal hard disks were stolen," he added.

He stressed that Police strongly believes that Amandu connived with the criminals and according to his conduct after the occurrence of the incident, he will have to answer several questions once he gets arrested.

"Statements have been recorded and the NGO has been advised to renovate its fence and also stop hiring guards from irrefutable companies. Most of the past incidents of break-ins for such organisations have been as a result of either weak guards or those that lack integrity and professionalism." Owoyesigire said.
PIC: Juliet Were Programs manager at, Isis - WICCE talking to New Vision yesterday at her office in Ntinda

Speaking to New Vision, Juliet Were, the programmes manager at WICCE, revealed that the attack not only affected their work, but also left the staff in a deep incident of psycho-socio effect.

According to Isis - WICCE's advocacy and communications co-ordinator, Sandra Tumwesigye, the organisation deals with women's rights, basically those working in areas of conflict and post conflict areas.

They operate at a national level and specifically offer capacity building for women in those areas and support them to influence policy processes among others. They majorly operate in places such as greater north and south western Uganda.

They have been operating in Uganda since 1993, but close to two years ago, they shifted from their long time home located in minister's village Ntinda and relocated to the new building at Martyrs Gardens Road.

"We are not the first organisation to be attacked in this manner. We think it is a trend of organised attacks on NGOs in Uganda and to our dismay, Police has not come out to support us in doing quick and conclusive investigations," she said.