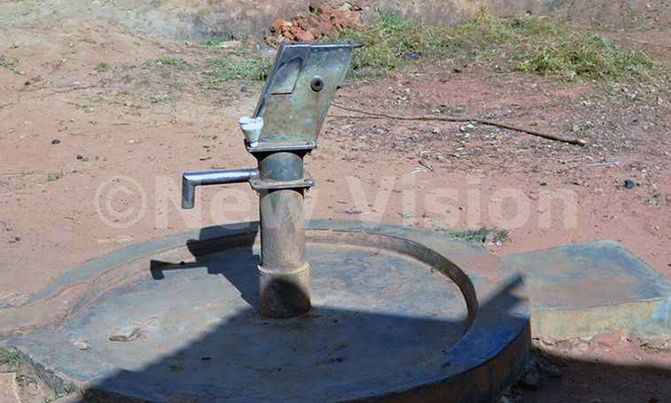 Patrick Okumu-Ringa accuses the area residents of abusing his generosity by not supporting his bid for MP.
PIC: One of the boreholes that was dismantled. (Credit: Benedict Okethwengu)

NEBBI - Patrick Okumu-Ringa, who lost in the recently-concluded Nebbi Municipality Parliamentary election, has dismantled all the boreholes he had sunk that have been supplying water to residents for the past two decades.

Okumu-Ringa, who is said to own huge chunks of land in the municipality, had about 10 boreholes drilled in different wards.

The former public service state minister accused the area residents of abusing his generosity by not supporting his bid for MP.

The process of dismantling the boreholes started on Monday and was concluded on Wednesday, three days after the election results were announced.

For close to 10 years, Okumu-Ringa was Padyere County MP, but lost the seat to UPC's late David Ringecan in 2006. Since then, he has tried to make a come-back in other elections in vain.

During the NRM primaries, Okumu-Ringa lost to the new entrant, Suleiman Hashim. He, however, chose to run as independent, claiming his defeat during the primaries was as result of rigging.

In the recent election, Okumu-Ringa came third after securing 1,270 votes out the 9,940 total votes cast.

He lost to Hashim, who scored 4,283 votes, with FDC's Robert Onega coming second with 4,159 votes in the highly-billed election.
Okumu-Ringa (pictured above) confirmed to Sunday Vision that he had indeed dismantled the boreholes, adding that he had no regrets for his action.

He, however, said at an appropriate time, he would reconcile with residents and assemble the boreholes.

"I am hurt, but I will reconcile with them. However, for now, let them look for water elsewhere," he said.

"Our people are not appreciative. All I wanted from them was votes. I have educated so many children, but all they tell me is I have done nothing," he added.

Asked whether he was hurting the Government he once served, Okumu-Ringa said the Government should instead pay him for supplying free water to citizens.

"I don't think the Government should be offended. I used my money to sink the boreholes, and in any case, even National Water and Sewerage Corporation doesn't supply free water," he said.

Okumu-Ringa's action has, however, drawn mix reactions among residents and leaders in the municipality, with some supporting him and others saying he had overreacted. Jacqueline Aol, the Nebbi district Woman MP, said he should have acted with restraint.

"Women are likely to bear the burden of searching for water in the absence of the boreholes," she said.

Agnes Acen, a resident of Nebbi town, said: "It is a big blow to us. Most of us have relied on borehole water because it the only one we can afford."