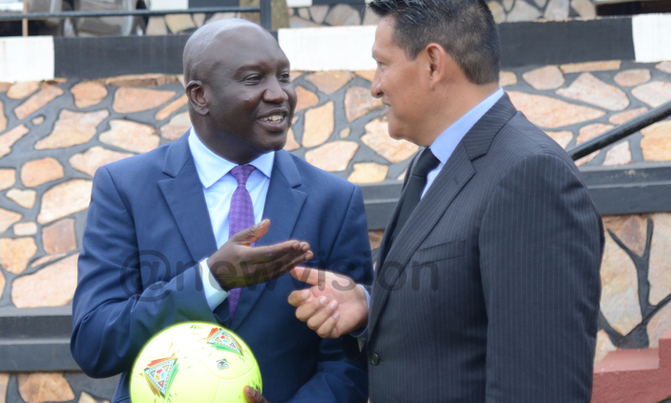 The 46-year-old signed a two-year deal after beating ten others to the job.
Mexican coach Javier Martinez Espinosa has promised to turn Vipers into a formidable side after his unveiling during a press conference at the St. Mary's Stadium in Kitende on Monday.

The 46-year-old signed a two-year deal after beating ten others to the job including two local coaches, two from Africa and seven others from outside Africa.

"We have to be at the highest level and I promise I will bring on all my skills in this project. We have to make something different because I want to be an example outside the country in the CAF championship," Martinez stated.
New coach Matinez juggles the ball
"This is the best option for me professionally and personally and I'm very glad for all the staff because they have given me a challenge for this year. Primarily we have a championship to defend and we have the best opportunity to be the best in the Africa Club Championships, so it is going to be a great gear for this institution," Martinez stated.

"So that is why I'm very committed to the club because I know the responsibility I have is for both Vipers and Uganda. We have to go out there and represent the country well. I promise to be the best because we have a great squad and we shall do the best for Uganda and the institution,"

Vipers' president Lawrence Mulindwa believes that in Espinosa they have not only acquired a coach, but a teacher who will transform the players into fully fledged professionals that the club can sell to the best teams around the world.

"Our dream is to sell players to the big clubs around the world and we have brought in a coach who we think will help us groom them into that, a coach who is a teacher and will add value to the already existing talent," Mulindwa said.

"Winning the local trophies is one of the end products; we wanted a coach who can transform these players to fully fledged professionals players because many a Ugandan players cannot sustain their professional stints for more than two seasons outside the country at the moment,"

"We no longer want Vipers to be just participants in competitions and just getting satisfied with winning just the local league trophy. We want to build a big team, a giant that will conquer Africa; we are heading to that level, our matches are going on television so we had to bring in a capable coach because we have other bigger objectives and targets," Mulindwa stated.

"He is going to be paid an attractive monthly salary and we agreed terms and both parties are happy though other clauses are confidential,"

He said former coach Miguel Duarte Da Costa was relieved of his duties not because he was a bad coach, but that there was need to refresh the club ambitions and bring in a coach who would take the team to the next level.
Vipers unveil Martinez
Martinez will work with the current local Vipers coaches who Mulindwa said have been and are part of the project and have served the club well.

Martinez who played professional football for ten years and joins from Juventus FC in Nacaragua thanked Mulindwa for offering him the opportunity and said he had personal and professional targets to meet with the club.

Flanked by Vipers' Club Chairman George William Mulindwa and sponsorship manager Simon Ssenkakya Martinez said he cannot wait to meet his players because he has only three weeks to the start of the league.

Martinez has coached at Juventus FC Deportivo Carchá, Cruz Azul, Del Ejercito, Monterreu, Pachuca FC in Nacaragua and also worked with the National Mexicana Army team.