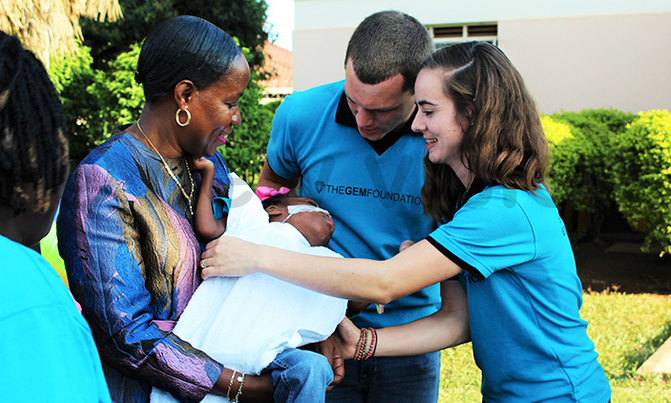 "Special needs children remain a subject of various forms of discrimination"
Government is to carry out a reverification of all children homes and organisations to phase out the fake ones.
The state minister for youth and children affairs, Florence Nakiwala Kiyingi, said the move is part of the strategies to curb child trafficking and other forms of abuses country wide.
"We realised many people start homes and child organisations in the guise of helping needy children yet they have different agendas. This has led to the abuse of many children in silence," she noted.
Nakiwala was speaking during the celebration of four years of GEM Foundation in Rubaga, Kampala. GEM was founded by an American couple in 2014 to take care of abandoned children with special needs. The foundation looks after children with cerebral palsy, Down syndrome, hydrocephalus and autism among other disabilities.
Nakiwala said they have already kicked off the exercise to assess all children's homes to authenticate the genuine ones.
"We are working together with our probation officers in various districts to identify all children homes and evaluate them. Through this exercise we came to realise that many homes and children's organisations are operating illegally without licenses," she added.
She said owners of unlicensed homes will be arrested and face the full letter of the law.
"There are many good people willing to support these children but these chances are ruined by some few people with selfish motives," she added.
Nakiwala also noted that the ministry of gender and social development was to arrest all those individuals found giving handouts to street children.
"These are the people encouraging children on streets. The sh500/= coin; is not what these children need. They deserve more than that coin to enjoy like other children, to be groomed into responsible citizens," she said.
Nakiwala commended the GEM Foundation directors Emmalee and Joshua Quisenberry for giving hope to children with multiple complications.
"Because of GEM, 55 children now have access to shelter, specialised medical services, psychosocial support, physical and occupational therapies, food and nutrition, protection, love, education and speech and language therapy," she noted.
Nakiwala stressed that special needs children remain a subject of various forms of discrimination due to multiple factors including negative community attitudes, superstitions, and negative cultural and social norms among others.
She said the ministry has developed a national action plan on children with Disabilities to harmonise interventions and improve the national responses towards issues of children with disabilities in Uganda.
Government has also put in place the community based rehabilitation programme to work with families of disabled children in early identification of the children with special needs and providing the necessary services.
"The medication and care for these children is too expensive; that's why government has come up with this programme and action plan," Nakiwala explained.
The foundation's director, Emmalee Quisenberry said most of the children were found abandoned with many having mental disabilities.
"I was working with Sanyu Babies home when I realised the need to take care of special needs children. I used to see such children abandoned by their parents and relatives and got touched. That's when I developed the vision to have a home where I can look after these children," she noted.
She stressed that irrespective of their conditions, children with special needs also need to be loved and cared about like other children.
The foundation gets support from individual donors and well-wishers locally, and from other parts of the world.
GEM works with local authorities and ministry of gender in identifying the abandoned children country wide.
The probation and social welfare officer from Kampala Capital City Authority in Rubaga division, Immy Nabawanuka, said 90% of the children at the home were found abandoned in different parts of the country.
"It is hard to trace their families because they cannot speak. This makes resettlement of these children complicated. So this remains their home," she noted.
GEM's social worker Joan Nabasumba said they also foster children through approval from the panel headed by the commissioner for children affairs.