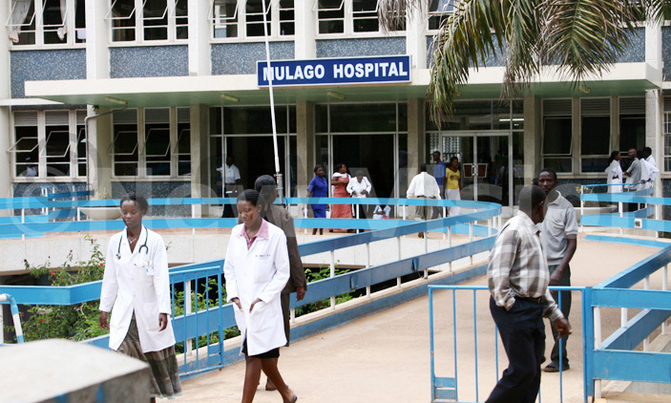 'If the staffing levels and services offered in the health sector are not being expanded, it means the services will not be adequate for the growing population'
PIC: Mulago Hospital. There need for the Government to check the population growth rate in order for it to ably utilise the little money allocated to the health ministry
HEALTH BUDGET
For Uganda to achieve good health for everyone, efforts must be made to prevent diseases and control population growth.
The call was made by a panel of experts in population health and planning during a public dialogue aimed at analysing the implications of the 2018/2019 health sector budget to the realisation of universal health coverage.

Kenneth Mugambe, the director of budgeting in the finance ministry, made his appeal loud and clear: "Confront the issue of population growth!" He said Uganda's population is growing at a rate of 3% every year.
This, noted Dr Ibrahim Kasirye, the principal research fellow at the Economic Policy Research Centre, means that more than one million people are added on to Uganda's population every year.

However, when it comes to the budget, it was noted that the sh2.3 trillion allocated to the health sector for this financial year is too little.

Dr. Christine Kirunga Tashobya from Makerere University School of Public Health, highlighted the fact that this constituted only 6.9% of the total budget. She added that this is way below the 15% that countries are required to commit to the health sector by the Abuja Declaration of 2007, which Uganda assented to.

Mugambe highlighted the fact that if the staffing levels and services offered in the health sector are not being expanded, it means the services will not be adequate for the growing population.

In addition, panellists noted that one of the major goals the health sector is currently working towards is the attainment of universal health coverage (UHC). UHC implies extending quality services to every citizen of Uganda, without financially impoverishing households as they access these health services. However, the panellists highlighted the fact that it was unfortunate that the country is talking long to implement it.

The dialogue was organised by Makerere University School of Public Health under their Supporting Policy Engagement for Evidence-based Decisions (SPEED) for Universal Health Coverage in Uganda. The project is funded by the European Union.

Explaining the importance of such a public dialogue, Prof. Freddie Ssengooba, the team leader for SPEED, explained that over the years, there has been a debate about the reducing budgetary allocations to the health sector. "There has been a lot of discussions about budget cuts and supplements; there has been reports of unmet needs and strikes, which all demonstrate challenges in the sector. However critical to the strikes was the need to increase wages and the equipment for the health workers. All these are issues to do with resource allocations at national and sectorial level."


Reliance on external financing

In addition to having little money dedicated to the health sector, reliance on external financing was also highlighted as a problem with our health financing as we move towards UHC. Over the years, a large percentage of Uganda's health sector budget has been financed by development partners and it is not any different this year where it constitutes 46%.

Panellists noted that although there are different sources of financing for the health sector (government funding, insurance, external/donor support, and out-of-pocket payments at the point of use), globally, public funding is considered key for facilitating equitable access to health services and progress towards UHC.


Going forward
Therefore, to get better (more) health for the little money allocated to the sector, panellists highlighted the need to control the population and to prevent diseases.


Prevention of diseases
All members of the public were urged to prevent diseases by adopting healthier lifestyles, feeding right and exercising to prevent noncommunicable disease, which are expensive to treat.


Proper planning and co-ordination required for efficiency
Julius Mukunda, the executive director for the Civil Society Budget Advocacy Group, urged for proper planning and coordination among all the stakeholders so as to be efficient in service delivery. This was after panellists highlighted issues of expiry of drugs, NGOs duplicating their services in the communities and having idle infrastructure, such as theatres, because of lack specialised personnel to work there. Therefore, Mukunda called for proper coordination in the sector, for instance to prevent issues of mismatches between demand and supply of drugs, which leads to wastage. Improved coordination of donor funds was also called for so that donors can support sector plans more efficiently.

In addition, panellists also noted that proper monitoring is needed to fight corruption and absenteeism of health workers. It was also noted that it is important to ensure good value for the public resources allocated to the health sector. This requires paying a closer look at what priorities are being financed and whether they are central to achieving UHC.

As we move towards achieving UHC, policy makers were urged to work towards expanding services to more people, improve the quality of services and ensure that people are not impoverished. They noted that there is need to find solutions outside the box for issues affecting Uganda and to use technology to improve services, for example track drugs so that they are sent where they are needed so as to avoid unnecessary wastage.
There is need to equip lower facilities instead of building new ones.


Human resources for health

Dr. Sarah Byakika, the commissioner for planning in the ministry of health, said they acknowledge the fact that human resource continues to be a critical area in the health sector. She added that resources will continue to be committed to attract, motivate, retain, train and develop human resource.