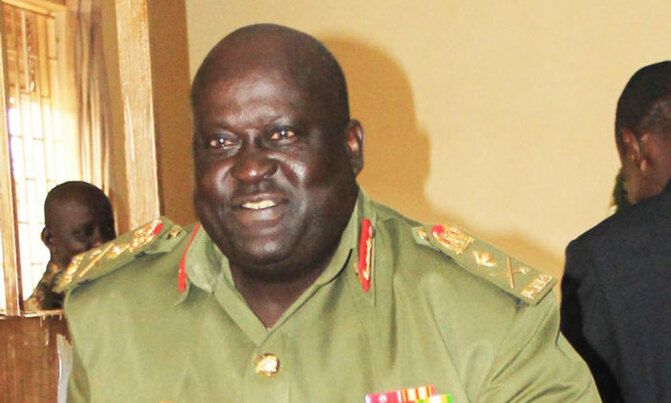 Court documents indicate that the Ministry of Defence lost sh2.4b in salaries to the ghost pilot
The army court has postponed the hearing of a case in which a senior UPDF soldier and two others are accused of recruitment and maintenance of a 'Russian ghost pilot' on the army's payroll for 11 years.
Court documents indicate that the Ministry of Defence lost sh2.4b in salaries to the ghost pilot by the names of Valerir Ketrisk for Mi-17 and Mi-24 military helicopters.
When the matter came up for further hearing, the General Court Martial (GCM) presided over by Lt. Gen Andrew Gutti adjourned it to October 15, 2018, pending determination of a High court case.
"I suggest that the case be adjourned until the High Court case is determined and disposed of," Gutti said.
In a suit filed at the Civil Division of the High Court last year, Carolyn Kyakabale, 37, the former UPDF human resource manager is challenging her trial at the GCM on grounds that she is a civilian.
She also argues that a charge of fraud preferred against her is a matter of the Anti-Corruption Court and not GCM. Her case is slated to be heard on October 8, 2018 by High Court judge Lydia Mugambe
Kyakabale is battling charges of fraud alongside Maj. Kapalaga Lubega, 60, attached to Air Force under the Directorate of Medical Services and his wife Evas Lubega Twinomujuni, also an employee of Ministry of Defence.
Kapalaga and his wife was represented by Maj Ronald Iduuli while Kyakabale by Capt. Charles Ssekayita. The offence attracts a maximum sentence of seven years upon conviction.
Prosecution led by Maj. Raphael Mugisha alleges that the accused and others still at large, between October 2005 and January 2016, lured the ministry into enter into an employment contract with a non-existing pilot purported to be a Russian.
According to court records, the commander of the Uganda People's Defence Air Force (UPDAF), Maj Gen Samuel Turyagyenda allegedly recommended the renewal of a Russian 'ghost' pilot's contract in a letter dated September 11, 2015, directed to the Permanent Secretary, Ministry of Defence.
The case came to light in June, 2016 when an investigation team commissioned by the former Chief of Defence Forces, Gen Katumba Wamala reported that the said pilot was paid sh2.4b in gratuity and salary.
The investigating team led by Maj. Martin Nsengiyunva from the Chieftaincy of Military Intelligence (CMI) discovered that Ketrisk who was purportedly an instructor of the Mi17 and Mi24 helicopter gunships did not exist.
This was triggered by inconsistent reports pertaining to gross mismanagement of resources in the air force by several military officers and civilian employees attached to the ministry.