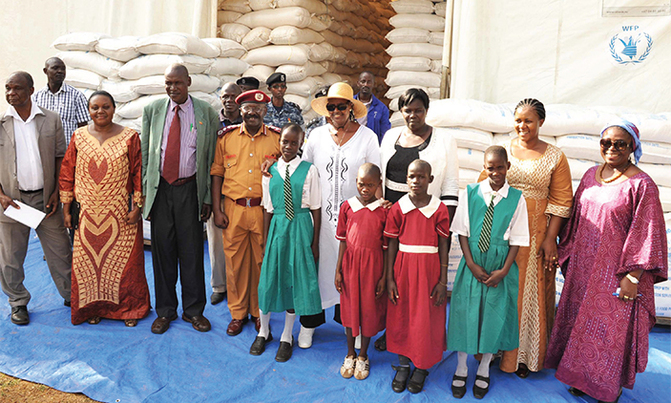 The annual prize launched in 2014 is given to teachers who "Have made outstanding contribution to the profession."
OPPORTUNITY

A multi-million dollar prize for teachers

The $1m (about sh3.69b) teacher prize is on again. The Varkey Foundation, the organisers of the Global Teachers Prize, is calling for nominations for the 2019 award.

The annual prize launched in 2014 is given to teachers who "Have made outstanding contribution to the profession."

It is meant to recognize and celebrate the impact that teachers have around the world- not only on their students, but on communities around them.Are you a teacher? Don't miss this opportunity.

Special report

New dawn: Karamoja feeding its school-going children.

The WFP is assisting the Government of Uganda to programme, handle, process and store and deliver food that the government has started to provide to schools under the 'Karamoja feeds Karamoja' programme, launched in the Karamoja region in northeastern Uganda.

Previously all school meals in the region were provided by WFP with non-food support from the government.

Now the government has come in with food to help meet a WFP chronic resourcing gap while addressing vulnerability and chronic food shortages in the region, relying on WFP's programme and logistics expertise and deep field presence.
The 'Karamoja feeds Karamoja' programme was launched by Uganda's First Lady Janet Museveni in 2015; and was at the time the minister for Karamoja Affairs.

A couple of years down the road, she is now campaigning for all parents in the country to feed their children at school.

Profile

Isyabi a great Maths teacher hit by spine injury

The bell in the middle of the compound sounded thrice. It was 14:40 which signaled change of lesson at Karujubu Primary School in Masindi municipality, Masindi district.

Teacher Jane Frances Isyabi slowly hobbled out the staffroom. She walked with a gait: head slanted forwards with a little bend, carefully measuring every step she took. She supported herself on a clutch.

The 57-year-old teacher of Mathematics was involved in a traffic accident in 2010, which left the entirety of her right side — right rib cage and limbs and pelvis, almost paralyzed.

But she has never known any other job; and so every when she can muster some ounce of energy she determinedly trudges to the school — located about three kilometers from her home. Read the detailed profile in Mwalimu tomorrow.

Achan rebuilds Pakwelo Primary School's image

IT IS RARE to find schools with farms nowadays, since most schools' effort is put on academic studies. But, at Pakwelo Primary School, the case is different.

This is a day, mixed school.

Of the 10 acres of land the school in Unyama sub-county in Gulu district, six have been dedicated to agriculture.

Denis Odongpiny, a teacher who has been at this school for eight years says that each class from Primary Four to Seven has been allotted one acre of land to do their gardening.

Most often, pupils plant maize, potatoes, cassava, beans, eggplants, tomatoes and cabbages.