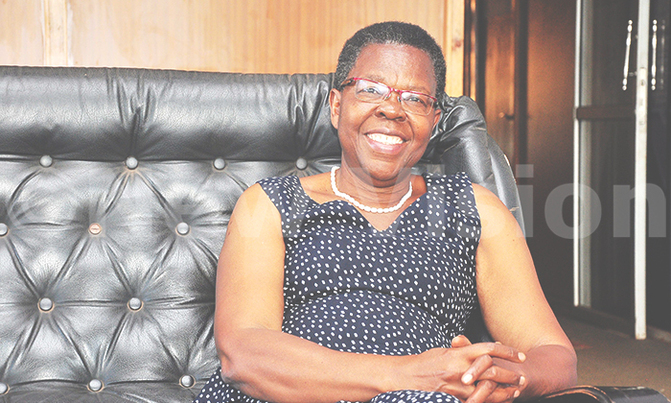 Ssekitoleko made her first investment during her first job.
PIC: Former agriculture minister, Victoria Ssekitoleko. (Credit: Vicky Wandawa)
SAVING

KAMPALA - She does not mince her words about the price of not planning for retirement.

"It is terrible being old," she says, pauses, and emphatically adds, "And poor." She has not been there, but has observed pitiable cases, and is glad she embarked on saving early enough to enjoy a comfortable retirement today.

Victoria Ssekitoleko served as Uganda's minister for Agriculture in the early 90s, before she left for the United Nations, serving in different countries as a Food and Agricultural Organisation representative until she retired in 2011, and returned home.
The farmer's daughter
She aptly refers to herself as the farmer's daughter—for; she says her distant childhood memories in Iganga, Busoga, are of sounds of chirping birds in a place filled with plants and later running up and down the path between the well and the garden.
When she was barely a month old, her mother returned to the garden, to till the land that fed her family.
"There were no day care centres then so my mother carried me with her to the garden.
"My very first memories are those of big green leaves on big trees, since I was so little, that is what the banana plantation seemed like," she narrates with a nostalgic expression on her face.
No wonder when it was time for university, she opted for a bachelor's course in agriculture, though her mother inquired, "Aren't you fed up of digging?"
And it was not just her; "my sister said I should have settled for something more appealing like studying to become a doctor. But my father, a farmer too, was fine with my decision," she says.
Fast forward. Before her graduation from Makerere University, she landed a job as an agricultural banker at the Uganda Development Bank, a position she kept for 13 years.
"Part of my job was to receive and process agricultural loans. I would also follow up the clients to ensure that their farms perform such that they could ably pay back the loans," she explains.
It's also during the 13 years that she got married, had all her children and ventured into politics.
Some of Ssekitoleko's plants. Ssekitoleko carried on her proffesion and practises green house farming. (Credit: Vicky Wandawa)
First investment
It's also during her first job, that she made her first investment.
"During the first year in my bank job I bought a house, on acquiring a loan from the bank I worked for, on advice from a cousin to take advantage of my position as a staff member and acquire a loan," she says.
Interestingly, her mother, perplexed by her decision said, "Victoria! When an unmarried woman buys a house she never gets married! Ssekitoleko laughed it off and assured her that after all, she intended to rent the house out, not live there. It took her about three years to pay back the loan.
In 1986, Ssekitoleko was appointed deputy minister in the ministry of agriculture and received her gratuity shortly after.

"I used the money to buy a cow. I lived at Nakasero, on an expansive plot so I had a banana plantation and grew vegetables", she says.
"Every morning I sold milk to my neighbours and all the money needed in the kitchen came from the cow.

"That saved me money and I bought two plots of land, and put up a house on one and two semidetached house on the other," she says.
Her job as minister kept her busy. So much as she would have loved to invest in agriculture, there would not be enough time for her to supervise the investment, hence the decision she and her husband made, to invest in real estate.
In 1988, she was promoted to full minister of agriculture, a position she held up to 1994, when she was appointed Food and Agricultural Organisation representative to southern and eastern Africa.
She stayed in Zimbabwe for nine years, after which she was transferred to Ethiopia, then China in 2006, right before she retired.
While in China, she and her husband saw an advertisement for a piece of land along Kiira road in Bukoto.
"We had been saving and were also part of UN credit union, so we borrowed money and bought the plot in 2007. We started construction of a commercial building, which is Victoria house today and we plan to construct it further," she says.
The road to retirement
"In the UN when you are left with about three years to retire to prepare accordingly, and advice," she says.
She learnt retiring after the age of 60 meant one was past that adventurous age of investing in huge projects or taking loans to invest, as this would predispose them to stress leading to health problems such as heart attacks.

Sekitoleko settled for agriculture and alongside earning from the real estate she had earlier invested in.
Furthermore, while at the UN, Sekitoleko noticed that most Ugandans who applied for UN jobs had the required qualifications but, were terrible at interviews.
"One of my tasks was to hire people. Ugandans do not know how to market themselves," she points out, which compelled her to start public speaking classes, where people pay to go and learn how to make presentations.
"Six weeks later they are great presenters and we also see it," she says.
Sekitoleko also organizes agriculture public talks with an attendance fee.
"When I started out, I organised talks on various subjects such as ICT and you, social responsibility et cetera. However, I realised that talks about agriculture attracted a full house, so now I concentrate on agriculture talks. The attendance fee paid by participants entitles them a cup of tea," she explains.
Giving back to community
Life was never easy as a peasant's daughter. She loved reading but her parents could not afford to buy her books. The only books she read were those at school or the torn pieces of newspaper that came wrapped around the snacks her father brought home.
"That meant reading incomplete stories since the snacks sellers never used a whole newspaper to wrap their merchandise," she recalls.
Consequently, one of her retirement plans for retirement was setting up community libraries. She has set up 17 libraries in Jinja and visits schools to promote the reading culture.
Not furiously looking for money
The libraries are not a source of money. They are out of passion. One would wonder why a retired person would invest in a nonprofit venture and she has this to say,
"I am a grandmother but my children take care of their children, so at this age I am not furiously looking for money. Money for what? I keep my life simple," she softly says.
"I have gardens where I grow most of the food I eat. Look at the pyramid of needs; once you have the basic needs, the food, housing and health because I am on health insurance, you are well. Gandhi said there is enough for everybody's need not greed. I am satisfied with what I have."
Advice on planning retirement
Sekitoleko opines that agri-business is the way to go when planning for retirement because the opportunities are immense.
"Uganda is the food basket of this region. People should prepare to produce quality products, and they will have the market," she advises.
She further notes that people should start saving for retirement right from their first job.
"When you get a job, start thinking about retirement. Recently, my left hand broke and I can't work much.

"I am lucky I fell during old age. Secondly, it could have been a major accident. So since we are uncertain of the future holds, we should prepare for retirement as soon as we start earning," she warns.
"It may not be easy, but honestly one of the most painful things is to be both poor and old. I know people who are begging their children or bitter that their children have abandoned them."
She says that when it comes to saving, most young people say they cannot because of a meager salary but she advises, "Save whatever you can."
One could easily attach her comfortable retirement to the opportunity she had with the UN but she vehemently points out that the first savings and investments she made were during her first job as a banker, in Uganda, thus, anyone can save.