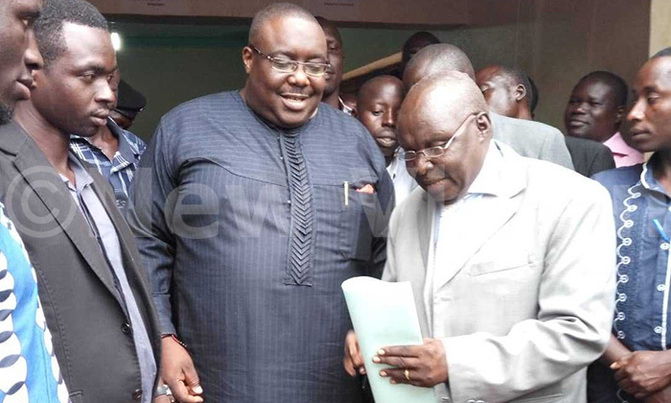 Engena, who stood as an independent candidate trailed with 99 votes.
PIC: Engena (middle) with his supporters after results were released. (Credit: Hudson Apunyo)
ELECTIONS
APAC- Former president Apollo Milton Obote's son Edward Stanley Engena Maitum has been beaten in the Apac Municipality parliamentary election.

Apac Municipality is the home town of former president Apollo Milton Obote who ruled Uganda twice and was twice deposed by the military. He lived in Zambia and died in a South African hospital in 2005.

Engena, who stood as an independent candidate trailed with 99 votes (0.81%).

Eight candidates contested for the parliamentary seat that was won by the Uganda People's Congress (UPC) party flagbearer.

UPC also took the Municipality chairperson (Mayor) position.

Patrick Ocan won with 6597 (63.84%) against his close rival Jovino Akaki Ayumu (NRM) who got 3233 votes (26.38).
PIC: UPC flagbearer Patrick Ochan take a call as UPC president Jimmy Akena and others look at the declaration of results form soon after Ochan was declared winner of Apac Municipality parliamentary seat. (Credit: Hudson Apunyo)

According to results declared by the Returning Officer Jimmy Musimbi, Ocan was declared the duly elected Member of Parliament for Apac Municipality.

In the results, Chono Patrick Okello (independent) got 1527 (12.46%), Lucy Ajok former Apac Woman MP who stood as independent candidate got 278 votes (2.27%), Bonnie Mclean Odongo (Ind) got 209 (1.71%) votes , George Edward Okello (FDC) got 182 votes (1.49%) and John Robert Atim Etime (Ind) got 129 votes (1.05%).

For the Mayoral race, three candidates contested and UPC flagbearer Patrick Ongom Eyul got 6923 votes (56.0%) followed by NRM flagbearer Jimmy Okello with 5003 votes (40.5%) and Moses Galimaka Mbabazi, local musician who stood as an independent candidate trailed with 434 votes (3.5%).

Mainly UPC leaders and supporters were available when the result was being declared at midnight. Led by party president Jimmy Akena, party secretary general Fred Ebil and MPs Maxwell Akora, Joy Ongom, and Santa Alum, the UPC supporters ululated and sang UPC songs after the declaration was made.

The commissioner, who was overseeing the election in Northern and Karamoja regions, said he was extremely impressed with the calmness of the people of Apac Municipality. He commended them and urged them to continue always.

He said he visited some polling stations and saw that the voters were much disciplined and a sign that they were interested in what they were doing. He had not seen the discipline exhibited in Apac Municipality in any place he has been to and sent a commendation letter to his bosses in Kampala.

He also said he was mesmerized by the way the people handled Jimmy Akena when he arrived. "You love your person, he is your person," he said.

There was heavy deployment by Police in the Municipality to keep law and order. Regional Police spokesperson David Ongom said the exercise was peaceful. He said they received some complains and handled them but there was nothing serious.
PIC: Mayor of Lira Munuciupality Mike ogwang Olwa (l) led his triumpant counterpart of Apac Patrick Ongom Eyul to get his results. (Credit: Hudson Apunyo)

Apac Municipality has 44 polling stations with 21158 registered voters. Only 59.78% voted for MP and 59.3% for mayor.

NRM flagbearer Jovino Akaki Ayumu said the UPC candidate clandestinely made people from neighbouring places to register as voters in the municipality and they only realised on the polling day when they saw people being ferried to polling centres.

He could not tell whether they are going to petition the results or not. "I am still meeting my campaign team and will come up with a clear statement," he said when asked if he planned to petition.