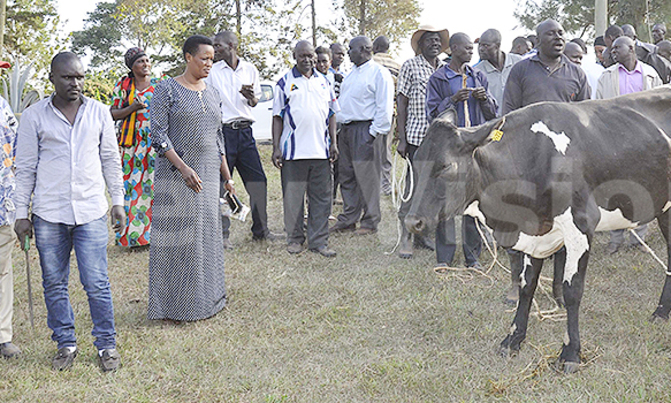 The cows are meant to alleviate poverty among residents, boost milk production and improve cattle breeds.
PIC: MP Aisha Ssekindi,beneficiaries and other district leaders during the cows distribution. (Credit: Davis Buyondo)
FARMING
By Davis Buyondo and John Bosco Sseruwu

KALUNGU - Kalungu farmers were filled with excitment on Thursday after they received 100 Friesian cows in Operation Wealth Creation (OWC) programme.

Aisha Ssekindi, the Kalung Woman Member of Parliament and Richard Kyabaggu, the Kalungu LC5 chairperson supervised the distribution exercise held at the district headquarters.

Ssekindi said the cows are meant to alleviate poverty among residents, boost milk production and improve cattle breeds. Thirty of the distributed cows were pregnant.

Kyabaggu appealed to the beneficiaries to avoid selling the cows but focus on rearing them for a good cause.

Dr Henry Ssimbwa, the District Veterinary Officer (DVO), advised them to always consult for guidance especially when the cows fall sick.

He said that several cows distrusted under OWC have died in the past due to lack of good care.

He further warned the farmers to desist from buying and mixing cows bought from Sembabule, Kiruhura and other districts which are still quarantined due to the foot-and-mouth-disease problem.

Noeline Nakagwa, one of the beneficiaries thanked government for supporting them in the campaign to fight poverty.
Cows being distributed at Kalungu district headquarters.(Credit: Davis Buyondo)
She said her pregnant cow will give her milk to support the children with disability in Bukulula village.

Ndawula Charles, another beneficiary, said he will cross breed it with indigenous cows to improve on the breed on his farm.

However, farmers have decried the rampant animal theft in the district which has caused them losses.

They also decried a tendency where bad hearted people raid homes and farms and cut the animals. Affected communities are mainly those in Bukulula sub-county.

Baker Ssekasamba, one of the affected residents of Bulingo village, said assailants killed his four cows in different turns. Aidah Babirye and James Katwire also lost two cows each in the night raids.

According to Vianney Birungi, the Officer in Charge of Lukaya Police station, several cases have been reported. He said that some animals are killed while others are badly wounded.

He added that Police in Lukaya are using their intelligence to track the assailants and bring them to book.