Ageimo and his wife Rukia Aguti, are some of the beneficiaries. Married for only a year, their life has changed for the better in the past two months since they started a small business under the village enterprise programme.
Agutti and her husband Moses Ageimo infront of their hut
EMBRACING VILLAGE ENTERPRISES
Moses Ageimo, 33, was standing in front of his grass thatched mud hut carrying his two-months-old baby girl when we pulled into the pineapple plant-lined driveway to his home.
He kept a respectable distance away as his wife Rukia Aguti, a member of the Village Enterprise microenterprise graduation programme, settled us under a tree shade in his well kempt courtyard, until we asked to speak to him.

"Life was very hard before Village Enterprise came to our village. I was the only one providing for the family essentials for example soap. Even when we would try to look after pigs (as a business) the swine flu would kill them," he told a group of journalists that had travelled to Arubella Village, Akoromit sub-country in Amuria district to interrogate the success of Village Enterprise graduation model that has been the subject of an Innovations for Poverty Action study.

IPA research found that Village Enterprise's one year graduation model that includes targeting the poor in rural remote villages and training them in entrepreneurship, mentoring them and linking them to a Business Saving Group boosted their income and reduced poverty.

Ageimo and his wife Rukia Aguti, are some of the beneficiaries. Married for only a year, their life has changed for the better in the past two months since they started a small business under the village enterprise programme.

"We now use solar (for lighting) in our house. I don't know the detail of my wife's business but I am happy because she is contributing to the home," he said.

The family is paying for the solar kit in instalments of sh1,000 every week. It costs sh195,000 and they have so far paid sh 62,500.

Village Enterprise works with community leaders and members to identify the poorest in a community.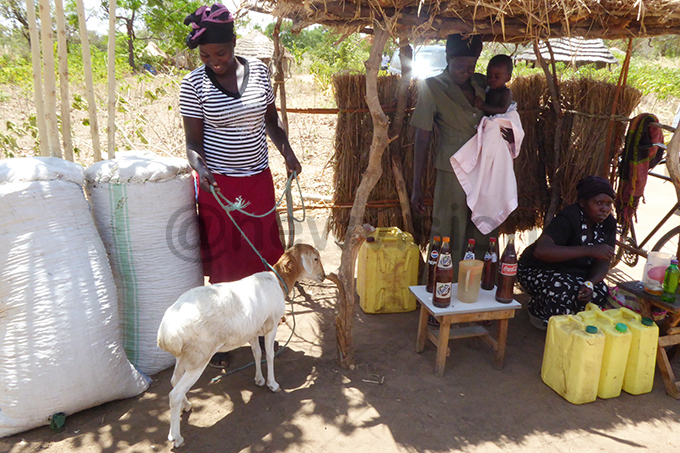 Rukia Agutti, Joyce Mary Alinga and Mary Goretty Atim at their stall, display their oil, bags of groundnuts and sheep for sale
"The community members themselves define what it means to be very poor, poor or rich in a community and using the parameters identify the eligible households in a given community," explains Isaac Otime Village Enterprise's Senior Field Coordinator.

Each benefiting household identifies an individual to participate in the programme. Participants attend 15 three-hour training sessions over a period of six months after which they get into groups of three and plan for small business ventures they can do together before they can qualify for a $100 grant for their small business' seed capital.

"95% of the participants complete the training and graduate," says Dianne Calvi the organisation's CEO.

Twenty-four year-old Aguti together with the other Rise to Change business group members Joyce Mary Alinga and Mary Gorreti Atim started a business two months ago after the training. They retail cooking oil and petrol to get an income.

They sell four 20-litre jerry cans of petrol a week and make 10,000 to 15,000 profits off each jerry can. From the cooking oil, they make a profit of 12,000 to 15,000 from each 20-litre jerry can especially on market days otherwise they make a profit of sh7,000 from each jerry can if they sell only within the community.

In two months of the business, the three women have saved sh300,000 in cash and 300,000 in kind -- two sacks groundnuts they plan to sell when the prices go up and a sheep -- making sh600,000 total in savings.

"We are happy,"Aguti simply says when asked about life since she joined the program.

"I couldn't even afford to buy soap. I found it difficult to interact with others because I'd worry about giving off a bad odour. I can now wash my clothes and be confident in public," she said.

Aguti prides in the fact that she can buy food for her family and does not have to depend solely on her husband to meet her family's needs.

"My husband now looks at me as a responsible person and he respects me because I contribute to the family," she says.
Mary Goretty Atim measures out oil for sale at- heir stall
"28-year-old Joyce Mary Alinga, a member of Aguti's group who had been sitting quietly on a mat, breastfeeding her toddler quickly interjected: "We can save and borrow money to address pressing needs."

Alinga has four children in school – two in Primary 4, one in Primary two and one in kindergarten. In the last school term she borrowed sh125,000 to buy the children's scholastic materials and pay tuition fees for the one in kindergarten. Whereas primary education in Uganda is free, pre-school education is not. For most children in remote rural areas, kindergarten is a luxury but Alinga is now able to take her child to preschool.

"I had one dress; I walked barefoot before Village Enterprise came. I have now bought clothes, sandals and shoes. My family doesn't have to only eat only ebo, (a local green vegetable). I can provide protein in form of meat and fish," she says.

Agutti, Alinga and Atim have been running their small business and saving in the Business Saving Group for only two months but the change in their lives is tangible.

Theirs is just one of the groups participating in Village Enterprise's one year microenterprise graduation programme that targets ultra-poor households in rural and remote Ugandan villages with the objective of getting them out of poverty.


How the programme works

Winnie Barbara Auma the Country Director of Village Enterprise explains that the program is a five step process which starts with a targeting exercise where community members identity the parameters that determine poverty in their environment and identify the poor and rich households. Village Enterprise, verifies their finding using the Progress out of Poverty Index to select the poorest households. They work with 30 members in each village from 30 households.

The members get 15 three- hour training sessions in two months covering entrepreneurship and business practices, saving, family support, hygiene, team work among others. On completion they get a $100 grant and an extra $50 top-up after they implement their business.

In groups of three, the members discuss, decide and start a business. The ten groups form a Business Savings Group (BSG) which helps them to save together, share ideas and learn together. It also provides a platform for continuous training, mentorship and support.

Auma says the organisation started 30 years ago. Then, it was giving non-conditional grants. Over the years it has grown to a robust monitoring and evaluation training program.

Since 2010 Village Enterprise has worked in 13 districts in Teso, Lango, Acholi and Bunyoro region and reached 13,000 rural poor Ugandans with the program.

"Internal data was showing important improvement in savings, nutrition and wellbeing but we had questions on which part of the programme was having an impact on what," she said.

So they subjected the program to a scientific study which was conducted by Innovations for Poverty Action, a research and policy non-profit organisation.

Research findings shared two weeks ago show that Village Enterprises model not only works to improve livelihoods among the poorest of the poor but also is the cheapest model so far of all those running similar graduation programs for the extreme poor.

What makes Village Enterprises' model unique? Auma outlines six things:

It is community based, participatory and locally led. Auma says the business mentors are hired from the local community.

"By identifying the business mentors for among the communities, they easily conceptualise experiences to help the communities," she says.

The program is group-based and only lasts a year after which the organisation hands it over to the community making it cost effective.

Village Enterprise gives a small cash grant rather than an asset or loan: Auma says Village Enterprise clients are too poor to access loans or to be part of a micro finance group which would typically require some amount of savings or collateral to participate.

Aguti, Atim and Alinga's husbands for example have less than an acre of land each. To raise a minimum contribution to their seed capital, the three had to work in other people's gardens because labour was the only asset they each had.

The Village Enterprise model is a streamlined graduation program developed and improved over the years. It is also adaptable and has been tried in many contexts. It has been used among refugee communities in Kiryandongo district in western Uganda, in northern Uganda among the youths. In Kenya they have worked with a health program.

It is also a data driven program. Village Enterprise conducted its own Random Control Trial to test the impact of the program. Since 1987, 39,000 business have been started, 156,000 individuals trained and 850,000 individuals impacted.

Speaking at an event to disseminate the research findings Robert Mwadime, chief of party Mercy Corps an international development organisation, urged development workers to take results of such studies seriously because evidence helps defend them with anybody. He urged them to have their programmes evaluated by external experts. He called for a further study of the models to identify opportunities for scaling services.

"Very remote areas are opening up, education levels improving. Should we continue depending on development partners or should we explore how these models work with private sector participation and see if they produce the same results?" he asked.

He also noted with concern the increasing urban poor population in the country which is becoming a challenge.

"Can the model apply for the urban poor? We should try to investigate if the model works there," he said.

Over the years, Government has consistently had various kinds of cash transfer programs for poverty alleviation. In the late 1990s there was Entandikwa fund, then the Bonna Bagagawale initiative, and of late the Youth and Women funds but their impact has not been studied.

Researchers too have found that though these cash only initiatives improve livelihoods in the short term, their impacts have seldom been studied for longer durations.

Sulaiman Munghi, the researcher who shared the results of the Village Enterprise graduation programme said it was more effective than the cash only transfer programmes for the poor.

He said that whereas graduation programs for the poor have been studied for the past 13 years, he regretted that there is little scientific evidence on what happens in cash only transfer programs in the long term.

"I want to know why people stop looking there (at cash transfers) after six months," he wondered.

He urged other organisations to emulate Village Enterprise and evaluate their impact.

Hassan Mbazira, who represented the Gender, Labour and Social Welfare ministry at the event expressed interest in benchmarking the Village Enterprises successes with the government programmes.

"I would like to know how Village Enterprise deals with the nomadic youth. You give them money and they move to the next village and you cannot find them," he said.

By March 2016, Government had disbursed 66.4bn for the Youth Livelihood Fund in its third year. However, credit recovery was only sh2.6b by January 2016.

Aguti and her colleagues of Rise to Change Business group may have an answer for him. Though aware of the fund they never took advantage of it.

"You cannot go for money when you don't know how to use it. The difference here is you are given money after you have been trained," Joyce Mary Alinga said.

Aguti the secretary added: "We know of youths who got that money and are now in prison. Others have run away from the village."

Aguti, Alinga and Atim are running nowhere. With the progress they have made in only two months, their lives can only keep getting better and they look forward to achieving their dreams.

Alinga wants to buy more land for her family. She has four sons. "When they grow up, they will want to marry and then will demand for their share. I need to have something for them," she says.

Aguti too wants to buy land, build a permanent house and educate her children. Atim's priority for now is educating her children then she will think of expanding her land and build a house.

Nothing seems to be in the way of these women, of which the most highly educated, only went up to senior two.