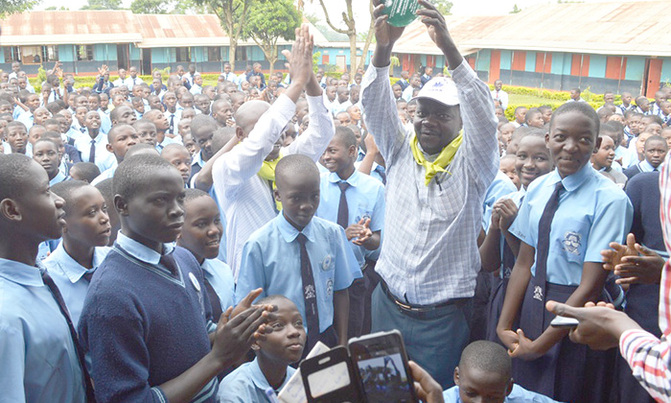 The event was supported and funded by the National Water and Sewerage Corporation.
PIC: Students of Central College-Kamuli celebrate their win in the environment quiz. (Credit: Tom Gwebayanga)
SCHOOLS ENVIRONMENT QUIZ
In the spate of the nationwide campaigns, urging the public and schools to protect the environment by planting trees and promote sanitation for better health, two schools in Kamuli district won the National Quiz competitions in the respective docket last week.

Last Friday, jubilations and chanting rocked Central College -Kamuli and Kamuli Township Primary school in Kamuli Town, Kamuli district as students and pupils celebrated the win in the National Sanitation and Environmental Quiz, under the Schools' Water & Sanitation (SWAS) Clubs.

The breakthrough backs the national tree planting and sanitation campaign which the Speaker of Parliament, also Kamuli Woman MP, Rebecca Alitwala Kadaga, launched in Kamuli district in April this year.

Supported and funded by the National Water and Sewerage Corporation (NWSC), the quiz which attracted 82 secondary and primary schools from all over Uganda, took place at Kyambogo University, Kampala, last week.

With the theme:" Plant a Tree, Save the Future" the quiz consisted questions about the good and bad effects of hygiene, what should be done to have a disease-free country, the value of planting trees, the benefits of having a conserved environment, etc….

Central College-Kamuli and Kamuli Township primary brought home trophies and cash worth sh. 1.5m and sh.2m respectively, thanks to the National Water and Sewerage Co-operation.

According to James Byantuyo, the director of Central College-Kamuli, the school won secondary schools' Quiz competition, courtesy of the S4 students, Flavia Patience Birabwa and Tevin Kigongo, who answered the quiz to the last round, before emerging winners.

"The quiz was conducted in groups of regions in four rounds. The duo performed well in the groups, before hitting the finals and broke through," Byantuyo said, while introducing the trophy and sh.1.5m cheque to the school on Friday.

Terming it a miracle in life, Birabwa was amazed how she went through the questions as she contested with students from "big" schools from Kampala and beyond.

"The questions were tricky, each demanding an answer within 60 seconds. It was hectic and I did not believe our school would be the winner," she said, thanking teacher Brian Mukaabya, the mentor.


The triumphant students Patience Flavia Birabwa and Tevin Kigongo pose for a photo with the Director and teachers
Township Primary speaks out

John Luwoire, the headteacher of Kamuli Township Primary School, said the staff and pupils were overjoyed that the school was the best in Eastern region.

"Our pupils awed many, answering questions like veterans. In fact, this did not come by mistake because the Tree planting and sanitation campaign started here," Luweire said, displaying the Certificates and sh.2m cheque to New Vision, in his office, on Saturday.

Since inception, he said, the school has so far planted 324 trees around the compound, and still counting.