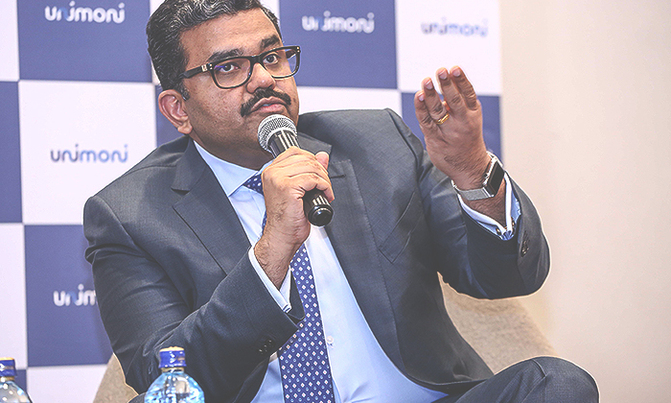 As millions of Ugandans take to mobile, government has moved to regulate and generate taxes on the mobile money.
PIC: Promoth Manghat, the Group CEO of UAE Exchange. Manghat says regulation and taxes should not stifle growth of payment solutions. (Courtesy photo)
TAX

KAMPALA - Payment solutions have been a revelation in many parts of Africa such as Uganda.
They are a colossal force in driving up financial literacy.

One such solution is mobile money. At its's introduction in 2009, there were only 600,000 registered mobile money subscribers in Uganda.
By the end of 2017, mobile money subscribers had grown to 23 million, according to the Uganda Communications Commission.

As per Bank of Uganda statistics, by the end of June 2017, sh52.8 trillion worth of transactions had been made on the platform, up from sh37.4 trillion in June 2016.

The platform has also evolved from simply being a money transfer service to a payment spectrum for several goods and services.
As millions of Ugandans take to mobile, government has moved to regulate and generate taxes on the mobile money 'boom'—a move that has highly been criticized.

In the most recent income tax amendment bill, government proposed a 15% fee charge on money transfers, including transfers and withdrawal services by operators licensed or permitted to provide communications or money transfers or withdrawals, an increase of five percent from the previous financial year.

Most controversially, a 1% tax was introduced Mobile money transactions on receiving, payments and withdrawals.

On the back drop of the recent controversial taxes slapped on mobile money in Uganda, Promoth Manghat, the chief executive officer of the UAE Exchange Group has advised Ugandan and other African governments to strike the right balance between regulation and taxes on payment solutions platforms.

"Regulations should enable business, and become a stifling force. Regulations are actually good;you do not want to see your platform be used to fund crime, launder money among others. However, the regulations need to be good for the business. " he said on Thursday while presiding over the rebrand of UAE Exchange to Unimoni in Nairobi, Kenya.

Despite a growing number of successes, the money transfer and payment solutions industry faces a number of challenges, like loose regulations in emerging markets.

In a report titled "Mobile Money for Financial Inclusion", the World Bank Group offers some solutions to the complex subject of regulating such a power driver of economic growth.

"Successful regulation is usually marked by collaborative exchange between industry, government, and civil society. For example, regulation should allow agents outside of bank branches to handle financial transactions and develop tiered anti-money-laundering and know-your-customer (AML/ KYC) requirements," the study reads.

As payment solutions and money transfers continue to evolve as per changing technology, Manghat further advises that private sector players need to work more closely with regulators in the initial phases of product development to come up with meaningful regulations.

Unlike many businesses that start in Kenya before spreading their wings out to other East African countries like Uganda, UAE Exchange launched their Africa business in Uganda before the global money transfer, foreign exchange and payment solutions provider spread out to countries like Botswana, Kenya, Rwanda, Zambia, and Seychelles.