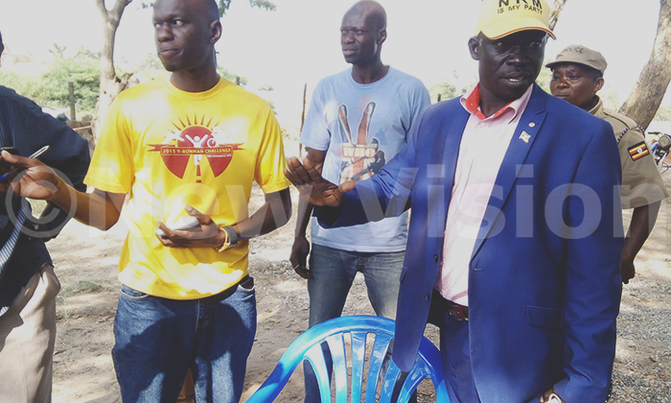 A few hours after the declaration of the NRM flag bearer for Arua Municipality Bi-election, some of the candidates disowned the results.
PIC: Jackson Lee Atima (in yellow cap) one of the candidates that rejected results from the NRM primary elections. Lee decided to contest as Independent. (Credit: Robert Ariaka)
ELECTIONS

ARUA - Arua Police grounds, where the nominations are being conducted by the electoral commission for Thursday and Friday, has already registered over 18 different candidates nominiees.
More are expected but will be confirmed on their arrivals.

This includes independent candidates who just lost in the NRM primary elections.
A few hours after the declaration of the NRM flag bearer for Arua Municipality Bi-election, some of the candidates disowned the results and decide to contest as independent.

Tanga Odoi, the NRM electoral commission chairman declared for EALA legislature Nusura Tiperu as the winner and flag bearer for the party with 1,798 votes beating her closest opponent Swadik Angupale who got 1,443 votes while Jackson Lee Atima got 1,362 votes.

Others include John Lematia with 203 votes, Aluma Muhamad Ali got 183 votes, Simon Ejua got 118 votes, and Godfrey Obiga got 91 votes while Mbarak Kalfan got the list with 59 votes.

These results have been disowned by Atima arguing the election process were marred by election malpractice. Atima claims cases of pre-ticket ballots, missing names of voters and intimidation to favor the winner were not fair to other candidates.

Atima who failed to vote for the primary elections because his name had a mismatch said several other voters equally failed to cast their votes affecting the outcome.
Supporters of Wadri Kasiano heading to Arua Police grounds for nominations. (Credit: Robert Ariaka)

Meanwhile, Swadik Angupale and John Lematia have also decided to contest as independent candidates after losing in the NRM party primary elections.

The FDC flag bearer Bruce Musema and former Terego MP Kasiano Wadri who is a strong FDC but decided to contest as independent have all been lineup for nominations on Thursday. Others are Francis Nyero, Jafar Olekua, Robert Ejiku, Alfred Nyakuni, Andruga John Daniel, Abdulrahman Juruga Simon Avutia, Maxwell Adriko, Gilchrist Badaka, Michael Angunda, and Sunday Anguandia all independent while Kennedy Madira is fronted on DP ticket.

On Thursday morning Arua town was filled with excitement as several voters thronged on road with posters of different candidates showing support for their candidates who will be nominated.

The position fell vacant after slain MP Ibrahim Abiriga was shot by armed gangs who killed him and his brother Saidi Kongo near his home in Kawanda in Kampala last month.

Electoral commission road map indicates that, the polling date for the bi-elections for the Member of Parliament for Arua municipality is on August 15 2018.

The period from July 19 to 20 is set for nomination of candidates, the period for inspection of candidates' papers and lodging of complaints starts from July 19 to 23. Returning officers meeting with candidates will be held on July 21 and campaigns will officially start on July 23 and end on August 13.