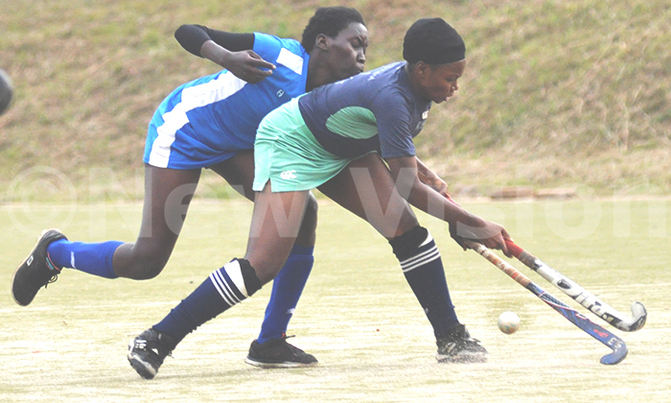 The team has stumped authority in both categories, maintaining a rather perfect run to remain the only unbeaten sides.
PIC: Action between Wananchi (blue) and KHC Swans (grey)during a National Hockey League. (Credit: Michael Nsubuga)
HOCKEY

National Hockey League

Men

Wananchi 5 Historicals 1

Weatherhead 4 Kampala 1

Simba 2 Rockets 3

Women

Rhino 0 Weatherhead 2

Wananchi 2 Kampala 0

KAMPALA - Over the years, Wananchi have been defined by their enormous success in field hockey on the local scene.

The oldest surviving club in Uganda continues to live up to their pioneer tag and winning has since become a tradition at the club.

Multiple winners of the league in both men and women categories, they are eager for huge returns this year.

The team has stumped authority in both categories, maintaining a rather perfect run remaining the only unbeaten sides; nothing like living on borrowed time!

Last year, Wananchi men looked on with envy as Weatherhead dictated proceedings, winning what turned out to be their second league title.
This year, there is a huge determination to get back to where they think they belong- at the top.

Hitting on all cylinders, Wananchi boys are seated top of the log on 28 points after 10 games played.

After defeating all their fierce rivals; especially 3-1 against second placed Weatherhead recently, there is a huge feeling in the camp that they can actually go all the way.

Conversely Thomas Opio's brace was crucial when they cruised past Historicals 5-1 on Saturday. Colline Batuusa, Innocent Raskara and William Oketcha got on the scoresheet as well.

Doreen Asiimwe in the eyes of many is one of the best female hockey players who has displayed a high level of consistence. She combined with Peace Anyango with a goal apiece in the 2-o win over the Kampala Swans.
The win propelled them to 24 points top of the standings.

EMAIL: kbalikuddembe@newvision.co.ug

TWITTER: @casozi14