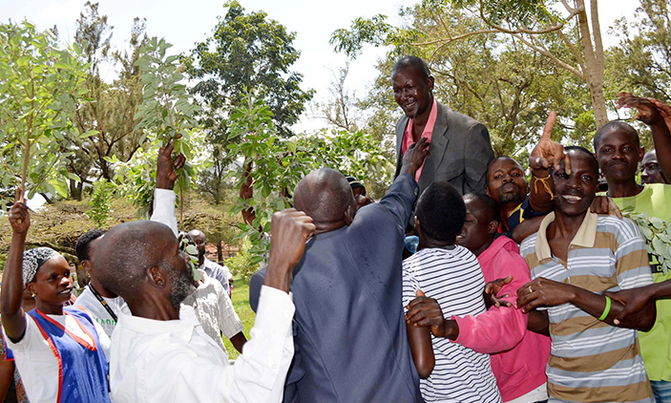 Legal action will be taken against anyone who refuses to handover office to the incoming chairpersons.
PIC: William Baluggala celebrates with his supporters after winning LC1 elections in Diplomat Zone in Makindye. (Credit: Violet Nabatanzi)

ELECTIONS

KAMPALA - After concluding the LC1 elections across the country on Tuesday, government has now directed incumbents who lost to handover their offices.

In a letter dated July 12, the permanent secretary in the local government ministry, Ben Kumumanya, noted that offices should be handed over to parish chiefs under the supervision of the sub-county chiefs.

"As you are aware, on 10 July, 2018, elections for chairpersons of villages and cells as well as the approval of village/ cell executive committee members were concluded in the whole country," the letter wrote. "As expected, all outgoing elected local council leaders are expected to handover government property in their possession."

LC1 chairpersons majorly keep the official village stamp and records of the rulings of the cases they handle.

The directive comes at the backdrop of reports that some of the incumbents who lost refused to hand over their offices, giving excuses such as lack of a levelled ground in the elections.

But Electoral Commission spokesperson, Jotham Taremwa, warned on Friday that legal action would be taken against anyone who refuses to handover office to the incoming chairpersons.

The LC1 elections were a do-or-die for many incumbents and their opponents across the country. The exercise attracted violence in some areas leaving people injured and property destroyed.

The Permanent secretary's letter is copied to the ministers of local government, resident district commissioners; all district chairpersons and mayors of municipalities.