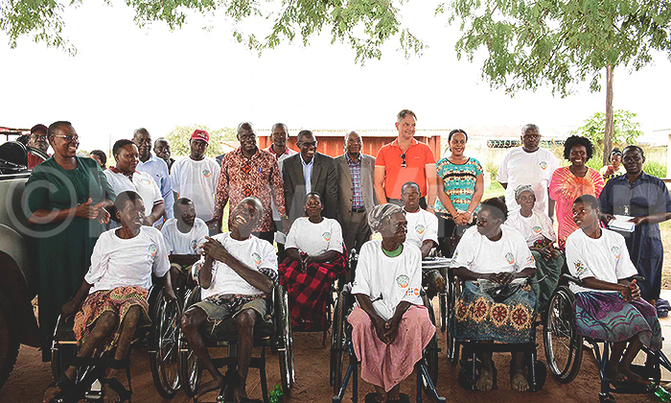 Many of the children who have been affected by the disease have been crippled for life.
PIC: Some of the beneficiaries of the wheelchairs donated at Lalogi Health centre in Omoro district. (Credit: Eddie Ssejjoba)
HEALTH

OMORO - The Omoro District chairperson, Douglas Peter Okello has appealed to development partners to intervene and help out children who are suffering from the nodding disease syndrome, saying many have been disabled and need assistance.

He said many of the children who have been affected by the disease have been crippled for life and those still in hospital are being carried by caretakers from one place to another.

Okello said this on Tuesday at Lalogi Health Centre IV near the Omoro district headquarters where he received 15 wheelchairs for people with disabilities from the National Population Council (NPC), provided by the ministry of gender and Mulago Orthopedic Workshop. The donations were part of the pre-World Population Day activities.

At least the majority of the wheelchair beneficiaries were children suffering from the nodding disease syndrome. They received wheelchairs to aid their movements.
Omoro LC5 chairman, Douglas Okello helps a child to get into a wheel chair as the director general NPC, Dr Jotham Musinguzi looks on. (Credit: Eddie Ssejjoba)

Other items from NPC included two wheelchairs for the Lalogi Maternity Ward, 20 hospital beds, two delivery beds, an oxygen contractor, two sets of clutches, two sets of solar panels and 12 computers for Bobi Community Polytechnic and Awere Secondary School, with a one-year internet subscription.

The computers were provided with assistance from the Uganda Communications Commission.

The World Population Day is celebrated at Bobi Community Polytechnic in Omoro District, with a theme; "Leaving No body behind-Improving Service Delivery and Accountability."

"Unfortunately the nodding disease is new in our area and we have not yet captured it in our district development plan, we therefore appeal to government and non-government organisations to come to our aid," Okello said.
Dr. Jotjam Musinguzi, the director general of the National Population Council and the LC5 chairman for Omoro, Douglas Okello hand over hospital beds and wheel chairs at Lalogi Health Centre IV in Omoro district, on July 10. (Credit: Eddie Ssejjoba)

He explained that the district has been appealing to the ministry of health for a special initiative to help the nodding disease victims, saying the situation was getting worse on the ground and needed help from outside.

The NPC director general, Dr Jotham Musinguzi appealed to local leaders and health workers to pay attention to stepping up immunisation, saying it was extremely important and was responsible for the increased life expectancy Uganda had achieved.

He said that Uganda's life expectancy had improved from 43 years in 1993 to the current 63, which he said was largely because the country had put in a lot of effort in immunising children and reduced incidents of disability.

"Immunisation is key to our country and we should put in more effort," he explained.

He said that Uganda had made a lot of strides in reducing infant and maternal mortality rate, saying the number had reduced from 122 per 1,000 in 1993 to 43.

He said fertility had also remarkably reduced from 7.4 (8) children per women in 1991 to the current 5.4 (6) .

"To reduce fertility by two children in one generation is a big achievement, what we have done is good but the pace is still low, we need to increase and accelerate," he said.

According to Musinguzi, if fertility comes down, there would be less dependency and the country would be able to effectively fight poverty and have a larger working class.

"The only way we can achieve development and improve the social-economic wellbeing of our people is to ensure we reduce the number of births per woman," he said.

The UNFPA country representative, Alain Sibenaler applauded the district leadership for their efforts in implementing government programmes, saying he had noted a lot of consistency.

Omoro has a projected population of 182,800 out of women constitute 51%., according to information from the Uganda Bureau of Statistics.