'Their determination to upset the big boys is their motivating factor.'
PIC: Rugby Cranes 7s team coach, Tolbert Onyango gives instructions to the team during training at Kyandondo Rugby club. (Credit: Johnson Were)
RUGBY

2018 Rugby World Cup Sevens

SAN FRANCISCO - Rugby Cranes 7s team coach, Tolbert Onyango confessed that as his team heads for the Rugby World Cup Sevens champioship, they will be underdogs.
But, their determination to upset the big boys is their motivating factor.

Onyango made the remarks during a training with the final named twelve-man squad to represent Uganda at Rugby World Cup Sevens scheduled July 20-22 in San Francisco, USA.

"There is no doubt about it. We are underdogs punching above the belt but we are determined to write a mark in this tournament and that motivates us as we prepare to face Samoa who are a regular World Rugby Series," Onyango said.

"We have trained and selected our best squad and now what we are remaining with is to execute our game plans for better results," he added.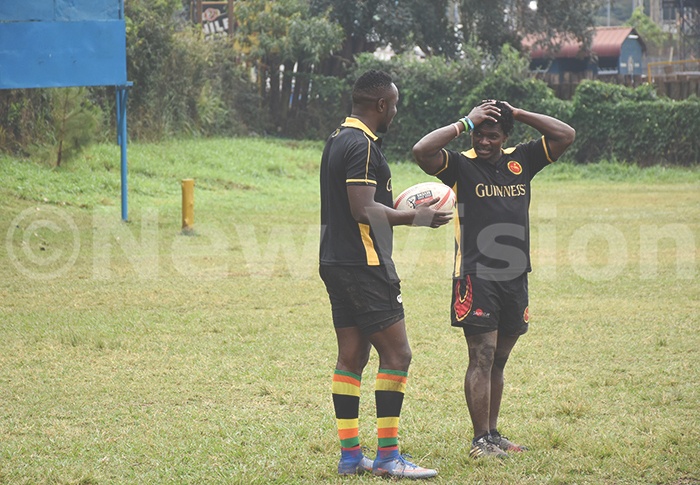 Ivan Magomu with the ball chats with Justin Kimono during training at Kyadondo Rugby Club. (Credit: Johnson Were)

Onyango named the squad with two new entrants; Ivan Magomu and Justin Kimono who makes a return to the sevens team. Kimono is replacing injured Lawrence Ssebuliba.

Youngster Timothy Kisiga and forward Byron Oketayot maintained a place on the squad, while Joseph Aredo, James Ijongat and Kevin Keremundu were dropped from the team.

The Guinness sponsored Rugby Cranes 7s team plays a qualifying match against Samoa on July 20.

It is in their best interest that they defeat Samoa to face England in the group of 16 stages.

Desire Ayera, Kisiga Timothy, Aaron Ofwoyrwoth, Ogena Pius, Oketayot Byron, Adrian Kasito, Okia Solomon, Odongo James, Michael Okorach, Justin Kimono, Philip Wokorach and lvan Magomu make the 12-man squad to represent the country.

The team captained by Michael Wokorach leaves on Saturday for USA.