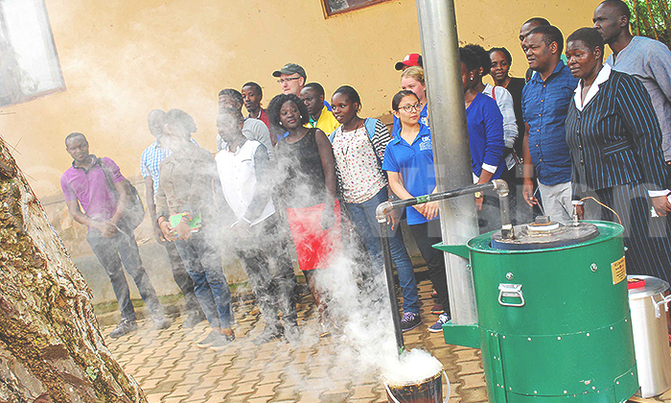 Kentucky University offered money for reactor design and optimisation.This can be given to people in the field.
PIC: Flavia Munaaba, the former state minister for environment (extreme right), Prof Noble Banadda from Makerere University with makerere and Kentuky students during a demonstration of how to make venegar. (Credit: Agnes Nantambi)
TECHNOLOGY

USA - Makerere University, in conjunction with the University of Kentucky in the United States of America (USA) over the weekend started rolling out their support to locals who can turn waste and bamboo into fuel through the use of reactors.

According to Prof. Noble Banadda, the head of the Agricultural and bio systems engineering at Makerere University, the technology was developed at Makerere but funds to roll it out to locals has been one of the challenges.

"We have been working on reactor design and optimisation with the University of Kentucky, last year, we were able to pilot how to make cooking fuel out of plastic wastes but how to take thing technology to people was still a challenge.

However, we were able to get some funding from the Rotary club of Kentucky in the US.
They offered money for reactor design and optimisation which we can give to people who are in the field," explained Banadda.

Speaking during the hand over of one of the reactor to bamboo farmers Association headed by the former Environment minister, Flavia Munaaba Nabugere in Busega, Banadda stressed that the reactor can be used for different purposes.

"For instance, you can put waste plastics and get fuel which can be used to ride boda-bodas, run a diesel generator and also drive a car which is real converting plastics to petroleum products.
Assoc prof. Jeffery seey of chemical Engineering in the University of Kentucky USA demostrating to the former minister Munaaba together with students how the reactor can be managed for better results. (Credit: Agnes Nantambi)

He explained that if one wants to make vinegar out of bamboo, he can put bamboo in the reactor at the right temperature in order to get the best products.

He added that the reactor can be used for value addition in waste plastics and value addition to bamboo.

"Vinegar as a product can be used in food preservation, medical purposes, making drugs, used in cookery especially in seasoning meat on top of making bio-paste side and insect repellant among others," he said.

He also observed that if such a technology is embraced, it can transform the country to a middle income status.

Assoc prof. Jeffery seey of chemical Engineering in the University of Kentucky USA said the use of a reactor in production of vinegar is very efficient and more cost effective

This technology is intended for rural farmers because people can take it themselves and produce good vinegar which is a pest repellant, food preservative and also produces bi-char which helps in soil fertility which can improve crop yield.

He advised farmers to use such a technology which is local and farmers can use materials that they produce to make products which can benefit them without relying on imported chemicals.

He explained that 10-15kg of bamboos depending on how they are packaged, can produce 24 litres of wood vinegar which can act as a pest repellant.

Ronald Kiza, a research assistant at Makerere University said that bamboo being a natural resource; it is abundant and whatever quantity is needed, can be got.

He said the reactor is very multi-purpose whereby from plastics diesel to run engines can be got.

"We have tested diesel and has all the qualities of diesel and contains no Sulphur meaning it does not contribute to greenhouse emission which does not affect our environment, "he said.
Former Minster Flavia Munaaba showing Prof Banadda and Prof seey and Aagricultural engineering students from Makerere and Kentuky some of the bamboo seedlings. (Credit: Agnes Nantambi)

Chandni Josh a PHD chemical engineering student at the University of Kentucky said the partnership with Makerere University has been very beneficial in the implementation of the technology which is very beneficial to low cost farmers.

Flavia Munaaba Nabugere the chairperson of the Bamboo farmers association also the former state minister for Environment said any technology in bamboo should be embraced because of its benefits.

Bamboo has multiple benefits from the environment, ranging from food, energy, construction including small crafts like mats, Mangling sticks, paper, and cloth among others.

I realised It is something which can help our country in the fight against environmental degradation and even contribution to reduction in global warming, "she said.

She explained that bamboo absorbs a lot of carbon-dioxide three times more than an ordinary tree yet its growth rate in so first that it is able to produce three times oxygen than another tree on top of stabling the soil.
On the river banks and lake shores munaaba said bamboo can protect soil erosion yet other bamboos are edible on top of purifying water.

She said that since 2011 she has been hunting for partners who can help add value in bamboo to mitigate the deforestation in the country through manufacturing charcoal until I realised makerere was working on it.

She applauded Makerere and Kentucky University for the support to ending deforestation.