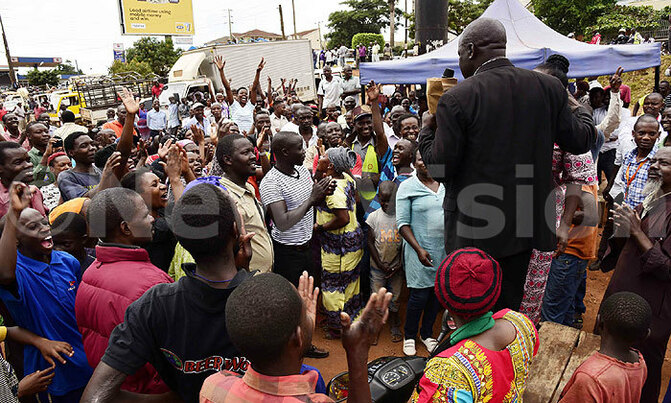 Voters went to the polls to elect their LC1 chairpersons.
LC1 ELECTIONS - LINING UP

Presented by Joseph Kizza

@joekizza

___________________________
1:02pm That's all here

Different sub-plots are playing out in various areas as regards the LC1 elections. There are victors and there are losers. Celebrations here, disappointment there.

Whatever the case, we shall end here.

Cheers!
1:00pm 'Chaos at Wandegeya Mosque'

At Wandegeya polling centre.

"There was confusion between current chairman, Mutesasira (bearded, pictured below) and his rival Kirabo. Kirabo got scared of Mutesasira's long line and is now pushing for cancellation," says New Vision's Isaac Omoding.
12:46pm Ready for task at hand

Musisi is ready to assume office after his election as chairperson.
12:45pm Musisi takes Kyaliwajjala

Edward Musisi has successfully taken the Kyaliwajjala LC1 seat.

His supporters are in celebratory mood.
12:33pm At Mawanda

Residents of Mawanda 1 in Kampala Central queued to vote their LC1 chairperson on a warm Tuesday.
12:05pm Too small for us

The army was deployed in Kinawataka due to election violence.

Residents claimed the place used as a polling station was too small.
11:53am One severely injured

One person has severely injured after fighting erupted at Bundikhapada village, Bimara parish in Bundibugyo Town Council, according to New Vision's Geoffrey Nyamwongera.

Fighting started after voters of candidate Agaba Robert reportedly failed to concede defeat. Those that have been injured are Friday Paul and Moris Bandaliza.

Police was deployed to disperse rowdy crowds.
11:45am Long line at Arua Park

At Arua Park LC1 elections, candidate Muzamiru enjoyed a long line behind him, with his opponent trailing with fewer voters.
11:37am All smooth

Voting at Golf Course Cell in Arua Municipality.

All looks organised.
11:30am Independent takes Mambugu chair

Bibiana Byabajungu, an independent candidate, has beaten NRM's flagbearer Oscar Sunday in Mambugu LC1 elections.

She polled 146 against Sunday's 77 votes.
11:23am Officials driven out

Rowdy residents of Adjumani central village have forced election officials out of the village centre and it appears that election in this village is botched as electoral officials and Police have fled the polling station.
11:17am 'Confusion at Bugolobi flats'

New Vision's Miriam Namutebi, who is stationed at Bugolobi flats in Kampala, says there is confusion at block 1-08.

"One of those vying for the LC1 seat is Albert Mucunguzi, a bodaboda rider. He has given up and walked away claiming he cannot stand when his voters have been denied access. Some of the residents claim he doesn't reside in the flats so they cannot accept him as a chairman.


11:05am Low turn-out in Soroti

Low turn-out of voters in the LC1 elections has been registered in most polling stations in Soroti Municipality.

In Kichinjaji Primary School, where two polling stations A and D are found for Central and Usuk cells respectively, not even one voter had showed up to verify their name by 9am. A total of 173 voters had registered to vote in Central cell while 224 in Usuk cell. The polling statiosn are found in Kichinjaji ward, Northern Division, Soroti Municipality.

The poling stations started realising slightly increasing number of voters coming to verify their names from 9am. The voters were supposed to assemble and verify their names from 7am to 10am.
For Central cell, two candidates - Samuel Joseph Okello (FDC) and Michael Elakas (NRM) - were present at their polling station D as early as 8am.


Pius Malinga, the village presiding officer of polling station D, said a few people had registered to vote compared to the recent general elections.

Simon Silas Odongo, the village presiding officer for Usuk Cell (polling station A), said some people came to verify their names, but returned home to wait for voting time (11am - 11.30am).

Naboth Oduc, a former district councilor for Ongongoja sub-county in Katakwi district as well as a voter, complained that the voter register arrived at Acuru polling station at 10.30am and yet they were supposed to verify the names between much earlier.

The village presiding Officer Acuru, Salume Aleki confirmed this information saying that their parish supervisor, Betty Atiro arrived late because of poor transport because village are scarce and she had to walk.
10:56am Over 30 years at the helm and still going strong

Lawrence Lukwago, the Kagadi Central LC1 chairperson, has sailed through unopposed and is now waiting to form his team. He has been at the village helm since 1986.

Lukwago says he cherishes serving all people indiscriminately and that is the reason he has been chairperson and will continue to do so.
10:44am At Bugolobi flats

There are four polling stations in the flats: Block 1-08, 9-16, 17-24 and 25-33.

Of the four blocks, candidates at three blocks are unopposed 17-24 (Kyamagwa Leo), 25-33 (Abraham Lincoln) and 19-16 (Francis Emojong).

1-08 is the only block where elections are taking place. The contest is between Naome Nyangweso (NRM) and Albert Mucunguzi (FDC).


For the blocks where candidates are unopposed, there will only be a community meeting to read the executive to them for swearing in.

At Block 1-08, verification started at 7am, but so far no more than 30 out of 175 people have been verified, according to Nuliat Mwabazi, the presiding officer.
10:35am 'Manipulating the process'

Henry Sekanjako, New Vision reporter

The Electoral Commission was Monday in a day-long closed-door meeting.

Some of the issues on the agenda were the 11 villages in Ssembabule district, whose inclusion had since been challenged by Lwemiyaga County MP Theodore Ssekikubo. In his petition to the EC, Ssekikubo said the villages were not eligible for elections since they were created three months to the elections, as opposed to the required six months provided for under the Local Government Act.

"These villages were created three months ago, that is, in March this year. Why are we manipulating the process, elections should be in accordance with the law; we should follow the right procedures," Ssekikubo said.

Some of the locals from Ssembabule, who were in support of the elections in the 11 questionable villages, also demanded that the commission clears voting in the villages which they said were created and cleared by the district council about a year ago.

Sources that attended the closeddoor meeting chaired by Byabakama, told New Vision that the commission, which, by press time, had not communicated its off cial stand on the matter, had cleared voting in the said villages.
10:28am Petitioners happy

Before the cancellation of the elections in Apaa, a group of concerned residents had petitioned the EC, protesting fresh voters' registration at Apaa village.

The locals, led by Kilak North MP Anthony Akol and Amuru District Woman MP Lucy Akello, who were present at the Electoral Commission during the announcement of the cancellation of the elections in the area, welcomed the commission's decision.
10:23am EC calls off Ganda village election, scraps Apaa electoral area

Henry Sekanjako, New Vision reporter

The Electoral Commission (EC) has de-gazetted Apaa electoral area in Mungula Parish, Itirikwa sub-county, Adjumani district, and cancelled elections for the area's chairperson. The commission has also suspended voting in Ganda village, Kyebando parish in Nansana municipality, Wakiso district, following the death of one of the candidates for LC1 chairperson, David Kizza, which occurred on Sunday.

"A new date will be communicated in due course and all inconveniences caused to the concerned parties are regretted," Justice Simon Mugenyi Byabakama, the chairperson of the EC, said in a statement issued on Monday.

Kizza, whose death still remains a mystery, was among the nominated candidates.

Explaining the cancellation of elections in the Apaa electoral area, Byabakama said the de-gazettement of the voting area and cancellation of the elections there, followed an official communication from the local government ministry that the electoral area falls within Zoka national forestry reserve. He said the area was also part of the Madi wildlife reserve and hence not open to human settlement. "Accordingly, the EC shall not hold elections for chairpersons of village local councils in Apaa today as earlier scheduled," he said.
10:15am NRM ubiquitous

According to NRM spokesperson Rogers Mulindwa, the ruling party has fronted a candidate in each of the 60,800 villages where the Electoral Commission has organised LC1 elections.

He said that by Friday last week, the party had conducted 177 meetings in about 296 constituencies to strategise for the elections.


Meanwhile, in the different zones of Makindye Luwafu, voters started to show up at the various polling stations for the preliminaries - checking for their details in the register.
10:05am Locked out

Are you in Katabi Town Council?

Some voters may miss out on electing their LC1 chairperson after being reportedly locked out, according to Vision Group's Kulabako Maurice.

There is a bit of confusion at the moment.
9:58am Kireka D

At Kireka D, Kireka Parish, Kira Subcounty in Wakiso district, voters are ready.

But first, they are eager to confirm whether their names are on the register.
9:55am Over 60,000 villages

According to the Electoral Commission statistics, there are 60,800 LC1 villages, 8,386 parishes, 1,671 sub-counties, 296 constituencies, and 122 districts in Uganda.

Will you line up today?
9:50am Where is your ID, sir?

Prospective voters of Kyebando Central in Kawempe got to the polling station early.

This is at St. Paul Church of Uganda.

Incumbent Lazarus Kagimu Kanyike and Sam Bidda Mugalu are the men vying for the LC1 seat.

9:45am Let's line up, shall we?

Hello and good morning.

Here is an election that hasn't been held in a very long time. So as expected, there is an air of expectation.

Today, eligible voters across Uganda go to the polls to choose their local council 1 chairpersons.