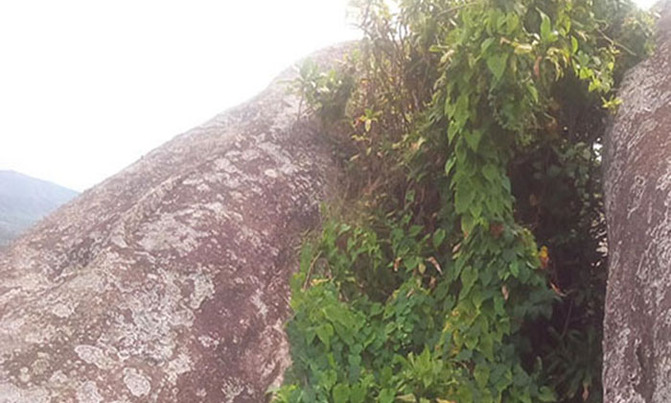 Any father who refused to punish the misdemeanor of his daughter, would also be brought with all his family to the same spot and pushed into the hole to die as well.
TRAVEL | ADVENTURE | HISTORY

By Kyle Duncan Kushaba

The famous Mabaare rocks in Ntungamo district were one of those selected places where girls who got pregant before marriage would be slain alive without trial.

Preamble
Growing up, my grandmother Kaaka Eleanor always talked about the Mabaare abyss quite often, especially when my sisters and cousins visited the village during the holidays.

I never quite understood why she insisted that we know about this abhorrent place, until a few weeks ago when a WhatsApp message in one of my active group chats revealed a contact who grew up in that area.

Instantly, I knew I had to tell this story before anybody else did, because it made me reminiscent of the many childhood stories told by my now deceased grandmother.

The journey
En route West Uganda to Mabaare Rocks in Ntungamo, I travelled 431km via the famous Global coaches bus.

Fortunately for me, the new Masaka-Mbarara highway had just concluded its construction, making the journey quick and enjoyable. At 11am on Monday, I arrived at Kitondo trading centre, Ihunga sub-county in Ntungamo district, where I assumed the popular rocks were located.

I soon discovered, that I needed a Boda Boda of about sh3,000 to get to Nyarwanya cell near Nyakayenje Primary School to witness these rocks myself. Without hesitation, I hopped onto a Boda Boda and was thrilled as I approached the clearly visible rocks.

Maneuvering through the area was definitely going to be a challenge, so I requested assistance from the locals who knew the landmark rocks better.

The journey eventually led me to Mzee Abel Rwakazairwe's home in Nyarwanya whose health was deteriorating. Unable to speak with him, I was referred to his wife, Merab Komugasho, who received me with a warm reception.

Also unable to physical give me a tour of the rocks, Komugasho assigned her two grandsons, Mugabo and Mugisha to give me a tour of the stones later in the day.

After offering me a cold glass of water to quench my parched throat from the long journey, Komugasho began to narrate the history of the rocks to which I listened attentively.

History

The beginnings of these rocks are not known, according to Komugasho. They were established in two phases, the first phase from the lower side are the Agempisi (literally translated as the stones of the hyenas).

Komugasho narrates that these particular stones have harboured hyenas for a long time. Wild animals would disturb the locals at night, especially the drunkards who returned home late and the young children who would fetch firewood from there.

"Our men always returned home early or even stayed away from alcohol because they were terrified of the hyenas that usually maimed many drunkards and sometimes killed them. Up to now, drunk people are forbidden to go near these rocks."

The Agempisi rocks are also referred to as the Agebishengye rocks (literally translated as the rocks with corridors or rooms).
These rocks have caves that look like real rooms of a normal house and it is said that these were the true homes of the Bachwezi, who were traditional rulers of Ankole in the pre-colonial era.

From a distance, they look like normal rocks until you enter the cave. You will be left gawking at how beautifully hewn these caves are.

Until date, a clean handkerchief lays inside the cave and whoever visits must leave some sort of offering to the gods. People as far as Tanzania and Buganda still visit the rocks, park their clean cars and go spend nights in these caves to worship their idols and gods.
Handkerchief with some money left for the gods.

This place is still considered sacred by some sects of society who practice witchcraft.

It is also said that beneath these rocks there is a lake and if anyone succeeded to blast these stones, the whole village will be immersed in water.

According to Mugabo, civil engineers once came here to break the rocks so they could make the Kagamba-Ishaka road and the stones were impossible to blast. He says that is only then he truly believed that these rocks are "not alone."

"There is some evil spirit around here and nobody should ever dare try to remove these rocks from their original positions. As a matter of fact, some days after 10pm you will witness a fire that looks like a campfire around and if you try to walk towards the rocks, the fire will disappear."

Some nights, the locals would hear cows mowing as they graze and pastoralists freckling, but if you ever tried to come close, everything would disappear.

Rings a bell?-The Bachwezi.

The second phase of the rocks is called Mukumbya, a word coined from a Runyankole word Okukumbagaza which means "to roll". This is where the pregnant girls were thrown to roll down the middle of the rocks to die. The abyss in between these rocks is approximately 100 metres high.

It is confirmed that whenever a girl got pregnant before marriage, she would not only disgrace her parents, but also the whole village.
In such a situation, a girl was forced to come clean to her parents, who were not allowed to keep it as a sceret. The mother would cry for her daughter as the father would gather the clansmen and leaders of the village to arrange how to kill his daughter.

Any father who refused to punish the misdemeanor of his daughter, would also be brought with all his family to the same spot and pushed into the hole to die as well.
View of the Mukumbya Rocks

Komugasho argues that men of those days were so ruthless and never valued a baby girl as much as a baby boy.
While the girl was not allowed to say anything about who impregnated her, the boys were secure in a safe zone which turned them into unruly rascals.
In fact, such boys could even rape girls they didn't like so they could be eliminated from society.

In case of rape, the village healer (who was also in charge of pushing pregnant girls off the cliff), would be called to assess the damage and only if he confirmed rape, would the girl be allowed to live.

But not her fetus, for this would be considered an abominable offspring that would bring a curse onto the whole village.

What changed?

Komugasho tells us that as a young girl she had heard of a few girls who were killed in this manner and insists that if the British hadn't come, nothing would have changed in Mabaare.

Looking back at this adventure, the Mabaare rocks in Ntungamo was worth the visit. The journey was inexpensive (around sh60,000 round-trip) and accommodation in either Ntungamo town or Rwashamaire town offered rooms for less than sh40,000 a night.

Now as a young adult, I see why my grandmother was so adamant to retell the story of the Mabaare rocks in Ntungamo. It has a cruel history but an interesting one to share with adventurers seeking to discover the history of West Uganda.