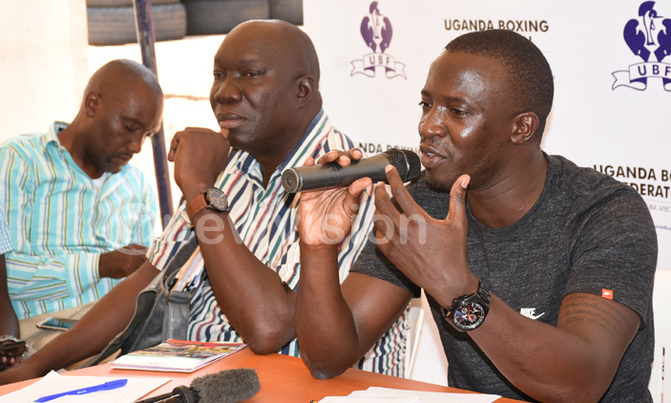 The intermediates followed the National Schools boxing championships.
PIC: Moses Muhangi addressing journalists at a press confress. (File photo)
BOXING

National Boxing Intermediates

Juniors

Lukanga 27

Sparks16


Youth

Kololo HS 16

Lukanga 15


Elite

Police 20

Nakwa 16


KATWE - The Uganda Boxing Federation President (UBF), Moses Muhangi has promised to revive the boxing glory in his first term in office after two successful boxing events.

Talking at the final day of the National Boxing Intermediate Championships held at Katwe Playground on Sunday that attracted 168 male boxers and 8 females, Muhangi said that he is ready together with his team to make boxing great again.

The intermediates followed the National Schools boxing championships that were held at Patidar Samaj in Kampala.

Muhangi said that they will keep on holding such events in different venues so as to attract more supporters who will eventually attract sponsors as well as expose boxers.

"We are very determined to make boxing great again and in this way, it will not come easily but we shall engage the public and new people, we have to explore different places because talent is everywhere and we have been lacking people who can get more boxers on board but we are now here to stay and make everything easy for our boxers," said Muhangi.

Lukanga Boxing Club were the overall winners with 46 points followed by Police who were far away with only 26 points.

Lukanga BC has for many years produced quite number of promising young boxers who end up turning pro like Isaac Ssenyange who is currently managing Zebra BC.

In the same spirit, Lukanga fielded outstanding pugilists who made the tournament colorful and also contributed more points to their club.