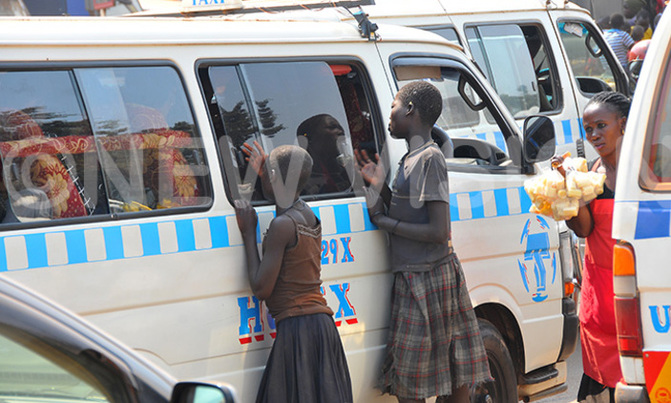 The issue of street children had however already sprung up on Cabinet's radar.
SOCIETY

By David Lumu and Alex Muhumuza

KAMPALA - Wearing tattered clothes, Daniel Madibo, 11, Fred Kamba, 14 and 12-year-old Kassim Njalira trod quietly on the busy Jinja- Kampala highway.

The trio (street children from Iganga) had moved by foot for days and pitched camp for a day at Nakibizi in Jinja.

The next day, they continued their journey to Kampala, which in their reckoning, would be a better place to beg.

The piping hot afternoon sunshine did not seem to faze them as they moved.
Madibo, Kamba and Njalira looked drained of energy, but they kept wending their way. They anticipated being in Kampala in the first week of July.

But as it turns out, the three are metaphorically walking into a lion's den, in light of impending draconian measures to be applied against street children in Kampala.

Last week, the State Minister for Youth, Florence Nakiwala announced that all street children in Kampala would be rounded up and sent to street child reform and rehabilitation centres.

The issue of street children had, however, already sprung up on Cabinet's radar.

A few weeks before the Nakiwala proclamation, Simon Lokodo, the ethics and integrity minister, had pronounced that Cabinet had agreed to construct specialised facilities in Masulita and Koblin to accommodate street children.

"The issue of street children has for long given us a bad image. In the decisions taken by the cabinet on June 18, we shall get these kids a place where they can attain regular education," Lokodo told New Vision, pointing at negligence by parents as the major driver of children to the various streets.

The Lokodo announcement was made in the aftermath of a Cabinet debate on the plight of street children.

A majority of the ministers had agreed that the presence of begging Karamojong children on the streets mars the country's image.

Col. Shaban Bantariza, the deputy government spokesperson, told journalists on Monday at the Uganda Media Centre in Kampala that: "Street kids are a menace and degrade the image of the country and some of them are even used by other people to attract people's sympathy so that they can give them money."

Earlier in May, the minister for Karamoja affairs, Eng. John Byabagambi, had in a letter addressed to the Inspector General of Police and the Ministry of Internal Affairs directed that all Karamojong street children be repatriated back to Karamoja in an operation called 'Back Home Campaign for Karamoja Children.'

"As you may be aware, the issue of street children in Karamoja and neighbouring towns is becoming a national challenge. Basing on the fact that most of these children come from Karamoja, the purpose of this letter is to direct you to resume the operations and have these children back to Karamoja sub-region and be re-united with their families," he wrote.

Byabagambi said reception centres in Masulita and Koblin had been constructed to enhance the rehabilitation process of the children, which includes education and re-uniting them with their parents.

Push-pull factors

Damon Wamara, the country director of Dwelling Places, a Christian non-governmental organisation that rescues and rehabilitates street children, says the race for cheap labour, poor parenting and child trafficking for financial gains are some of the reasons pushing children onto the streets.

"Some street children are trafficked into the city for personal gains," Wamara says.


Huge numbers

A recent report by the African Network for the Prevention and Protection against Child Abuse and Neglect (ANPPCAN), indicates that the number of street children in Uganda has increased to 10,000 - mainly in Kampala.

Wamara told New Vision that 15, 000 children are living on the streets in Kampala.

Calling upon parents to protect and provide for their children, Lokodo said street children, especially those from his home region, Karamoja, are being used by crafty people to stay on streets for business reasons.

"We have a big number of street children from Karamoja. They are speaking our language, which shows they are our own children, and this gives us a bad image. But we have established that they are being used by other people for business purposes," he said.


Why the street

According to Martin Kizza, a commissioner for children at the National Council for Children, some children run away from their homes due to peer influence — thinking "life is good in Kampala".

"Most children on streets tell us that they have parents, and it is them that send them to the streets to beg money," he said.

Experts argue that the continued presence of children on streets is largely rooted in the continuous degradation of the state of parenthood in the country and rising need for cheap child labour.

Yet, according to Wamara, much as the debate by Cabinet on street children is welcome, a solid strategy must be crafted if the question of the never-ending problem of street children is to be answered.

"It is a good conversation for Cabinet to have, and we are glad that the issue of street children is now on their table. However, we want a comprehensive strategy to address the push and pull factors rather than treating symptoms," he said.

Wamara added: "When you remove them from the streets; where do you take them? Are there enough rehabilitation centres that can cater for these children? The 15,000 street children is a large number that even if you combine all the children facilities in the country, you cannot take care of these children."


Other key interventions

By all accounts, an ordinance to criminalise giving money to street children on Kampala streets is also in offing.

According to Peter Kaujju, the KCCA spokesperson, the proposal for the ordinance is in its final stages.

"We are working hand-in-hand with all agencies to ensure that we address the problem of street children in Kampala and other areas. The proposal is for an ordinance to penalise people who give money to these street children," he said.

Mondo Kyateka, a commissioner for children at the gender ministry, said a national survey for street children will be conducted by government to establish the total number of street children, and ensure proper planning.

Mondo said a survey conducted in the districts of Kampala, Jinja, Iganga and Mbale indicates that there are 30, 000 street children.

He added that there are 15, 000 street children in Kampala.