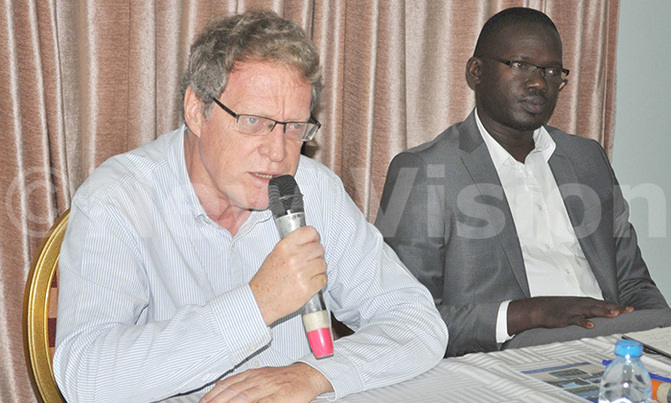 'The population of vulnerable children mostly women, girls and youth are facing risk in the face of climate change'
PIC: The Danish Ambassador to Uganda Mogens Pedersen (left), speaking during the launch of the strengthening Resilience and Promoting Inclusive Governance (STRENPO) Programme held at Imperial Royale hotel on Thursday, June 28, 2018 as the operations director Care International, Brian Dhikusooka, (right) looks on. (Credit: Shamim Saad)
By Subaiha Nakandi

KAMPALA- Three of Uganda's refugee hosting communities have been given a grant of $2.9m amounting to sh11.3m to enhance resilience against the changing climate and protection of the environment.

The initiative to be implemented by five Civil Society Organisations (CSOs) together with local government for four years will particularly support the most vulnerable groups of women, girls and the youth.

This is expected to not only support the environment but also improve food security and better income so that people could get empowered with options when hit by disasters related to the changing climate, according to Annet Kandole, Care Uganda's technical manager.

"The population of vulnerable children mostly women, girls and youth are facing risk in the face of climate change," said Kandole, adding that the refugees and the refugee hosting communities are the most vulnerable communities.

Kandole was speaking at Imperial Royale in Kampala during a workshop convened by Care International on yesterday (Thursday).

She said climate change is affecting different sectors in Uganda and pointed out that agriculture on which most people depend as the worst affected sector.

Advocates Coalition for Development and Environment (ACODE) is one of the four partners that will implement the Care International initiative. Others are Joint Energy to Save the Environment, Environment Alert and Rural Initiative for Community Empowerment.

The interventions include Smart agriculture to improve the resilience of the farming systems that are currently rain fed to withstand the harsh conditions such as climate change. Smart agriculture promotes water conservation and tree planting particularly agro-forestry. It reduces food insecurity, creates better income for the farmers and also protects the environment something which Kandole referred to as sustainable Development.
Climate adaptation defined

Climate Change is caused by emissions such as carbon dioxide from production processes, which trap heat escaping to the atmosphere thereby causing global warming.

Climate change adaptation is a response to global warming and climate change, that seeks to reduce the vulnerability of social and biological systems (forests and wetlands) to relatively sudden change and thus offset the effects of global warming.
PIC: The director of environment affairs, Ministry of Water and Environment, Paul Mafabi (left) speaking at Imperial Royale hotel
Uganda vulnerable to climate change
According to environmental experts, Uganda's population is not safe from disasters related to climate change. "Uganda is very vulnerable to climate change," said Ronald Naluwairo, an environmental lawyer at ACODE. "We do not have options for adaptation because we do not have the technology and infrastructure," he said.

He added: "The inequalities where there are many poor people and few rich people have undermined the response to climate change."

Naluwairo said there was a mismatch between the legal framework on climate change to the reality on the ground. He pointed out that climate change has not been fully mainstreamed in government ministries and departments leading to inadequate funding and implementation. He also pointed out that the capacity of the district local government is weak yet it has to implement most of the actions against activities.

The country does not have a law that is needed to support implementation of the 2015 Climate change policy, according to Naluwairo.

Paul Mafabi, the director of environmental affairs in the ministry of water and environment said the interventions were timely pointing out that Kyegegwa in western Uganda has refugees constituting 11% of its population. He also pointed out the refugee population in west Nile comprises of 22% of its population.

Mafabi was representing the Minister of Water and Environment, Sam Cheptoris.

The Danish ambassador said Uganda is a champion of good policies but Uganda's performance is also poor when it comes to practice (implementation).