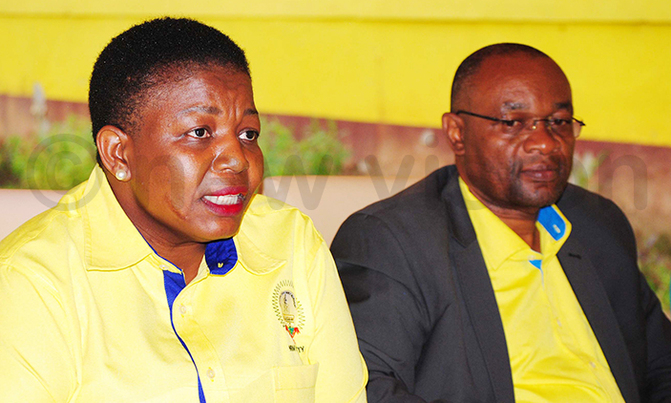 The party though is yet to receive funds to bankroll campaigns of their candidates in 60,801 villages across the country
NRM secretary general Justine Lumumba Kasule and Igara West MP Raphael Magyezi address the press at the NRM secretariat offices. Photo by Mary Kansiime
Legislators from the National Resistance Movement (NRM) will get sh3m each to drum up support for the party flag-bearers in the forthcoming Local Council (LC) 1 elections.
This was revealed by the NRM secretary general Justine Kasule Lumumba during a press conference at the party headquarters on Kyadondo Road in Kampala on Friday.
"We are going to spend sh900m on organizing constituency conferences at sub-county levels and each MP will get sh3m which will be spent on transporting our flag bearers, hiring tents and public address system for these conferences in their areas," Lumumba said.
In the 10th Parliament, NRM has more than 280 MPs, with the majority of the Independent legislators also siding with the ruling party.
Lumumba explained that the constituency conferences will be held on Friday next week and chaired by NRM MPs who are party chairmen in their constituencies by virtue of being party flag-bearers at the parliamentary level.
"The NRM central executive committee will play a supervisory role and the secretariat together with the NRM Chief Whip will coordinate the exercise. In the conferences, our LC1 candidates will be armed with information from NRM national chairman and the secretary general before facing their opponents from other parties," she said.
The Electoral Commission programme shows that nomination for LC1 chairpersons will run from July 4-5 at parish headquarters and campaigns are slated to run from July 6 to July 9.
The elections for village and parish leaders will be held on July 10 after a hiatus of 17 years.
Lumumba said they were yet to receive funds to bankroll the campaigns of their candidates in 60,801 villages across the country.
"The money for our flag-bearers will depend on the amount we will be getting," she said.
NRM takes 95,271 seats unopposed
Meanwhile, out of 303,795 posts that were up for grabs in the women council elections slated for July 3, NRM has so far secured 95,271 seats.
The 95,271 NRM nominees were on Friday declared winners of these elections after the opposition parties and independents failed to present competitors during the nominations in the new villages at various parish headquarters.
"We have a robust plan to ensure we improve on our performance in the ongoing elections. So I want to congratulate the NRM women who have gone through unopposed. So far we are jubilating as a party," Lumumba said.
The village women's committee positions include women chairperson and the deputy, secretary and secretaries for publicity and finance.