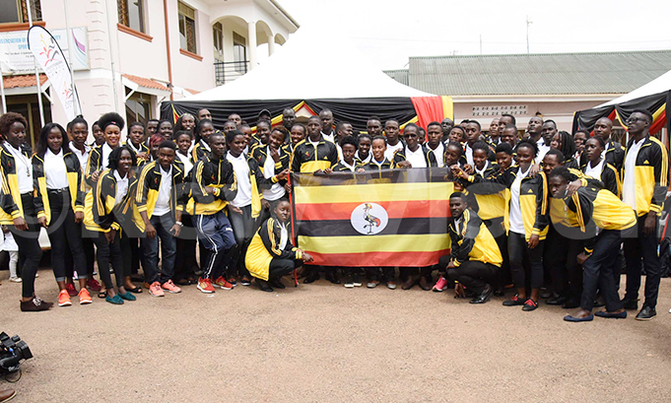 Among the runners is Dorcus Ajok who is defending gold in the 800m, 1500 and 10,000m races.
PIC: Team Uganda flagged off to Ethiopia for the All Africa University games due to kick off on July 1. NCS Acting General secretary Patric Egwel flagged off the team at AUUS offices in Mengo on Wednesday June 27. (Credit: Mpalanyi Ssentongo)
UNIVERSITY GAMES

All-Africa University Games

Date: July 2-6

Venue: Mekelle University, Ethiopia

ADDIS ABABA - Uganda's team captain, Pius Adome believes that his side will do wonders at the 9th All Africa University Games starting next week at Mekelle University in Ethiopia.

The Makerere University student who is leading the national team for the first time is convinced that all the 97 athletes on the team are good.

"The teams and athletes were chosen on merit after the local Inter-University games held last year at Ndejje University so, I am sure they know exactly why they are on this team," he said.

Uganda won seven gold medals, three silver and a bronze while in South Africa in 2016 but Adome thinks they can pick more medals this time.

"I see Uganda dominate athletics because we have the best athletes currently," he added.
Some of the participants, team Uganda after the flag off. (XCredit: Mpalanyi Ssentongo)

While the women's skipper Zainah Lokwameri from Uganda Christian University (UCU) chipped in adding that they are only afraid on Senegal.

"Only one team is our current threat but otherwise we are set," she said.

Among the runners is Dorcus Ajok who is defending gold in the 800m, 1500 and 10,000m races.

Meanwhile, at the flag off at the Association of Uganda University Sports (AUUS) offices in Mengo, the local sport's governing body NCS acting general secretary Patrick Ogwel appealed to the athletes to exhibit discipline while in Mekelle.

"You are our ambassadors so you should be disciplined. I know you are from different universities but what you need to put in mind is that you're going as Team Uganda so try to support each other," Ogwel stated.

Uganda has fielded athletes in basketball, volleyball, athletics, badminton, handball and tennis.

They will be battling against 15 other nations including Benin, Mauritius, Tanzania, Comoros, Botswana, Egypt, Ivory Coast, Senegal, Ghana, South Africa, Zambia, Zimbabwe, Nigeria and host Ethiopia starting Monday next week.