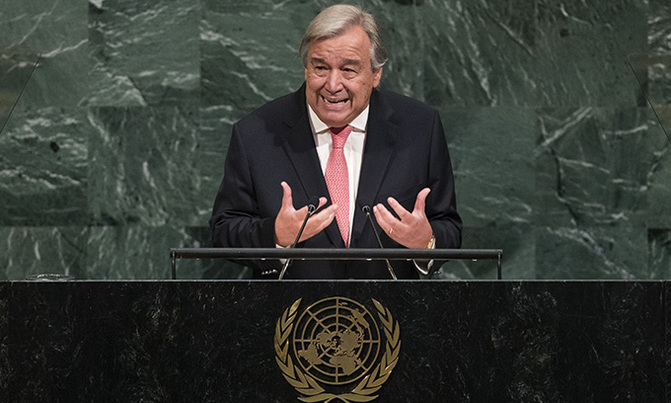 The Secretary General disclosed that he will be participating in the upcoming AU Summit in Mauritania
UN Secretary General, Antonio Guterres, has described the East African Community as having strong potential for integration in Africa backed by homogeneity and vast economic opportunities.
He also commended the East African Community for leading the Inter-Burundi Dialogue process and thereby assist Burundians to restore stability in their country, according to the EAC secretariat.
Guterres, who met the EAC Deputy Secretary General in charge of Political Federation, Charles Njoroge, this week at the UN Headquarters in New York, reiterated the African Union/United Nations complementary on all spheres of cooperation and reaffirmed the need for African leadership in Peace and Stability in the continent.
The Secretary General disclosed that he will be participating in the upcoming AU Summit in Mauritania where an action plan for the AU/UN partnership will be concluded.
Njoroge, who is in New York to participate in the 3rd Review Conference on the implementation of the UN Programme of Action on Small Arms and Light Weapons and also to attend the UN High Level Conference on Counter Terrorism, reaffirmed the EAC's commitment to full implementation of the UN Programme on SALW consistent with the goals set in SDG 16.4.
He noted that the Community appreciates the importance of a peaceful, stable and secure environment and respect for human rights to achieve sustainable development and informed the UN Secretary General that the Community has unwavering support for the work of the Peacebuilding Commission particularly in respect to the Burundi and the South Sudan peace processes.
Njoroge hailed the partnership on Burundi developed through the Joint Technical team that brings together the UN/AU/EAC to collectively and synergistically support the Burundi process and the EU support. He declared that "EAC remain committed to walking with Burundians towards peaceful credible elections in 2020".
The EAC official also informed the UN Secretary General that EAC had a standing MoU with the UNHCR to support comprehensive and proximate management of Refugees in the region in conformity with the provisions of the regional and global instruments on the same.
Meanwhile, Njoroge addressing the 3rd review conference on the implementation of the UN programme of action on SALW and its tracing instrument, disclosed that at regional level, the EAC had established a Regional Ballistics Referral facility in Kampala, Uganda through EU Support to procurement and commissioning of a state of the art Integrated Ballistics Identification System, intended to address the dual challenges of enhancing investigative capacity in arms related offences but also ease the tracing instrument.
"This is one of the flagship interventions under the East and Southern Africa Maritime Security Project intended to among others Interdict Sea bound illicit trafficking of SALW, and EAC remains immensely appreciative to the EU for this support," he said.